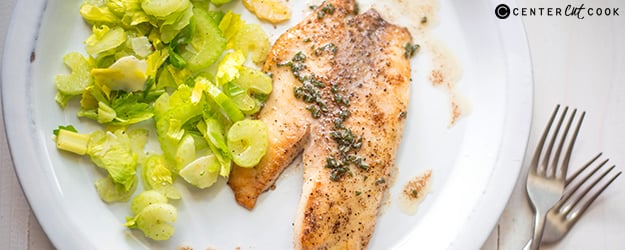 This Brown Butter Tilapia With Celery Salad recipe couldn't be any easier or simpler. I came up with it one day when I had pretty close to nothing left to eat in my house and desperately needed to go grocery shopping.
Plus, I was super hungry and we all know how hard the world is when we're hungry.
I looked through my refrigerator and found the following: one lemon, 2 frozen tilapia fillets, some unsalted butter, a block of parmesan, left-over fresh sage leaves from a different recipe I had made a few days before, and a bunch of celery.
Told you I needed to go shopping.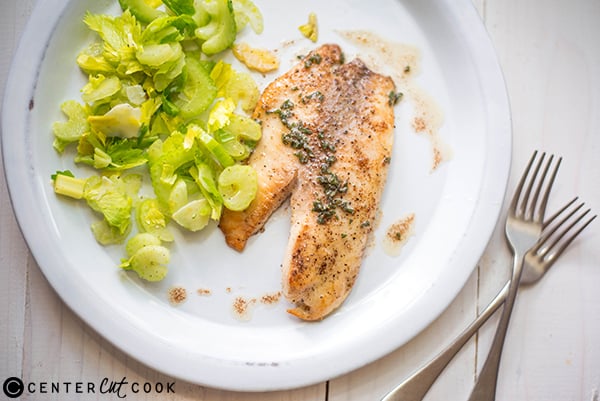 Then, miraculously, I decided to quickly defrost the fish and make a brown butter sage sauce and serve it over the tilapia. Wow, that sounded great!
But what could I serve with it? All I had was celery, that lemon, and parmesan.
So, I got creative and made an impromptu salad using the celery sticks and the leaves and flavored it with a light lemon vinaigrette. This was similar to a celery salad I had years ago that I absolutely loved and had always remembered, but had never tried to recreate.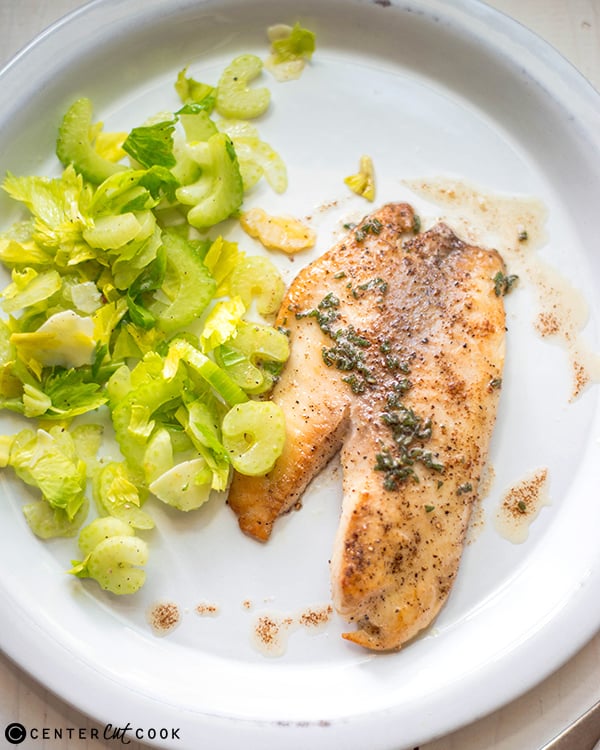 This lunch was starting to look interesting!
After the fish was defrosted, the meal literally took 15 minutes to get prepared before I had this delicious, light, and fresh lunch on my table. I love it when great meals come from thin air. Especially when I'm hungry!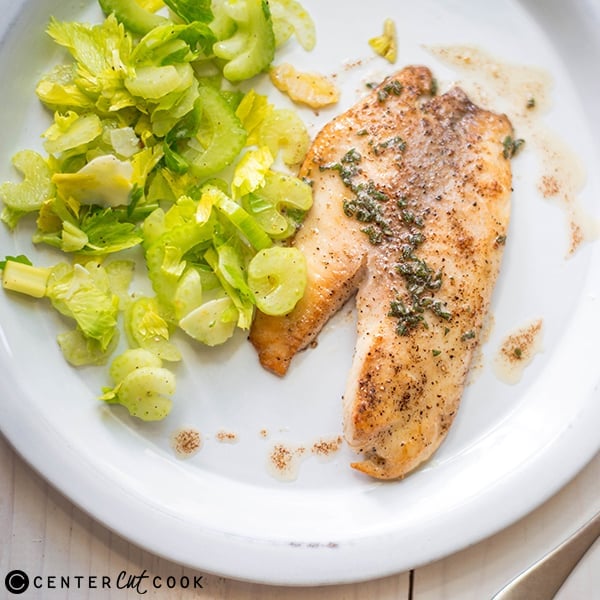 TILAPIA INGREDIENTS
CELERY SALAD INGREDIENTS
4 stalks plus 1/4 cup celery leaves celery, chopped
2 tbsp. olive oil
1/2 tsp. lemon zest
1 tsp. lemon juice, freshly squeezed
1/4 tsp. kosher salt
1/4 tsp. ground black pepper
1 tbsp. parmesan cheese, shaved or grated
TILAPIA DIRECTIONS
Heat the olive oil over medium-high heat in a large fry pan. Season the fish on both sides with the salt and pepper.
Add the fillets to the hot oil and cook until well-browned on both sides and cooked through, approximately 3-4 minutes per side.
In a separate, small saute pan, melt the butter over medium-high heat until it becomes a golden brown color in the thinnest of the butter. Add the sage leaves to the butter and remove from heat. Add the lemon juice and set aside.
To serve, drizzle 1-2 tbsp. of the sage butter sauce over the tilapia.
CELERY SALAD DIRECTIONS
In a medium bow, toss the celery, celery leaves, olive oil, lemon zest, lemon juice, kosher salt, pepper, and parmesan until evenly coated.
Serve cold or at room temperature.
Servings: 4