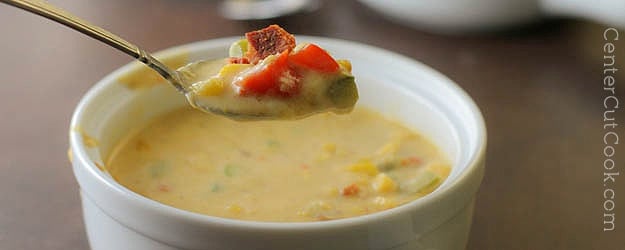 It is STILL winter here in Chicago, and mother nature wanted to make sure that we didn't forget! She sent us a fabulous reminder in the form of about 10 inches of snow! Yes, it may be March, but our days of shoveling aren't over yet! We were snowed in yesterday so I decided to whip up a batch of Cheesy Corn Chowder. Hearty, homemade, easy to follow. It's hard to beat!
I started by dicing up an onion, a red pepper and a green pepper. I decided to go with two different color peppers to make the soup colorful. I like color and you will too! I also diced up a couple of green onions that get tossed in at the end.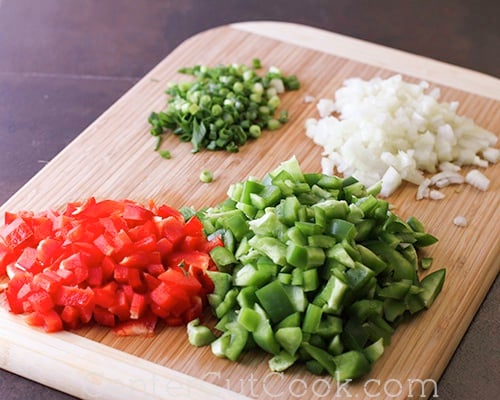 Then I chopped up a bunch of smokey bacon. Thick cut if you're wondering, because that's how I roll. With the bacon, you can cook it and crumble it, or take the route I did and chop it up, then cook it. Whatever work easier for you. You could also make bacon for breakfast and cook some extra pieces for this soup. I'm always looking for an excuse to cook bacon for breakfast!
Tip: I have a designated cutting board for meats, and one for veggies. It's my method of preventing contamination.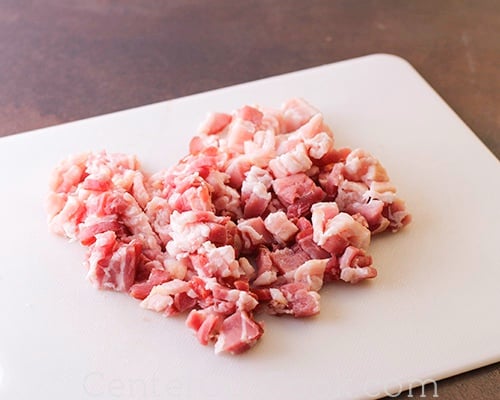 Next comes the cheese…. oh the cheese! For this recipe I went with a combo of co-jack and monterey jack cheese. Use any combo of cheese that you'd like! You'll need about two and a half cups to three cups of cheese.
Tip: Shred your own cheese. Shredding cheese is one of my least favorite kitchen tasks, however, it's worth it. Pre-shredded cheese may be convenient but it doesn't melt as well. And besides, freshly shredded cheese just tastes better!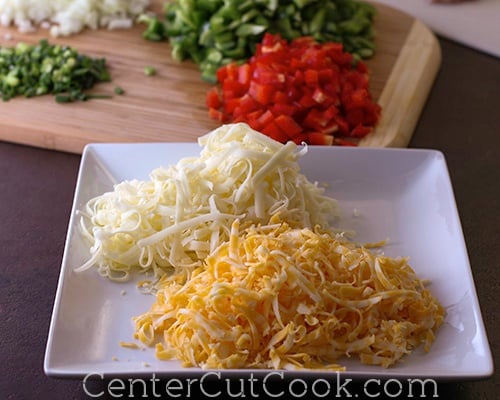 As for the corn, feel free to use fresh if it's available. I grew up surrounded by corn fields, however, that's only during the summer months when no one thinks to cook a hearty warm Cheesy Corn Chowder soup. I went with about 2 pounds of frozen corn and it worked perfectly for this recipe.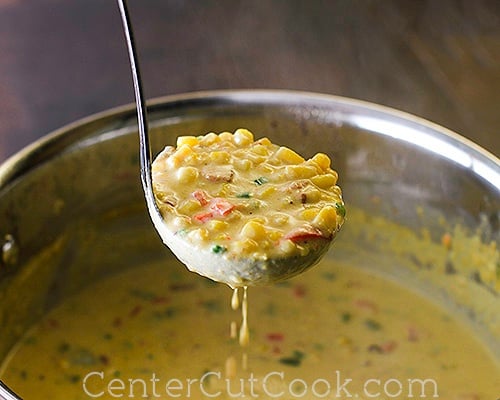 Some soups have to simmer for a loooong time, but not this one! It'll simmer for about 30 minutes and then it's ready to eaten. Yum yum!
Let's recap what this soup has goin' on. It's got smoky bacon (win!), lots o' cheese (win!), plenty of veggies (win!), and creamy, creamy goodness. In other words, it's a yummy winner!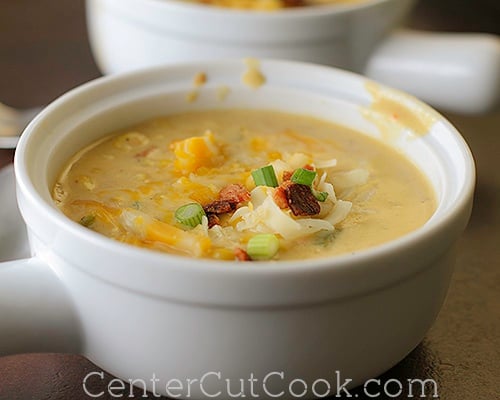 To serve, I topped the soup with a little extra cheese, chopped green onion, and a little more crisp bacon crumbles. Are you drooling yet?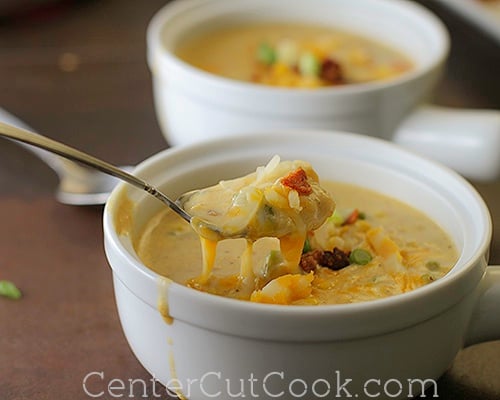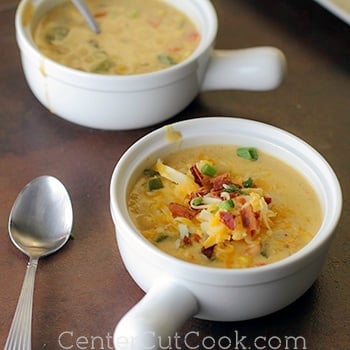 INGREDIENTS
1 medium sized yellow onion, diced
1 red bell pepper, diced
1 green bell pepper, diced
3 green onions, chopped (reserve a tablespoon for garnish)
2 pounds frozen corn (use fresh if you'd like)
6 slices bacon, cooked and crumbled (reserve about 1 slice worth for garnish)
4 tablespoons butter
1/4 cup all-purpose flour
3 1/2 cups chicken broth
2 cups half and half
1 1/2 cups monterey jack cheese, shredded + a bit more for garnish
1 1/2 cups co-jack cheese, shredded + a bit more for garnish
1/4 teaspoon dried thyme
1/2 teaspoon garlic powder
Salt and pepper to taste
DIRECTIONS
Melt butter in a large soup pot over medium heat. Sauté onions, green peppers and red peppers until tender, about 8 minutes. Add in corn.
When the vegetables are tender, sprinkle them with 1/4 cup all purpose flour. Stir the flour into the vegetable mixture and let it cook for a minute.
Slowly pour in chicken broth, stir, and allow it to cook for a few minutes.
Stir in half and half, cooked bacon, thyme garlic powder, and salt and pepper to taste. Allow it to simmer for about 20 minutes over medium heat.
Stir in the cheese, and green onions, reserving a bit of each for garnish. When the cheese is melted, it's ready to serve.
To serve, top each bowl of soup with a bit of cheese, bacon, and green onion.
Tip: If you want a soup that isn't quite as chunky, use a ladle to place two cups of soup in your blender. Blend the soup until it's a smooth creamy consistency, then return the pureed soup to the pot.
Recipe adapted from
The Pioneer Woman