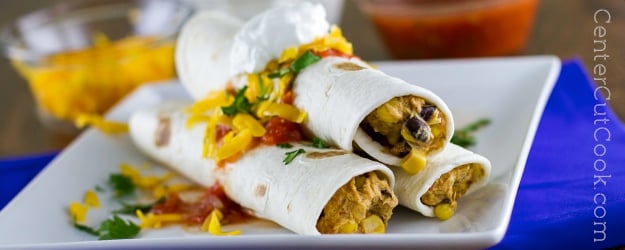 When I am looking for a quick and easy supper, often times it involves the slow cooker. What's not to love about a good slow cooker recipe? You throw everything in, walk away, and hours later not only does your house smell amazing, but you have a delicious meal, just waiting to be eaten.
One of my all-time favorite slow cooker recipes is this Cheesy Tex-Mex Chicken. It is SO flavorful and goes great served with tortillas, or even served on top of rice. Usually, I don't feel the need to make any accompanying side dishes to go along with it because it's already so hearty with corn, salsa, and black beans.
This recipe is also versatile because you can make it as spicy as you'd like. I chose a medium/hot salsa because we like things a bit spicy, but you can choose to use a mild salsa to keep this kid-friendly. The best part about this recipe, for me, is the cream cheese that goes in towards the end, about 30 minutes before you serve it. The cream cheese gives it such a creamy, cheesy consistency that I just love.
Here's a tip for those of you who just don't seem to have enough time in the morning to throw a slow cooker meal together before you head out. I usually prep everything the night before, and put it in the removable cooking pot that comes with most slow cookers. Then in the morning, all I have to do is place the pot in the "heater housing," turn it on, and it's ready to go.
INGREDIENTS
2 boneless skinless chicken breasts (use 2 if they are large in size)
24 ounce jar salsa of your choice, or make your own
1 packet taco seasoning
1 15 oz can black beans (rinsed and drained)
15 oz can corn- drained
7oz can diced green chillies
8-oz package cream cheese
1 teaspoons hot sauce (optional)
Tortillas or rice for serving
Optional garnishes – shredded cheddar, lettuce, etc.
DIRECTIONS
In your slow cooker, stir together salsa, taco seasoning, black beans, corn, and chills. You can also add hot sauce at this point, if you'd like.
Add raw chicken to the slow cooker and stir.
Cook on low for 6-8 hours or on high for 3-4 hours.
30 minutes before you're ready to eat, cut the cream cheese into cubes and add it to the slow cooker (turn it to low at this point if you haven't been cooking on low already). Continue cooking for 30 minutes.
Remove the whole pieces of chicken from the slow cooker and dice it or shred it. I usually use two forks to shred the chicken.
Return the shredded or diced chicken to the slower cooker and stir to incorporate the chicken into the mixture.
Serve over steamed rice, or on tortillas. Add any garnishes you'd like including shredded cheddar, green onion, lettuce, etc., or eat it as is.