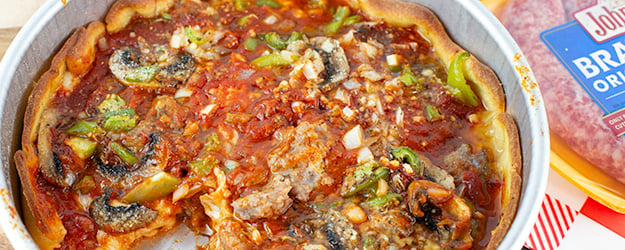 If you love holidays as much as I do, especially those that include food, you are going to be thrilled to have a delicious day this month to celebrate. I'm excited to introduce you to Bratsgiving, a day for family, friends, Johnsonville Brats and this amazing Brat Pizza!
Bratsgiving was created by Johnsonville and occurs every year on August 16th. It's dedicated to quality, delicious sausage and making memories with those we love.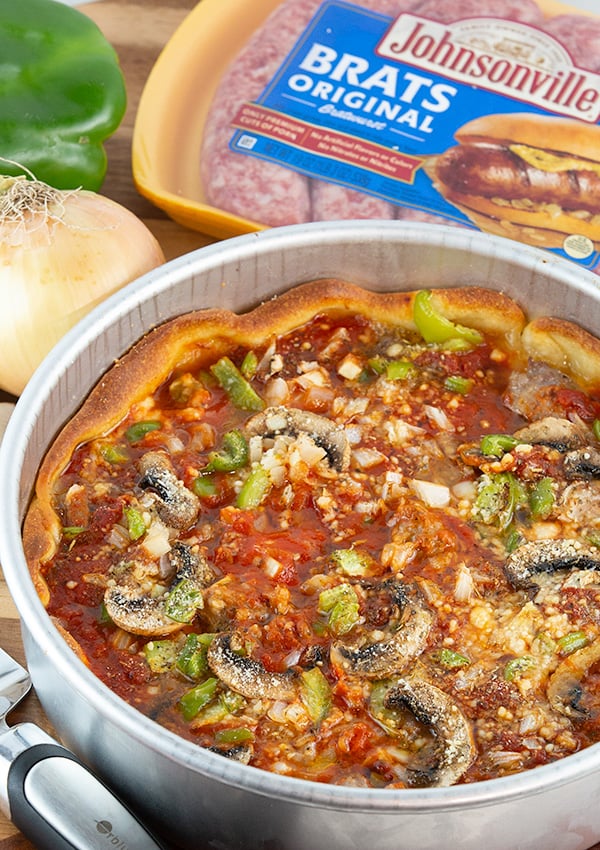 Having lived in the Chicagoland area for nearly my entire life, I am well aware that Chicago-style deep-dish pizza is a legend. When pondering what I was going to make for Bratsgiving, I decided to combine my love for Johnsonville Brats with my love for deep-dish pizza and make this cheesy, delicious Chicago-style Deep-Dish Brat Pizza! It is as amazing as it sounds!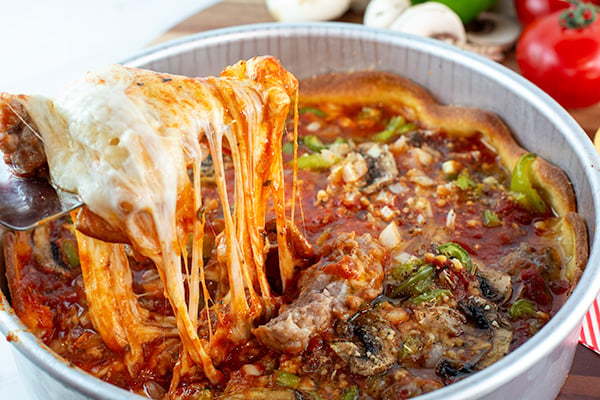 When you are making a Chicago-style deep-dish pizza, there are a few essential steps that you must follow in a very specific order. Most pizzas start with a crust, then sauce, then cheese and toppings. A Chicago-style pizza starts with the crust, then the cheese, followed by a layer of sausage, then sauce and any additional toppings.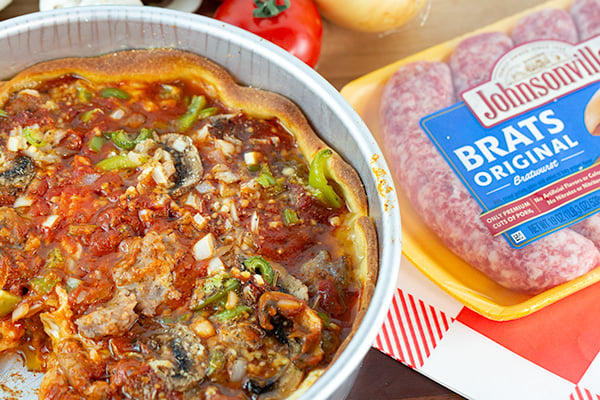 Today I will be walking you through the process of creating the most delicious, easy and approachable Johnsonville Brat Chicago-style deep-dish pizza. Here we go.
Step 1: Collect your ingredients. You are going to begin with Johnsonville Brats with the casings removed. You'll need about three sausages. There are a variety of Johnsonville brat flavors available. I used the original flavor, but Johnsonville Beer Brats would also be a delicious option in this recipe.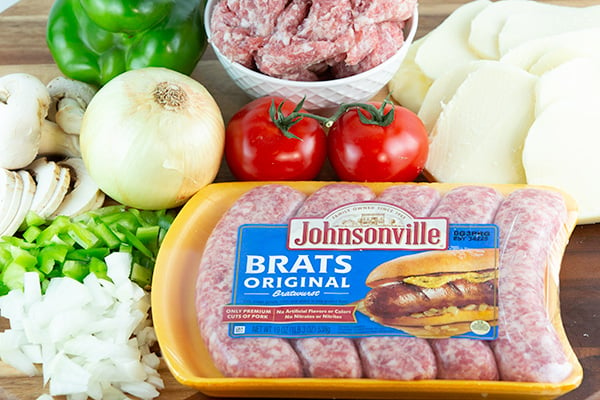 You will also need a 9 inch cake pan. If you have one with deep sides, that is ideal. An 8 inch pan is also ok if that's all you have.
Step 2: Begin by using your hand to evenly distribute 1-2 teaspoons of olive oil in the cake pan making sure to cover the bottom and the sides. This is going to help the crust crisp up and turn a beautiful golden brown.
Step 3: Press the dough into the pan, making sure to push the edges of the dough up the sides about 1.5-2 inches. You are not going for perfection here! It is going to look uneven and that is ok! I used a pre-made dough found in the refrigerated section of my grocery store. It was already shaped into a circle and very easy to press into the pan. You can find refrigerated pizza dough in most grocery stores.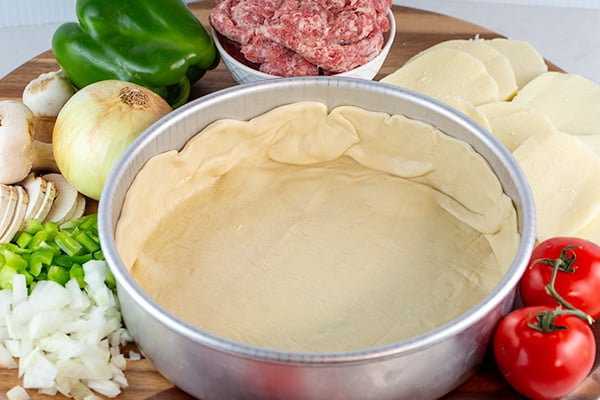 Basically, you are forming a bowl for all of the amazing toppings.
Step 4: Arrange slices of mozzarella cheese on top of the crust. It is important to use a high quality mozzarella cheese cut into slices.
Step 5: Next comes the Johnsonville Brats. You will be using raw sausage which may be different than what you're used to. Trust me when I tell you that it will cook through just fine when you bake the pizza and it'll be tender and delicious. If you pre-cook the sausage it'll be overcooked by the time the pizza is baked. Raw sausage is key! You will be using about three brats with the casings removed. Feel free to add more sausage if you wish.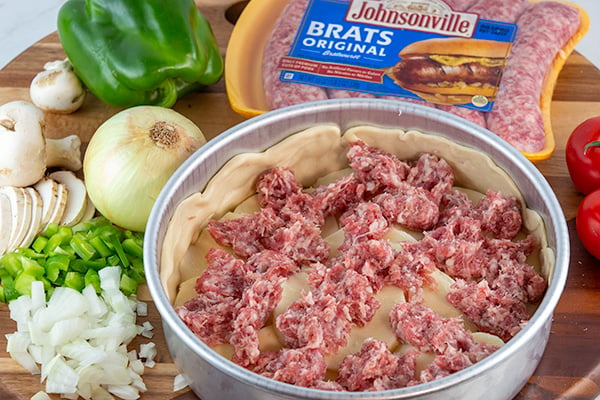 Step 6: Add your favorite pizza sauce, and any additional toppings. A traditional Chicago-style pizza ALWAYS has quality sausage, and usually green pepper, mushrooms, and onions as well.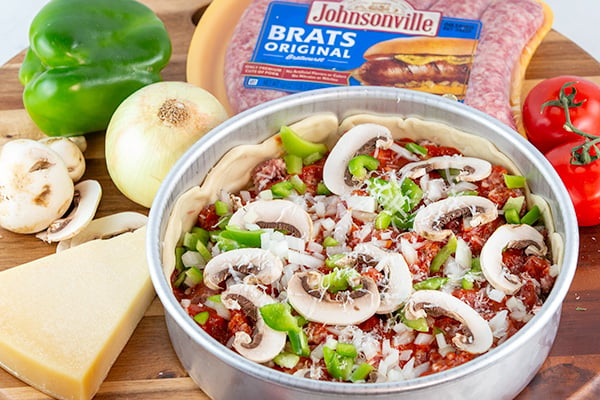 Step 6: Top with freshly grated parmesan cheese and bake!
You will need your oven set to 450 degrees F and the pizza will bake for around 25-30 minutes or until the crust is a beautiful golden brown.
Make sure to allow the pizza to cool for about 3-5 minutes before cutting and serving. Do not cut the pizza until you are ready to serve it because the juices will run down and cause the crust to become soggy.
While most pizzas are meant to be eaten with your hands, Chicago-style pizza is always eaten with a fork!
It's time to cut yourself a slice, admire the cheese-pull, and enjoy the deliciousness of Johnsonville Brat Pizza, one forkful at a time.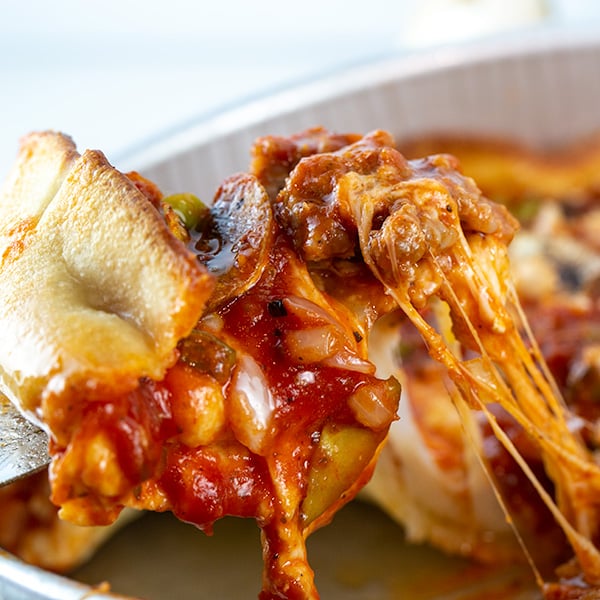 Can you even think of a better way to enjoy Bratsgiving than with an amazing, cheesy delicious Johnsonville Brat Pizza?
Now here's the fun part, place your vote for your favorite chef-inspired recipe here, and Johnsonville will donate $5,000 to the winning chef's charity of choice. And, send your bratwurst-loving friends and family a unique Bratsgiving e-card.
This is a sponsored conversation written by me on behalf of Johnsonville Brats. All opinions and text are mine.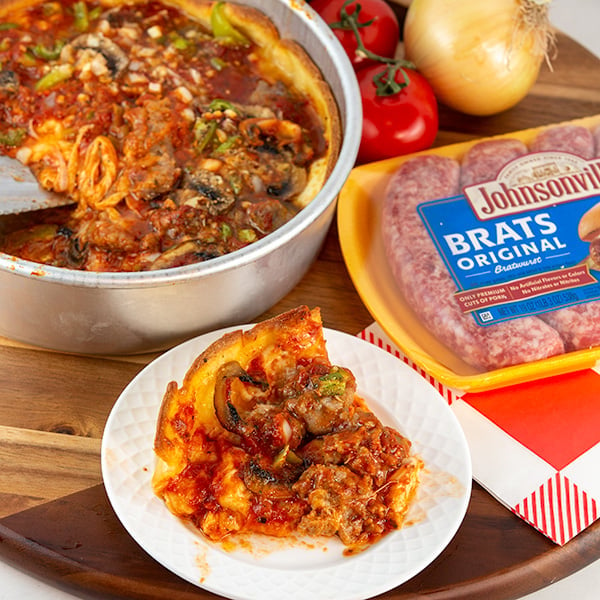 INGREDIENTS
1-2 teaspoons olive oil
1 refrigerated pizza dough crust
16 ounces mozzarella cheese, cut into slices
3-5 Johnsonville Brats, casings removed
1 cup (or more) of your favorite pizza sauce
Any additional pizza toppings like sliced mushrooms, diced onion and green pepper
1 tablespoon fresh grated parmesan cheese
DIRECTIONS
Preheat your oven to 450 degrees F.
Evenly spread 1-2 teaspoons of olive oil in a 9 inch cake pan.
Press the dough into the pan, pushing the edges of the dough up the sides about 1.5 inches.
Arrange mozzarella cheese slices evenly over the dough.
Add Johnsonville Brats, casings removed, to cover the top of the pizza.
Pour sauce evenly over the top of the sausage and arrange any additional toppings on top.
Sprinkle 1 tablespoon fresh grated parmesan cheese on top.
Bake for 25-30 minutes, or until the crust is golden brown.
Cut into slices just before serving.
Servings: 4