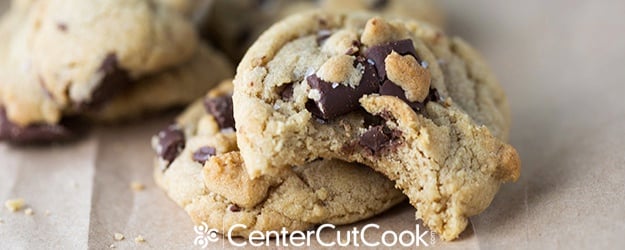 When it comes to chocolate chip cookies, I am always willing to try a new recipe in search for the perfect chocolate chip cookie . The perfect chocolate chip cookie varies from week to week, depending on what I am looking for. Am I looking for an ooey gooey chocolate chip cookie? A super soft chocolate chip cookie? Chewy? Crispy? Puffy and cake-like? Each person defines the perfect chocolate chip differently. For me, this is my idea of a perfect chewy chocolate chip cookie that is just oozing with chocolatey goodness thanks to a bag of Nestle Chunks!
Have you seen the Chocolate Chunks before? Any time I am perusing the baking aisle at the grocery store, I always keep my eyes open for something new and different to try. When I spotted this bag of Nestle Chunks, I was so excited to try a new cookie recipe with 'em because there can never be enough chocolate oozing from a cookie!
This particular recipe requires the usual suspects for a cookie recipe, butter, brown sugar, flour, vanilla, etc. The only difference might be the addition of sea salt and the fact that you'll need to brown the butter first.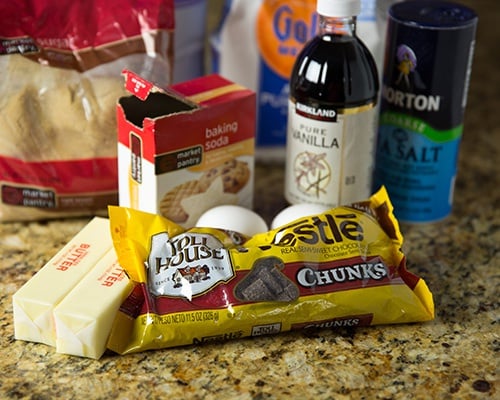 Yup, I just said brown the butter. Have you ever had brown butter cookies before? Something amazing happens when you take the time to brown the butter. A whole new flavor enters the picture. You'll start by melting two sticks of butter in a sauce pan over medium heat. When it starts to foam after several minutes, you'll begin whisking vigorously. Eventually the butter will turn brown like what you see below, and you'll get little bits of browned butter on the bottom of your saucepan. This is how you'll know that you're done.
Pour the browned butter into your mixing bowl and allow it to cool completely.

While the brown butter is cooling, you'll sift together flour, baking soda, and salt and set it aside. To the brown butter, you'll add in brown sugar and sugar and mix for several minutes until it's well combined. Then you'll toss in an egg, and an egg yolk, along with some vanilla and mix, mix, mix.

Slowly pour the dry ingredients into the bowl and mix until combined. Next comes the chocolate chunks, the best part! You'll just use a big wooden spoon to fold the chocolate chunks into the cookie dough. Line baking sheets with parchment paper and scoop a heaping tablespoon of cookie dough onto the baking sheet. Bake 'em for about 10 minutes. They are done when the edges are just starting to brown.

As soon as you take the cookies out of the oven, sprinkle them with a bit of sea salt.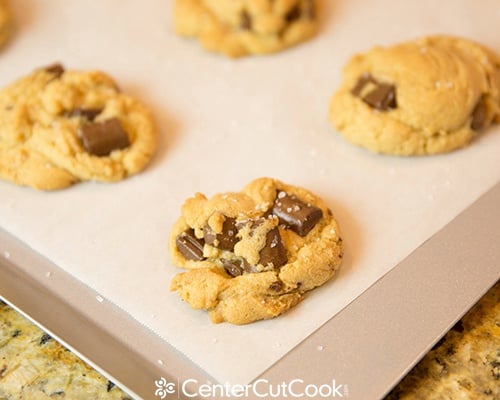 Carefully transfer them to wire cooling racks to cool. They'll firm up a bit once they have a chance to cool. The result?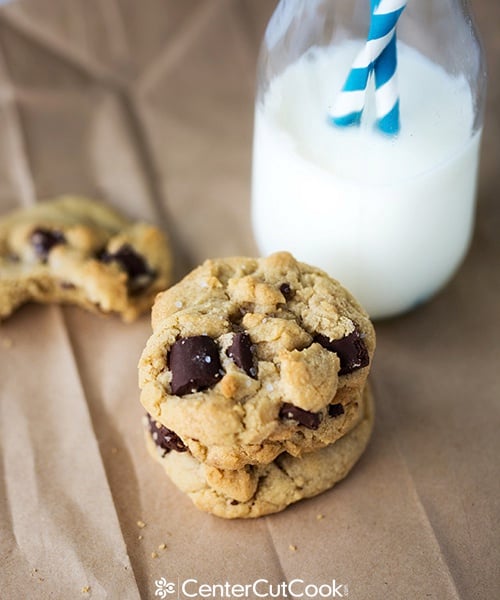 An ooegy gooey, oh so chocolately cookie with a hint of saltiness that'll make it hard to eat just one! After one cookie, you'll realize that Salted Brown Butter Chocolate Chunk Cookies will forever reappear in the cookie jar for years to come!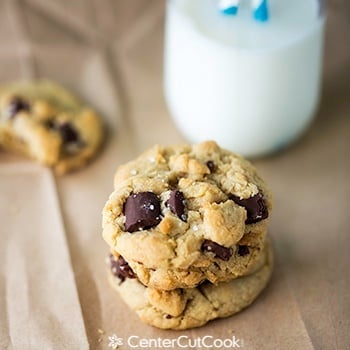 INGREDIENTS
DIRECTIONS
Pre-heat your oven to 350 degrees.
Melt two stick butter in a large saucepan over medium heat. When the butter starts foaming, whisk vigorously, and continue whisking until the butter turns brown and there are little bits on the bottom of the saucepan. Remove the butter from heat and pour it into a large mixing bowl and allow it to cool completely.
In a separate bowl, combine 2 and 1/4 cups flour, 1 teaspoon baking soda, and 3/4 teaspoon table salt. Set aside.
To the brown butter, add in 1 and 1/3 cups packed brown sugar and 1/4 cup granulated sugar. Mix for several minutes until the butter and sugars are well combined.
Add in egg and egg yolk, and vanilla, and mix well.
Slowly add the dry ingredients into the wet and mix until combined. Fold in chocolate chunks.
Line baking sheets with parchment paper. Use a heaping tablespoon of cookie dough for each cookie. Bake for 10 minutes, or until the edges of the cookies are just starting to brown. Immediately sprinkle the cookies with sea salt when they come out of the oven.
Carefully transfer the cookies to wire cooling racks. The cookies will firm up as they cool. Store in an air-tight container.
Yields around 3 dozen cookies.
Recipe adapted from
Kevin and Amanda