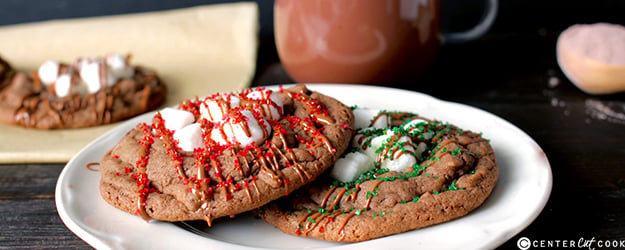 These cookies are so fun! Hot chocolate has always been a favorite drink of mine. I spend many cold winter days playing out in the snow then warming up to a cup of hot chocolate. Making them into a cookie is not only delicious, but easy as well. They are mixed up in one bowl and they don't need to chill at all, so you can be enjoying one of these in 15 minutes!!
The marshmallows are important because what is hot cocoa without marshmallows? They get placed on right after baking. I used the back of a spoon to make a little indentation then pressed about 5 on each cookie. The chocolate drizzle and sprinkles are optional, but I recommend it if you are giving these as gifts. It makes them so cute and people will love that extra little touch. It only takes a couple extra minutes and is totally worth it.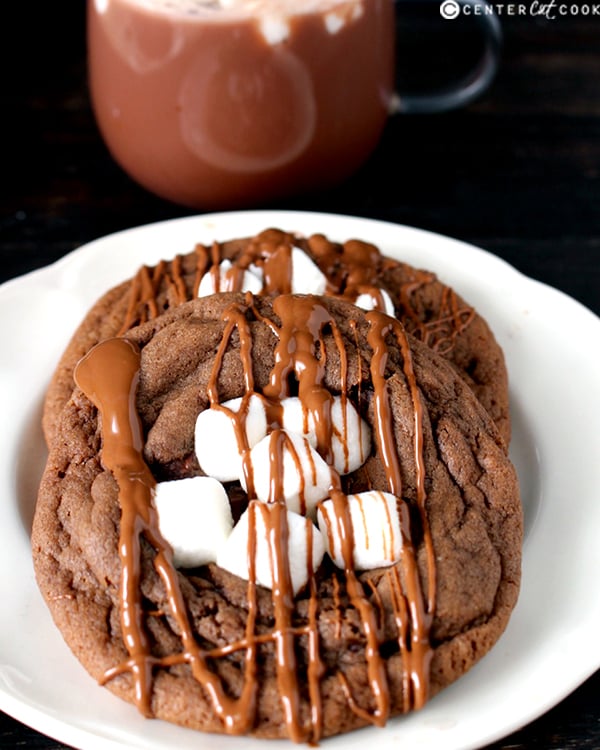 You may notice there is no salt in this recipe- an important ingredient in all cookies! That is because there is salt in hot cocoa mix and the butter and I didn't want them to become overly salty. So it is purposely left out for that reason- it's not a mistake.
These taste exactly like a cup of hot chocolate. Just a subtle chocolate flavor that is not over powering, but so familiar and comforting. I added a little instant coffee that just compliments the chocolate and isn't very noticeable. I love chocolate and coffee together, but feel free to leave that out.
You will love how easy they are to make, how cute they are, and how perfect they are for gifts or enjoying yourself. Of course the sprinkles can be switched out for any holiday, these aren't just for Christmas.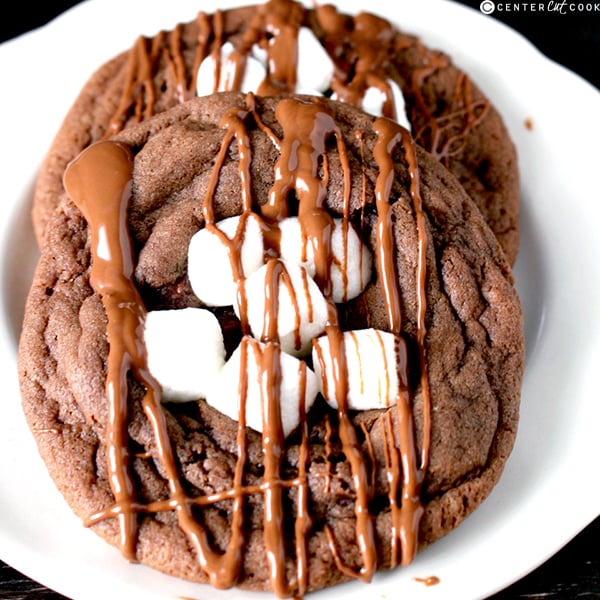 INGREDIENTS
1 cup butter, room temperature
1 cup brown sugar
3/4 cup hot cocoa mix
2 teaspoons instant coffee (optional)
2 eggs, room temperature
1 teaspoon vanilla
2 1/2 cups flour
1 teaspoon baking soda
1 cup chocolate chips
Mini marshmallows
Chocolate for drizzling (about 1/2 cup chips)
Sprinkles (optional)
DIRECTIONS
Preheat oven to 350° and line two cookie sheets with parchment paper.
In a large bowl, cream together butter and brown sugar.
Add in hot cocoa mix, instant coffee, eggs, and vanilla. Stir until well combined and smooth.
Add the flour, and baking soda and mix until no dry pockets remain.
Fold in chocolate chips and scoop onto cookie sheet- about 6 per sheet.
Bake for 10-11 minutes and as soon as they come out, use the back of a spoon to make an indentation and press a few marshmallows on the cookie.
Let cool on the cookie sheet for about 5 minutes, then move them to a cooling rack.
Once cool, melt chocolate and drizzle over the cookies and top with sprinkles if desired.
Servings: 27