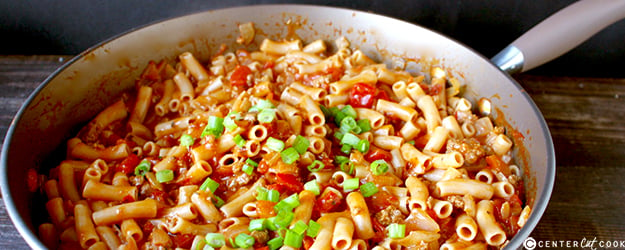 Holiday's are all about cooking. Whether it's a big dinner for a crowd, a quick dinner for just the family, or treats for gifts- the pans you use can make all the difference. Anolon gourmet cookware and bakeware are the perfect option because they are designed for creativity and are created for high performance. They can stand up to all the baking you'll be doing- even the cray amount I do!!
They are coated with a PFOA-Free Metal Utensil Safe Nonstick coating- which means the coating won't peel off into your food even if you use a metal spatula. It is super durable and is very easy to clean. I have made eggs, candied nuts, and of course this Goulash and every time the pan wipes clean easily. No soaking or scrubbing, just some warm soapy water. I love easy clean up!
I also love the long, silicone wrapped handles. It makes carrying the pan easy and I never have to worry about burning my hand on the handle. I made mashed potatoes for Thanksgiving in this pan and transferring it to the sink to drain was so easy. It was nice to not have to use hot pads to carry it. They are also oven safe up to 400° which means you can start a dish on the stove and finish it in the oven- I can't wait to try that!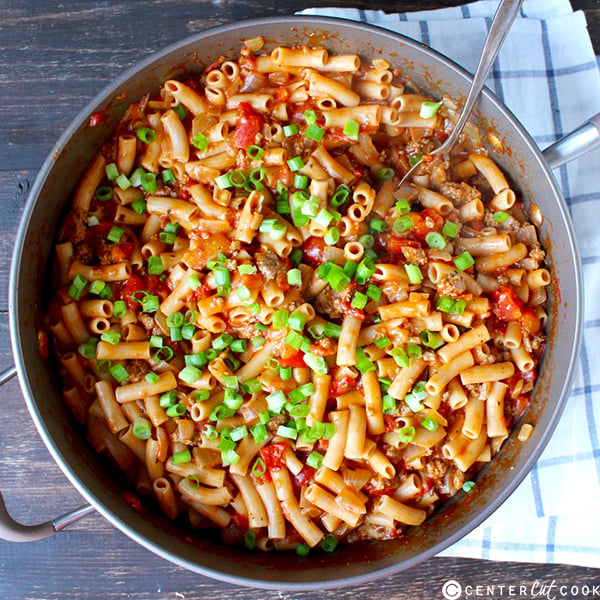 Let me tell you about one dish I made with these great pans. This Goulash is so simple, using basic pantry items, and is such a great option for busy nights. I have made it so many times and everyone loves it. The prep time is hardly anything- chopping the onion is all you have to do and I just love that it is all made in one pan. The less dishes the better! It can easily be made gluten free just by using gluten free noodles, that's what I used. You will love how quick it comes together and how it tastes more complex than it really is!
Anolon offers so many options- from pans, to tea kettles, to cutlery or cast iron. They have everything you'll need to get through the holiday baking season that will spark creativity in you. To find out more about them go to Anolon.com or find them at Macy's, Bed Bath & Beyond, and Dillard's.
This is a sponsored conversation written by me on behalf of Analon Cookware. The opinions and text are all mine.
INGREDIENTS
1 pound ground beef
1 large onion
1 tablespoon seasoned salt
1 teaspoon Italian seasoning
2 teaspoons garlic powder
29 ounce diced tomatoes
15 ounce can tomato sauce
3 cups water
16 ounces dry noodles (I used brown rice elbows)
DIRECTIONS
In a large covered sauté pan, like Anolon's 5.5 quart, add beef, onion, seasoned salt, Italian seasoning, and garlic powder and cook over medium heat until the beef is cooked and onion is softened. About 5-8 minutes.
Add the diced tomatoes, tomato sauce, water and noodles.
Keep at medium heat, cover and cook 10-13 minutes, stirring every few minutes, until the noodles are cooked ad have absorbed most of the liquid.
Taste and add any additional salt if needed.
Servings: 6-8