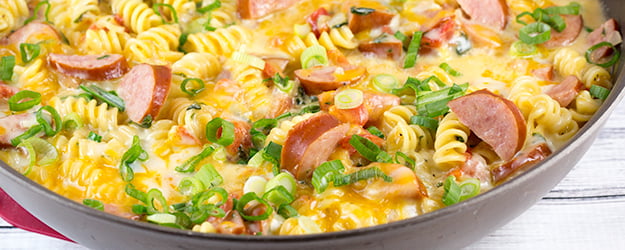 Could there possibly be anything more amazing, and wonderful than a yummy dinner that can be made in under 30 minutes AND requires only one pan? Few things beat the beauty of a quick and easy meal.
For this Spicy Sausage Skillet, you'll want to start by prepping everything you will need first.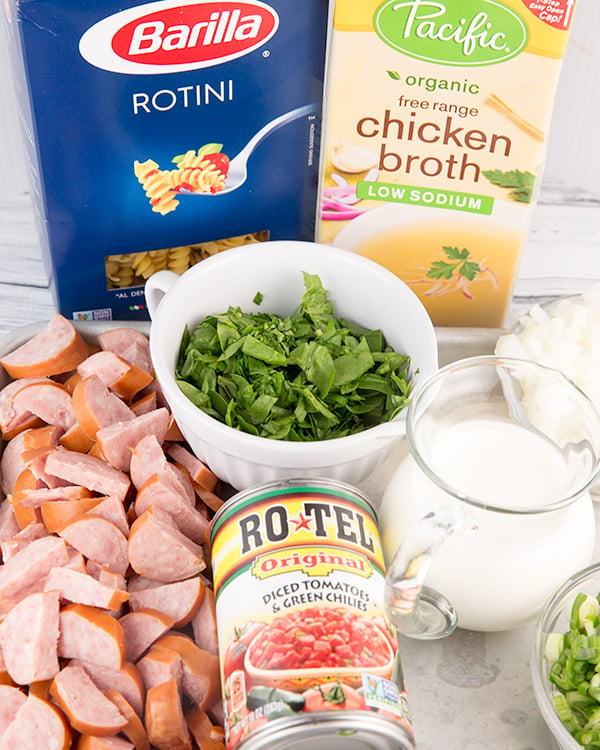 Start with 1 pound of sausage. I chose to use Italian Chicken Sausage, but you can use any sausage that you'd like. Kielbasa, both pork, beef or turkey would be great options here or andouille would also work well if you like spicy sausage.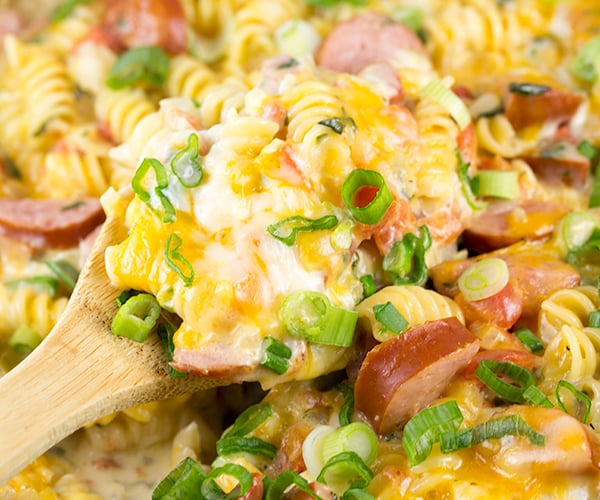 Along with the sausage, you'll need 1 medium yellow onion, chopped along with 4 minced garlic cloves. Sometimes I like to sneak veggies into the recipe I'm making, which is what I did here. I added in a full cup of chopped fresh spinach. It looks like a lot but spinach cooks down to barely nothing!
For garnish, I prepped 3 green onions that I chopped. Feel free to omit the green onion altogether if you don't like onions. Alternatively you could garnish this Spicy Sausage Skillet with chopped parsley.
Along with the veggies and the sausage, you will need lots of cheese , about 2-3 cups total. I used a combination of monterey jack and cheddar, but feel free to use whatever you have on hand.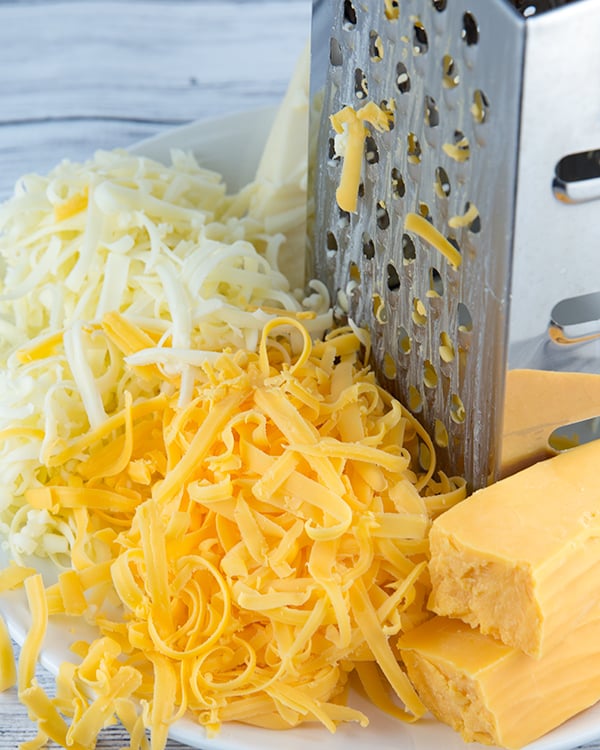 To make this recipe you will want one large skillet.
You'll start by drizzling about 1-2 tablespoons of olive oil in a pan. When the oil is nice and hot, you'll sauté the onions and chopped sausage until the onions are tender and the sausage has started to crisp up a little.
Then you'll toss in the garlic and let it cook for a minute or two. Is there anything better than the smell of onions and garlic cooking???
Here comes the best part. Well, the best part aside from actually eating this Spicy Sausage Skillet, THAT is the best part! All you have to do once the sausage and onions and garlic are cooked is toss the rest of the ingredients into the pan.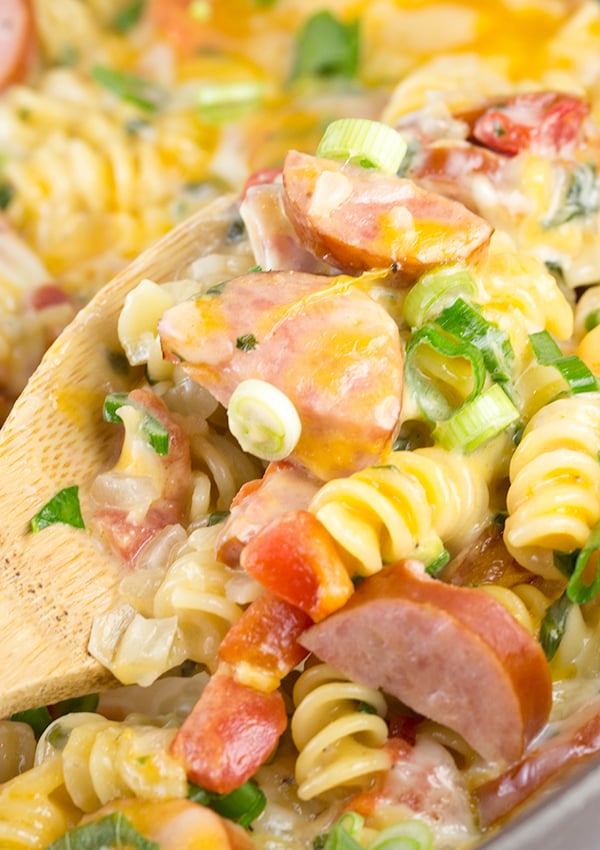 You'll need some chicken broth, heavy cream, a can of Ro*Tel (simply diced tomatoes with green chiles), chopped spinach, a little salt and pepper and 2 cups of pasta.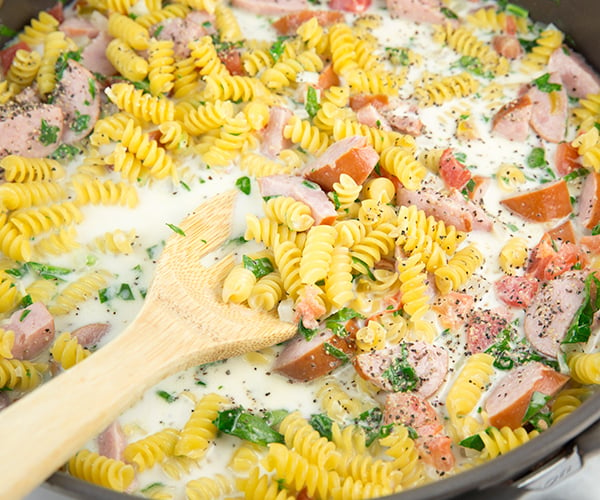 Use any pasta you have on hand, I used rotini. Penne would work too!
Once everything is in the pan, you'll bring it to a boil, then reduce the heat and simmer it for about 20 minutes.
As it simmers, the pasta will cook and become nice and tender and the sauce will thicken. When the pasta is tender, you'll stir in half of the cheese.
Then, you'll sprinkle the remaining cheese on top, cover the skillet, and let it melt and become ooey and gooey. Once the cheese is melted, you can top it with green onions, or fresh parsley, and serve it immediately.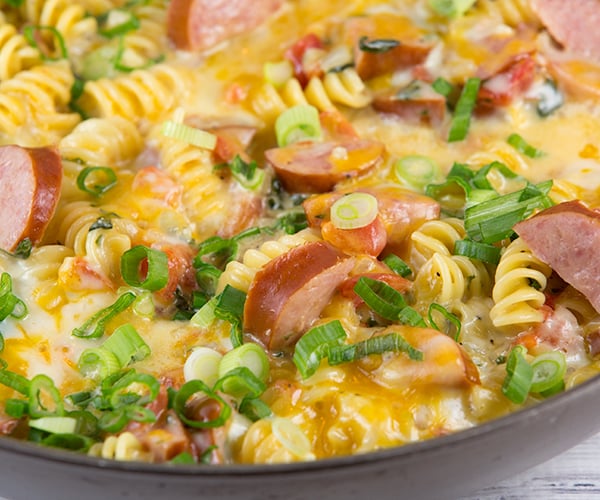 This Spicy Sausage Pasta Skillet ranks up there as one of our favorite meals and I know you will love it too both because it's delicious but also because it's made entirely in one pan.
Enjoy!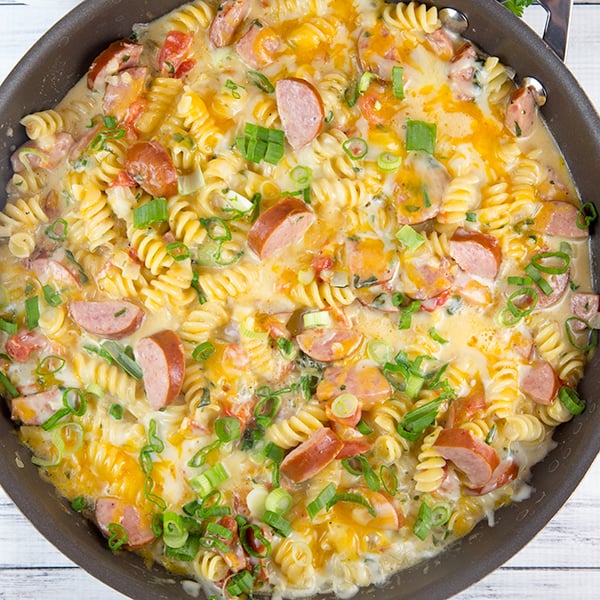 INGREDIENTS
1-2 tablespoons olive oil
1 pound Italian Chicken Sausage (pre-cooked), chopped (You can also sub kielbasa)
1 medium yellow onion, chopped
1 cup fresh spinach, chopped
3 garlic cloves, minced
2 cups (about 8 ounces) rotini
1 and 1/2 cups chicken stock
3/4 cup heavy cream
1 can Ro*Tel – including juices
1/2 teaspoon salt
1/2 teaspoon black pepper
1/4 teaspoon red pepper flake *If you don't like things too spicy, eliminate this
1 cup monterey jack cheese
1 cup sharp cheddar cheese
3 green onions, chopped
DIRECTIONS
Heat 1-2 tablespoons olive oil in a large skillet over medium heat.
Saute onions and Italian Chicken Sausage (pre-cooked) for about 5 minutes, or until the onions are translucent and the casing on the sausage is starting to crisp up a bit.
To the pan add garlic and cook for another minute, until fragrant.
To the pan add in chopped spinach, chicken stock, heavy cream, can of Ro*Tel,salt, black pepper, red pepper flake, and rotini.
Bring to a boil, then reduce heat, cover, and continue cooking for about 20 minutes, stirring occasionally.
When the pasta is just about tender, stir in half the cheese, then sprinkle the remaining cheese over the top of the pan. Cover for a few minutes to allow the cheese to melt.
Top with chopped green onions and serve immediately.
Recipe from
CenterCutCook