It's back to school time (already!) which means many of you are faced with the task of packing fresh and delicious lunches for the kiddos and possibly a lunch to go for you too! While it may appear challenging to plan fast and fresh brown-bag lunches, it doesn't have to be.
One of the questions I get asked most often is, "where do you get your inspiration and ideas for recipes?" Any time I am looking for recipe ideas, whether it be for a quick lunch, or a healthy dinner, I have a few trusted sources.
Source #1: Old cookbooks! My nightstand is regularly piled high with a variety of old cookbooks. You know the kind, right? The one compiled from the folks at church, another from the school your children attend. Everyone seems to have a cookbook these days and I adore them because a variety of people contribute, and typically, they only submit their favorite recipes so that you are left with only the best!
Source #2: Magazines! Real Simple, Cooking Light, and Sunset Magazine have been an awesome resource for me as I meal plan. As you get ready for back to school, you'll find that these magazines are filled from cover to cover with tips and recipes for lunches that can be made fast and taste fresh and delicious!
I bought these magazines at Safeway and was able to use a $1 off coupon that was available on their just for U portal. Sweet!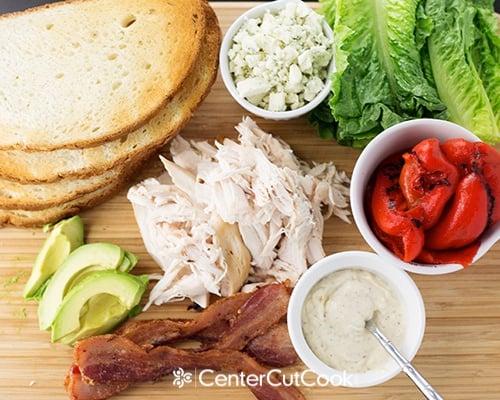 Now, let's talk about this sandwich! Take a look at all of the fresh ingredients that get packed between two lightly toasted slices of bread! It's got fresh romaine, roasted red peppers, perfectly ripe avocado slices, blue cheese, and thick-cut crispy bacon. Yum!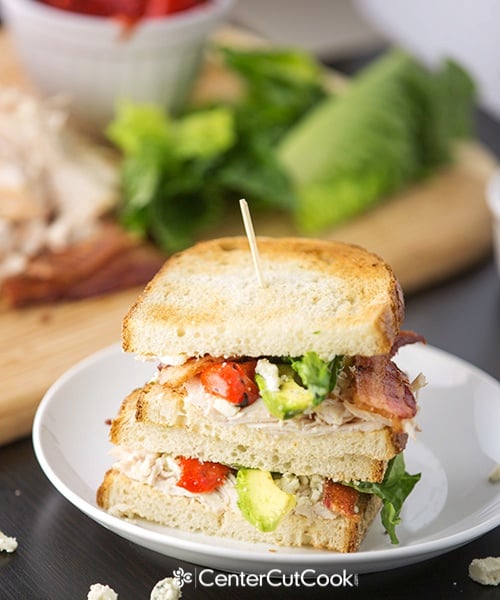 Every sandwich needs a dressing that gives it the WOW factor! I dressed this Chicken, Bacon & Blue Cheese Sandwich up real simply with a quick dressing I made myself. It's a combination of a little mayo, Worcestershire, Dijon mustard, and a small minced garlic clove. It comes together in a snap, but is so flavorful and definitely adds the WOW to this sandwich.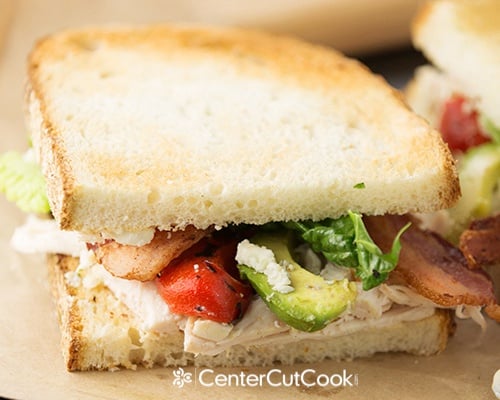 This recipe utilizes one of my favorite recipe tricks out there! Instead of taking the time to cook your own chicken, when you're trying to keep things quick and easy, just buy a rotisserie chicken from the grocery store. Juicy and delicious, a rotisserie chicken is a huge time-saver!
Whether you are looking for recipe ideas or tips for breakfast, lunch, dinner, or snacks, Real Simple, Cooking Light, and Sunset Magazine are a fantastic meal planning resource! Go buy a copy of these magazines for yourself and don't forget to use that $1 off coupon I mentioned that's available on Safeway's just for U portal. It expires August 30th.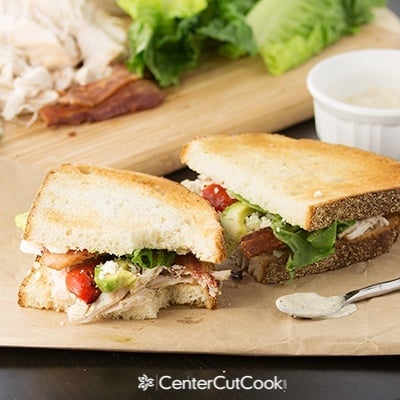 INGREDIENTS
4 thick cut bacon slices
2 teaspoons Worcestershire
1/4 cup mayo
1 teaspoon Dijon mustard
1 small garlic clove, minced
8 slices crusty white bread, lightly toasted
1/4 cup roquefort or other soft blue cheese, at room temperature
4 leaves romaine lettuce (trick stem ends removed)
8 ounces meat from 1 whole rotisserie chicken, sliced
8 jarred roasted red peppers
1/2 avocado, cut into 12 thin slices
DIRECTIONS
In a medium frying pan over medium-low heat, cook bacon, turning often, until just crisp, 12 to 15 minutes. Drain on paper towels and set aside.
Meanwhile, in a small bowl, stir together mayonnaise, Worcestershire, mustard, and garlic. Spread this mixture on 4 toast pieces. One each of the remaining 4 toasts, spread about 1 tablespoon blue cheese.
Layer each blue cheese-topped toast with a piece of lettuce, 1/4 of the chicken slices, 2 red peppers, 3 slices avocado, and a slice of bacon. Top each with a mayonnaise-spread toast. Cut sandwiches in half and skewer each half with a toothpick to help hold it together.
Recipe from
Cooking Light