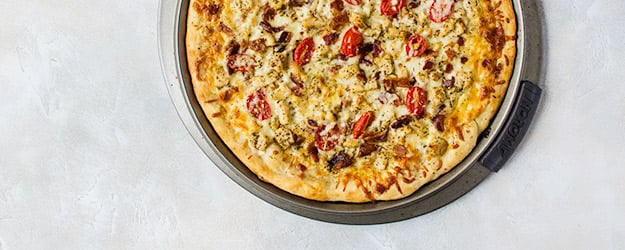 In our house, pizza night is the best night of the week. And to be completely honest, pizza night is usually more than one night of the week. More like three nights. Four on a bad week….or is it a good week? There isn't anything better than a good home made pizza, in my opinion, especially now that you can find ready made pizza dough at nearly every grocery store. After that, the sky is the limit in terms of sauce, cheese, and toppings.
We love getting adventurous with our flavors, but we tend to go back to a few family favorites. This chicken bacon ranch pizza is one we make at least a few times a month. It's a classic and a real crown pleaser. What is great is that you can use any leftover chicken you may have around, and on the off chance you have any bacon left over from breakfast, even better. If you don't have any leftover chicken, don't worry. The directions below give you instructions on making chicken just for this pizza.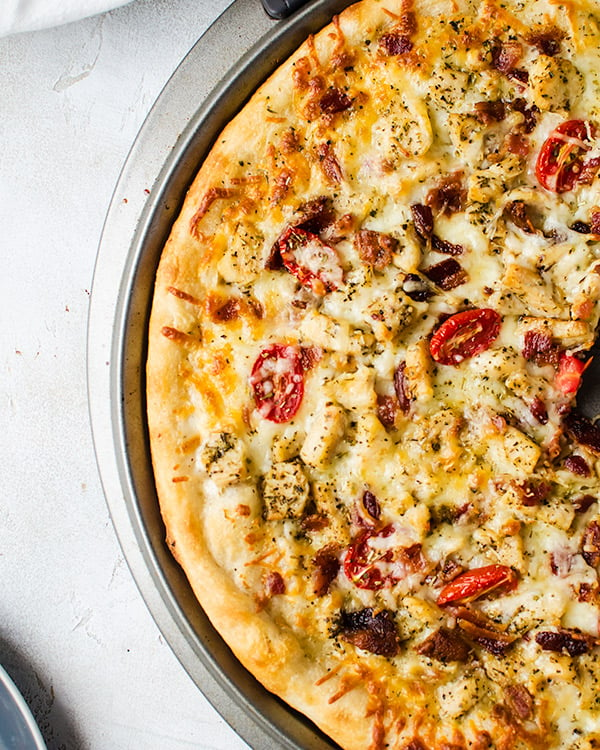 I do recommend using a pizza stone and a pizza crisper for making this chicken bacon ranch pizza and any weeknight pizzas at home. Unless you happen to have a pizza oven and pizza peel. The stone and crisper help to give you a really nice crisp pizza crust that is stable enough for you to load on the toppings without fear of your slice drooping down and letting everything slide off. If you don't have a pizza stone, that is okay too. You can make the pizza on a baking sheet and still get really good results. If you plan on making pizza often, you can get a pizza stone inexpensively and you will be glad for the results.
INGREDIENTS
1lbs pizza dough
8 oz chicken breast
2 teaspoons Italian seasoning, divided
1/4 teaspoon salt
2 tablespoons extra virgin olive oil
3 slices bacon
1/2 cup ranch dressing
1 1/2 cup shredded cheese (Italian four cheese mix recommended)
1/3 cup diced onion
1/3 cup diced tomato
DIRECTIONS
Preheat your oven to 400 degrees F. Leave a pizza stone in the middle rack, if available.
Spread out your pizza dough on a pizza crisper, or a baking sheet until it is about 12 inches in diameter. Set aside.
Dice the chicken and coat with 1 teaspoon of the Italian seasoning and the salt. Heat a large skillet with on medium high and add the extra virgin olive oil. Add the chicken and cook through until no longer pink – about 5 minutes. Transfer the chicken to a bowl and set aside.
Return the skillet to the heat and add the bacon. Cook until crispy, at least 2 – 3 minutes per side.
Break the bacon into smaller pieces and set aside.
Spread the ranch dressing over the pizza dough, leaving a 1/2 inch border around the edges. Top with 1 1/4 cups of the cheese, then top with the chicken, bacon, onion, and tomato. Top with the remaining cheese, then the remaining Italian seasoning.
Place the crisper or baking sheet over the pizza stone or on the middle rack. Bake for 12 – 15 minutes, or until the cheese is melted and starting to brown.
Remove and allow to cool slightly before cutting and serving.