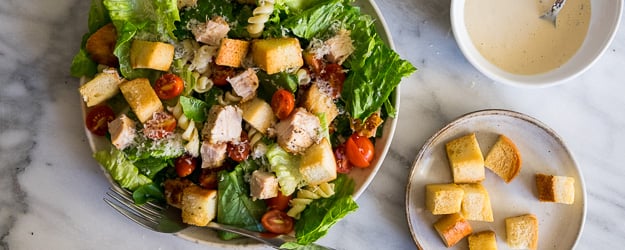 The original caesar salad was born in Mexico to an Italian father decades ago, and its classic combination of parmesan, garlic, mayo, and lemon atop refreshing romaine lettuce is still loved today – especially in our house! However, sometimes we just need a more substantial salad. Turning the chicken caesar into a pasta salad does make things more convenient – no need to come up with a separate pasta sauce – and gives you everything you need for a complete meal, all on one plate.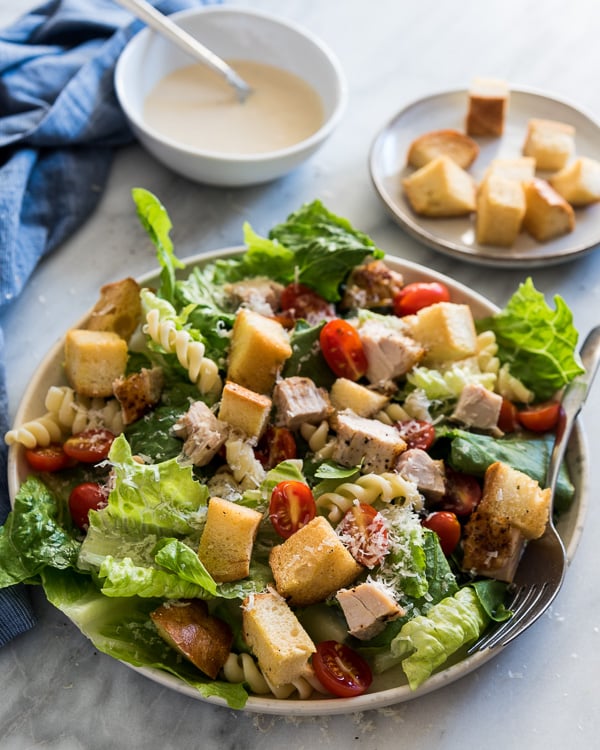 We prepared the salad so that it was light on the pasta, as compared with the typical pasta salad, because we prefer one serving of pasta for every three or four servings of veggies. This recipe is very flexible and can accommodate any ratio of lettuce to pasta, whether you want to go totally pasta-less or completely pasta-full!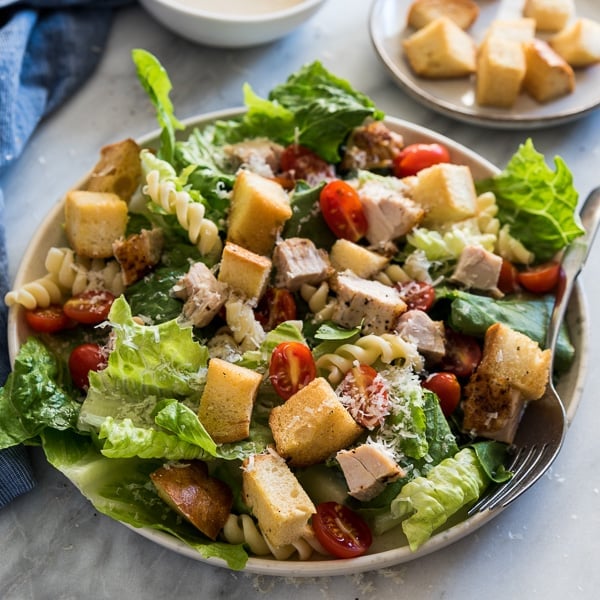 DRESSING INGREDIENTS
SALAD INGREDIENTS
1/2 pound pasta
2 pieces cooked chicken breast (or 4 pieces cooked thighs)
2 cups cherry tomatoes, halved
1 head romaine lettuce, torn to bite size
1/4 cup grated parmesan cheese
Black pepper to taste
DIRECTIONS
Cook pasta according to package. Rinse cooked pasta with tap water until it turns to room temperature. Drain and set aside.
Combine everything for the dressing in a bowl. Stir to mix well.
Combine romaine lettuce, pasta, chicken meat, and cherry tomatoes in a large bowl.
Gently toss salad with half of the dressing in a large bowl to coat everything evenly. Garnish with grated parmesan and grate black pepper on top.
Serve salad with the rest of the dressing on the side.
Recipe adapted from
Life Made Simple bakes