If there is one cuisine I am absolutely crazy about, it's Mexican. Chicken tamales are one of my absolute favorite dishes to order at any authentic restaurant, but unfortunately, my family doesn't necessarily agree. I've been on a culinary mission to change their minds. I can finally say…..SUCCESS!!!! I have rocked their world with the casserole version. Husband even claims this is his ultimate #1 favorite Mexican food dish. It's also so much easier to eat for young kids, without having a falling apart tamale, and you can easily cut the squares into small bites for them.
And let me just tell you, so many things to love about this recipe. A sweet jalapeño cornbread base is really all you need to win anyone over, but we don't stop there. Top with your favorite enchilada sauce, top with cheese, and then load everything you love in life on top. My preference? Avocados, cilantro, more avocados, salsa, guacamole, green onions, tomatoes, sour cream……..You get the idea. But let's also be honest, some of us just love the Mexican food as a gateway to get avocados and salsa into our bellies. That's the good stuff!!
So I mentioned this would be easy to make, and I'll lay it all out for you. The cornbread is mixed together in just a few minutes and gets thrown in the oven to start baking on it's own. At this point, you can go really easy and use pre-cooked shredded chicken from a rotisserie (I'm all about the shortcuts with my busy mom life). Another way to get easy with the chicken is just to boil a few chicken breasts for 8-10 minutes. You'll toss the shredded chicken with your favorite enchilada sauce. Pull out the partially cooked cornbread, and top with your sauce and chicken. Add shredded cheese and bake for another 25 minutes. Cut into small squares and serve with all of your favorite goodies!! Get crazy!!
Just a few other side notes. This makes plenty for leftovers even with a family of 4. I love dinners that can last me more than 1 night! You can also make ahead earlier in the day (or the night before), and just re-heat when you are ready to serve. The jalapeño in the cornbread is very mild, as long as the seeds are taken out. If you want more spice, go ahead and leave them in.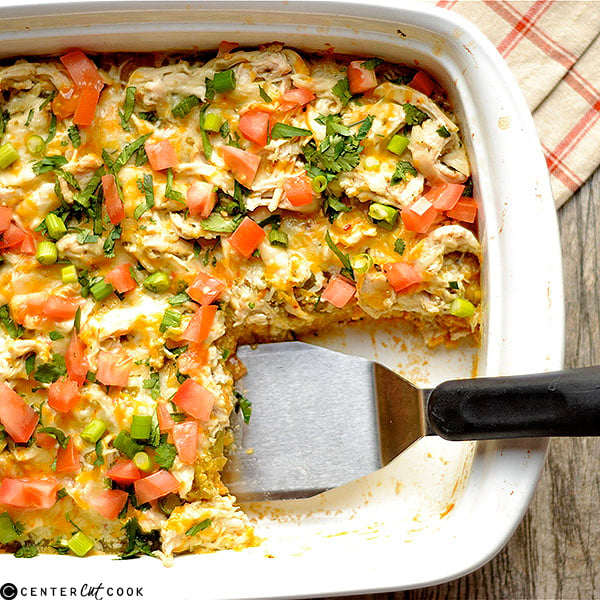 CORNBREAD LAYER INGREDIENTS
2 cups self-rising cornmeal mix
1 1/4 cup milk
1/4 cup sugar
1/2 tsp salt
1 tbsp chili powder
1 tsp cumin
1 jalapeño (de-seeded and chopped)
1/4 cup melted butter
1 cup corn kernels (frozen or canned)
1/2 cup shredded cheddar cheese
1 egg
CHICKEN LAYER INGREDIENTS
1 lb chicken breast (or 2 cups pre-cooked shredded chicken)
2 cups enchilada sauce (red, green, or even a mixture of the two)
1 cup cheese
OPTIONAL TOPPING INGREDIENTS
1/3 cup chopped fresh cilantro
1/4 cup chopped green onion
1 sliced avocado
1 cup salsa
1/2 cup sour cream
DIRECTIONS
Preheat your oven to 400. Grease a 9×13 casserole dish, set aside.
For the cornbread layer: In a large bowl, mix together corn meal, sugar, salt, spices, and chopped jalapeño. In a smaller bowl, whisk egg with milk and butter. Fold the wet ingredients into dry, and using a spoon or whisk continue to mix until pockets of dry ingredients are gone. Add in corn and cheese. Spread out mixture evenly into greased dish. Bake for 15 minutes.
Meanwhile, make the chicken layer. Boil chicken breasts for 8-10 minutes, or until no longer pink, shred and cut the chicken and set aside (alternatively used pre-cooked chicken). Mix with 1 cup enchilada sauce.
Pull out partially cooked cornbread layer, and reduce heat to 350 on your oven. Cover cornbread with 1 cup enchilada sauce. Spread out chicken/enchilada sauce mixture over the sauce, and evenly top with shredded cheese. Bake for an additional 23-25 minutes. Remove from oven.
Let sit for a few minutes before serving. Top with avocado, tomatoes, cilantro, green onion, salsa, sour cream, or any other toppings. Cut into squares and serve immediately.
Servings: 8