One of my favorite meals has always been teriyaki rice bowls. It's what I used to order when going out to eat as a kid with my family and, for whatever reason, it's such a comfort food for me. I mean, what's not to love with fresh veggies, sweet and tangy sauce, chicken, and rice?
But, for some reason, I never make chicken teriyaki bowls at home. How on Earth can this be? I mean – they're not even difficult. Seriously, as far as comfort foods go, this is one very non-fussy food.
So, one day, I realized I needed some comfort food in the form of chicken teriyaki bowl deliciousness. It was time. And I was hungry.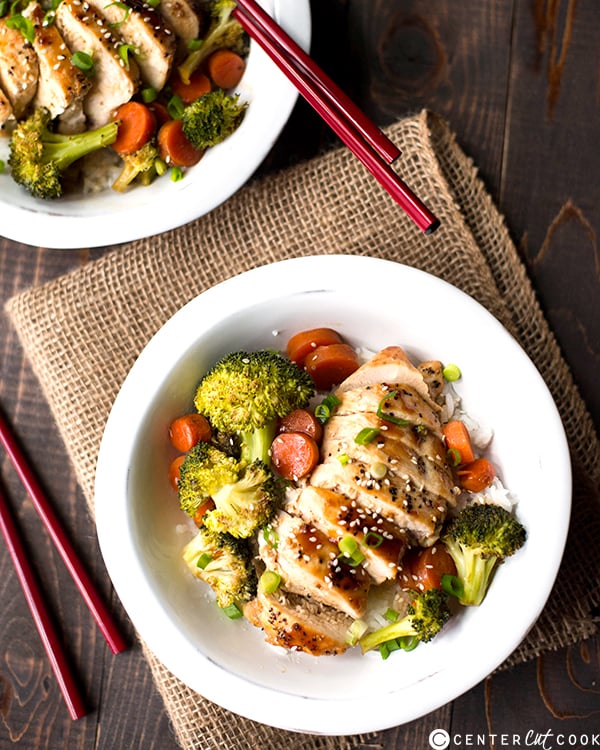 Though, to be fair, I'm always hungry!
If you've never made your own homemade teriyaki sauce, it's just amazingly superior to anything you'll ever buy pre-bottled in the store – it's like seriously not even fair. Plus, it's really easy and quick to put together so I totally recommend it. Especially smothered all over this chicken right here.
Oh, the yumminess!
These chicken teriyaki bowls are ridiculously good and perfect for an easy weeknight dinner…if you're into that sorta thing, which I totally am and appreciate to no end.
Here's to tasty, non-fussy, easy, and delicious comfort food!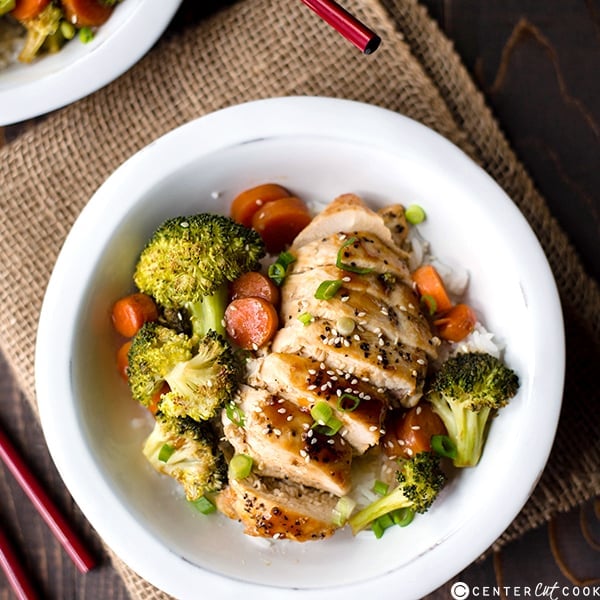 INGREDIENTS
1/2 cup brown rice, uncooked
3 cups water
1/3 cup water
1/2 tsp.kosher salt
1 tsp. kosher salt
1/3 cup low sodium soy sauce
2 tbsp. honey
1 tbsp. coconut sugar
2 cloves garlic, minced
1 tsp. fresh ginger, minced
1 tsp. apple cider vinegar
1 tbsp. cornstarch
1 tbsp. olive oil
4 chicken breasts, boneless and skinless
1/2 tsp. ground black pepper
2 small broccoli crowns, de-stemmed and broken into florets
5 carrot(s), sliced into 1/4-inch slices
Green onions, sliced, for garnish
Sesame seeds, for garnish
DIRECTIONS
Preheat oven to 425 degrees.
Combine the uncooked rice, 3 cups water, and 1/2 tsp. kosher salt in a deep pot or saucepan and heat over medium-high heat. Once the water has come to a boil, reduce to a simmer, cover, and cook until all the water has been absorbed by the rice, about 15-20 minutes. Remove from heat, fluff with a fork, and set aside.
In a medium saucepan, combine the soy sauce, honey, coconut sugar, garlic, ginger, and vinegar over medium-high heat, stirring frequently.
Dissolve the cornstarch in the remaining 1/3 cup water in a separate mixing bowl and then add to the saucepan. Cook for 6-8 minutes, stirring frequently, until thickened. Set aside.

Heat olive oil in large, oven-safe skillet over high heat. Season chicken liberally with kosher salt and ground black pepper.
Place chicken into skillet and cook until golden-brown on one side, about 5-6 minutes.
Flip the chicken over, add the broccoli and carrots to the pan, and then pour the teriyaki sauce over and between the chicken and vegetables. Transfer pan to the oven.
Bake chicken for 15-20 minutes, until no longer pink in the middle. Carefully remove the hot pan from the oven and serve over steamed brown rice.
Servings: 4