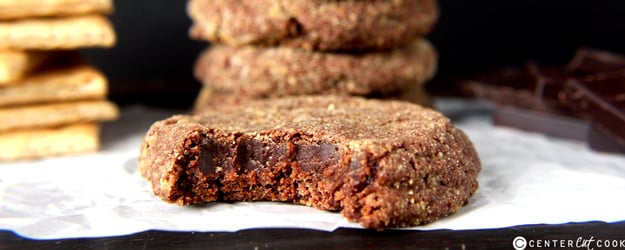 Back in the fall I made Pumpkin Cheesecake Cookies– they are delicious and amazing and I knew I wanted to do a chocolate version. I'm so glad I did because they came out just as good!
These cookies are so easy! Everything is mixed in one bowl, there is no chilling the dough, and they taste amazing! They stay thick and fudgy and don't spread at all when cooking. They don't have any eggs in them which is nice if there are any allergies you're working around or maybe you're just out of eggs and want a cookie!
They are one of my favorite cookies to make because they're hard to mess up. Only a handful of ingredients that come together to create such a tasty treat! These are best served cold (like regular cheesecake), so make them and store them in the fridge. One bite of that cool, fudgy cookie and you will be in love!
If you love chocolate (who doesnt?) then you will love these cookies! These are so easy and delicious!
INGREDIENTS
8 oz cream cheese, room temperature
1 cup butter, room temperature
1 1/2 cups sugar
2 teaspoons vanilla
1 1/2 cups flour
1/2 cup cocoa powder
1 cup graham cracker crumbs, divided
DIRECTIONS
Preheat the oven to 350° and line 2 cookie sheets with parchment paper.
Cream butter and cream cheese together until smooth.
Add in the sugar and vanilla, stir to combine.
Add in the flour, cocoa powder, and 1/2 cup graham cracker crumbs- mix well.
Place the other 1/2 cup graham cracker crumbs an place them in a small bowl.
Scoop into balls, roll between palms to make smooth, then roll in the graham cracker crumbs.
Place on tray and bake for 13-15 minutes.
Press down on them slightly while they are still warm because they do not flatten when baked.
Once cooled, place in fridge and let chill. Best served cold.
Servings: 23