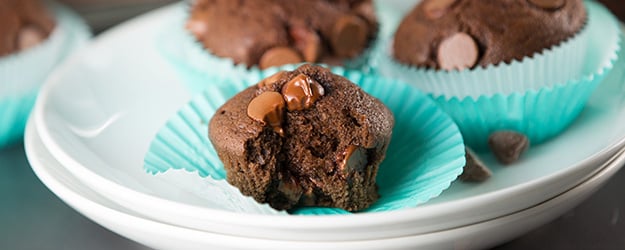 Talk about a chocolate lover's dream, these Chocolate Chocolate Chip Muffins are sure to please the chocolate lover in your life. Chocolate muffins are taken up a notch with the addition of chocolate chips mixed into the batter. Then, more chocolate chips are sprinkled on top right before they go into the oven. The result is the perfect combination of chocolate, and well…. more chocolate!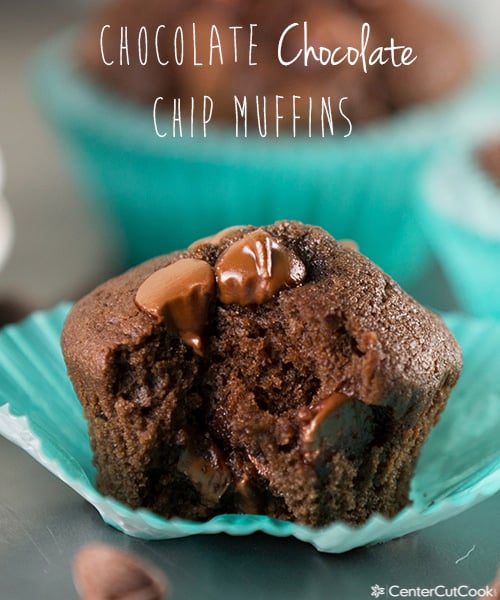 What I love about these little muffins is that they aren't too sweet. Don't get me wrong, they still have some sweetness to them, however, they are not cake or cupcake like sweet. And when they come out of the oven, they are super moist, and just perfect for a special breakfast. These chocolate chocolate chip muffins are best served fresh out of the oven, as we did notice they tend to lose some of the moistness when they are eaten as leftovers a day or two later.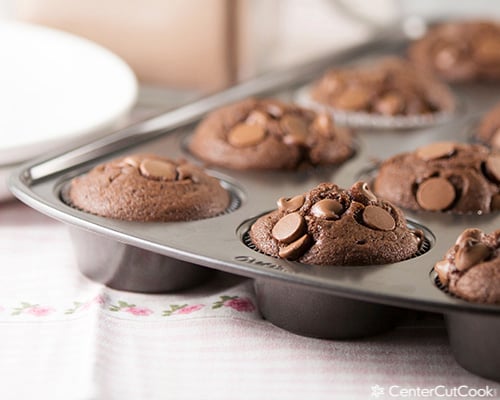 If you're looking for an easy recipe for chocolate chip muffins, this definitely fits the bill. You don't even need to get out your mixer. All you'll need to make these from scratch is a couple of big bowls, and big wood spoon. Okay, it doesn't have to be a wood spoon, but that's what I use because it's my favorite. Doesn't everybody have a favorite kitchen utensil? ;)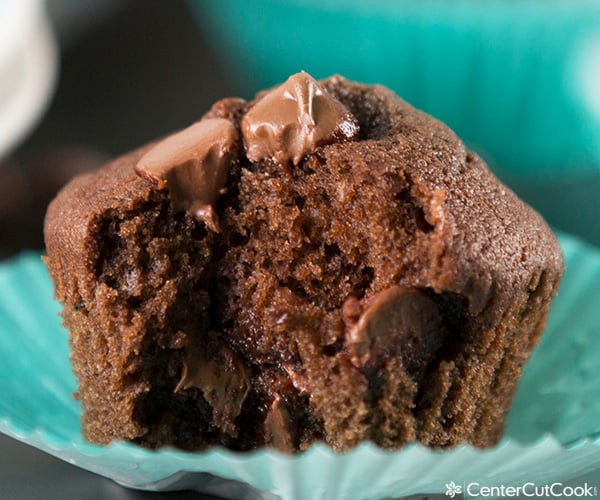 Just look at the chocolate oozing from these muffins. Yum!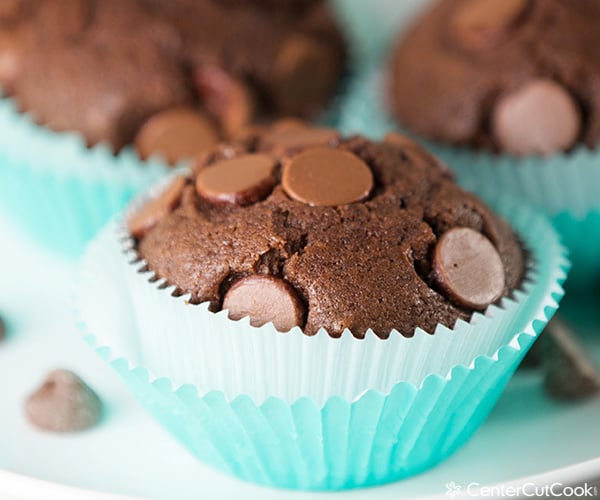 I wouldn't exactly call these healthy but serve some fresh fruit alongside them and it might help relieve any guilt you have over serving chocolate for breakfast (which I am never opposed to!) :).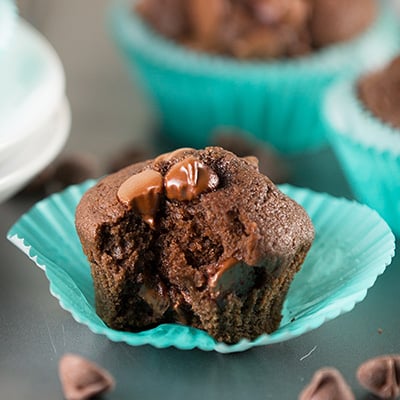 INGREDIENTS
DIRECTIONS
Pre-heat your oven to 400 degrees.
Grease your muffin tin or use paper liners.
In a large bowl, sift together all dry ingredients – flour, sugar, brown sugar, cocoa powder, baking powder, salt.
Then add in chocolate chips and stir.
In a small bowl combine eggs, oil, milk, and vanilla. Mix well.
Pour wet ingredients into dry and mix until everything is incorporated.
Fill each muffin cup about 3/4 of the way full. Continue to stir the batter as you fill the muffin cups so that the chocolate chips don't settle at the bottom.
Sprinkle a few additional chocolate chips on the top of each muffin.
Bake for 18-20 minutes. Allow to cool for a few minutes before serving.
This recipe yields 15-18 muffins.