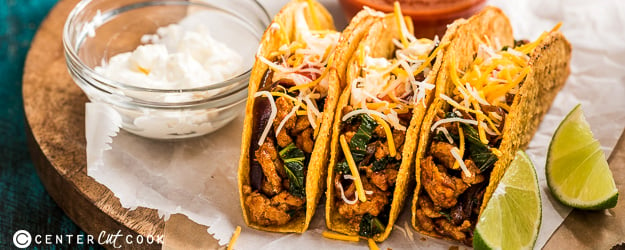 I'm in love with the Old El Paso dinner kit lately! It includes everything you need to create a fast meal to spice up your game day. Today I'm sharing this delicious chorizo taco recipe with you, to teach you a quick way to make your family and guests happy and relieve the burden of cooking!
The Old El Paso dinner kit comes with 10 taco shells, a pack of taco sauce, and a spice mix. I ran to my local Jewel and quickly found everything I needed for this recipe, including the Old El Paso dinner kit. I really like the Stand 'N stuff kit, because the shells keep all the ingredients well-stuffed without falling down. You can use this kit with a few fresh ingredients and minimal prep to create the best tasting chorizo tacos!
To make the taco filling, all you need to do is to saute the ground pork with the spice mix and some onion. I added a bunch of chopped kale at the end, because it's a great way to add texture and nutrition. With this stuffing, you can simply serve the tacos with sour cream, taco sauce, and shredded cheese, without adding any other ingredients. Cooking and stuffing the tacos will only take 20 minutes, and you'll have your main course ready for the game.
These chorizo tacos taste great warm or cold.
If you're serving them for your family, the best way is to cook the filling while reheating the taco shells in the oven. When they are ready, simply serve the warm chorizo stuffing and shells. Let everyone stuff their own tacos. Skipping the stuffing process will save you tons of time. Plus, everyone will have extra crispy and warm, just-out-of-the-oven tacos.
On the other hand, if you're serving the tacos for a gathering or a game-watching party, preheat the tacos shells and cook the filling ahead of time. Wait until the stuffing cools down before stuffing. Otherwise the steam from the hot chorizo will make the taco shells a bit soggy. You should always serve the sour cream and taco sauce on the side, to keep the taco shells fresh and crispy.
If you're cooking for a crowd, you might want to consider adding a dip to your spread. Check out the cheesy bean dip and spinach artichoke dip. Both recipes require only 30 minutes to get ready and very little prep time.
To cook a dip and these chorizo tacos, you will need about 40 minutes to get everything ready. Then you can focus on the game with a happy belly :)
This is a sponsored conversation written by me on behalf of Albertsons. The opinions and text are all mine.
INGREDIENTS
1 box Old El Paso Stand 'N Stuff kit (including 10 taco shells, taco seasoning, and taco sauce)
1 tablespoon olive oil
1/2 red onion, sliced
1 pound ground pork
4 cups chopped kale
1/2 cup Mexican shredded cheese mix
1/2 cup sour cream
1 lime, cut to wedges
DIRECTIONS
Preheat oven to 325 degrees F. Arrange tacos on a baking tray. Cook for 6 to 8 minutes, until crispy.
While preheating the oven, cook the chorizo filling. Heat olive oil in a large skillet over medium heat until warm. Add onion. Cook and stir until it turns transparent, 3 to 4 minutes.
Push the onion to one side of the skillet and add ground pork to the other side. Chop and spread the pork with a spatula, to get more surface contact with the skillet. This will help brown the pork faster. Stir occasionally, until the surface has turned almost white. Add half of the taco seasoning. Stir to mix well.
Add kale. Stir and cook until the kale turns tender. Add the rest of the taco seasoning. Stir to mix everything well, until there is no liquid in the skillet.
Transfer to a big plate to cool.
To serve immediately, you can serve the taco shells and chorizo filling separately, with shredded cheese, sour cream, taco sauce, and lime wedges. Stuff the tacos as you eat.
To serve later, wait until the chorizo filling cools down completely. Stuff the tacos and scatter cheese on top. Serve with sour cream, taco sauce and lime wedges.