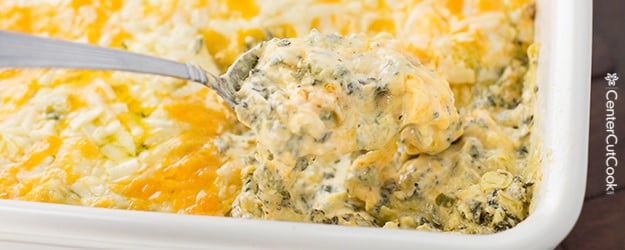 I've always sort of been a sucker for warm spinach artichoke dip, or is it artichoke spinach dip? It's usually one of my go-to appetizers at restaurants whether I'm at chain restaurant like Applebees and Olive Garden, or little local independent restaurants. I've tinkered with several recipes over the years after sampling it at too many restaurants to count and have never really stuck with one recipe, but I think I've found a keeper this time around!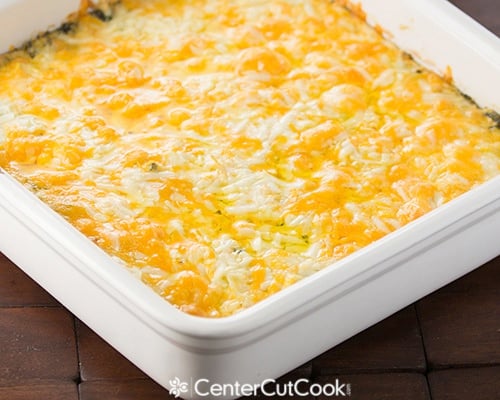 Warm Spinach Artichoke Dip is made with four different cheeses for the ultimate cheesy indulgence! I used a combination of cheddar, parmesan, swiss, and mozzarella, but feel free to use any combination of cheeses that you'd like! To the cheeses I added softened cream cheese, a little mayo, some seasonings, and chopped artichoke and spinach. It's not healthy or low in calories by any stretch of the imagination, BUT, it is a fan favorite! This is a artichoke spinach dip recipe that you will love!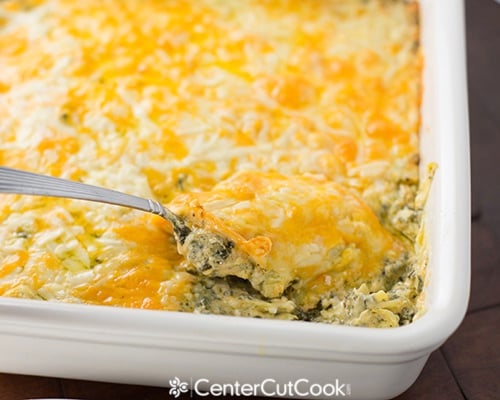 Whenever I make warm spinach artichoke dip, there's always the dilemma of what to serve with it because everything always sounds good. This time around, I used tortilla chips because I had those on hand, but I've done veggies, bread, and pita chips in the past. You really can't go wrong with whatever option you choose! If you want the dip to have a bit of a kick, throw in a little red pepper flake and add in some pepper-jack cheese.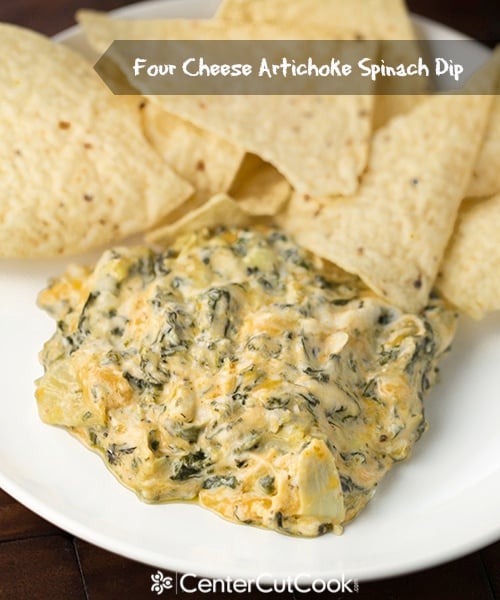 Tip: Make sure to thaw and drain the spinach really well, otherwise you'll have a watery dip. I defrost the spinach in my microwave, and then put the spinach in a clean dish towel and squeeze all the water out.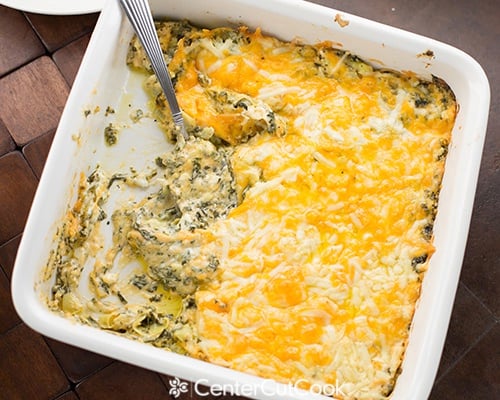 I don't recommend serving this cold. Some artichoke spinach dip recipes work well served either warm, or cold, but this is definitely one you'll want to serve warm because of all the cheese! Enjoy!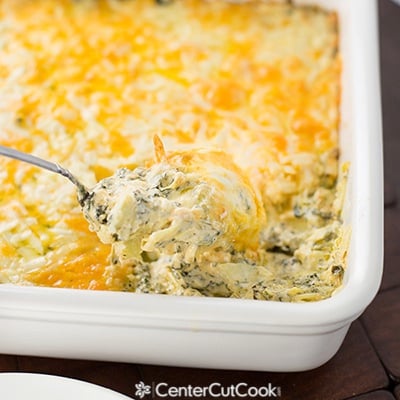 INGREDIENTS
8 ounce package cream cheese, softened
1/4 cup mayo
1/2 cup parmesan cheese, grated
1/2 cup Mozzarella cheese, grated
1/2 cup cheddar cheese, grated
1/2 cup swiss cheese, grated
1 clove garlic, minced
1/2 teaspoon dried basil
1/4 teaspoon garlic powder
1/4 teaspoon black pepper
1/4 teaspoon salt
1 can artichoke hearts, drained and chopped into small pieces
8 ounce package frozen chopped spinach – thawed and drained really well
DIRECTIONS
Pre-heat your oven to 350 degrees.
In a large bowl or with your food processor, combine all ingredients together except 3/4 cup cheese.
Spoon the mixture into a lightly greased 8×8 inch casserole dish.
Top with remaining cheese and bake for about 25-30 minutes or until the dip is warm and bubbly.
Allow the dip to cool for at least 10 minutes before serving.
Recipe adapted from
All Recipes