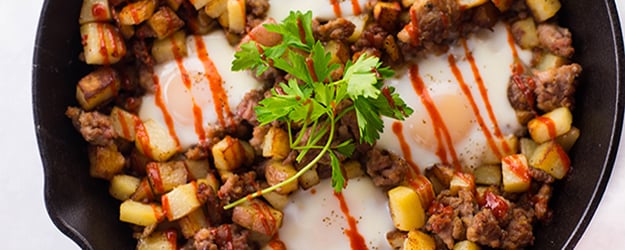 Living out here in Austin, Texas over the past five or so years has taught me a lot about skillets, breakfasts, and cowboys. One common theme that I've found is that a cowboy breakfast skillet needs to be hearty, flavorful, and easy to make. So, when sitting down to make one for myself, that's certainly what I aimed for.
I'm a fan of big savory breakfasts that are full of protein, different textures, and vibrant flavors and this cowboy breakfast skillet is a big winner for all three of those things.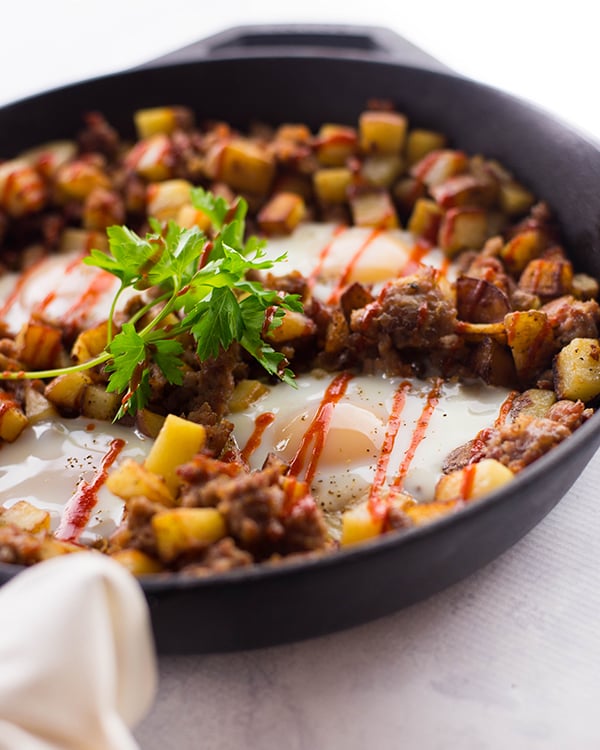 I use a cast iron skillet to make this recipe, but any oven-safe skillet will do. You can also choose to make your potatoes into hash browns instead of diced potatoes, but that will take a little more effort and I was looking for ease and tastiness. And I happen to prefer diced crispy potatoes, myself.
If you like a little added spice, I highly recommended adding a drizzle of hot sauce over the top – it really brings the meal together and adds that pop of heat that would otherwise be missing. I love Sriracha for this skillet, but your favorite hot sauce will do the trick.
As written, the recipe will produce over-medium eggs which are runny. If you like your eggs to be more cooked through and not runny, however, just leave in the oven a couple extra minutes to be sure they're cooked through. You could also turn on the broiler to cook them even quicker right at the end, which will also serve to make the potatoes and sausage nice and crispy, too.
INGREDIENTS
DIRECTIONS
Preheat oven to 400 F.
In an oven safe skillet (preferably a cast iron), add the sausage and cook until well-browned and crumbly. Once brown, use a slotted spoon to remove the sausage, place into a bowl and set aside.
Add the diced potatoes, salt, pepper, and garlic powder to the sausage grease and cook until crispy and tender, about 8-10 minutes. Once tender, return the sausage to the pan and stir, heating through.
Create 4 small wells in the pan for each egg and then carefully crack one egg into each well.
Place the skillet in the oven and bake until the eggs are no longer runny and the egg whites have set, about 4-6 minutes.
Garnish with some fresh parsley and drizzle with hot sauce (I like Sriracha).
Servings: 4