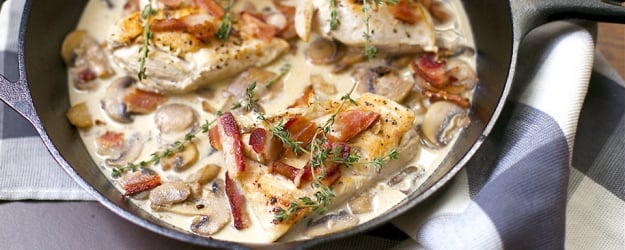 Do you have that one "go-to" dish that you've been making forever? I'm pretty excited about sharing this recipe, because it's the first "adult" meal I ever made in my life. My college roommate made something similar to this for a fancy Valentine's girls' dinner and ever since then, I've made so many different variations. This was the first meal I ever cooked for my husband. They say a way to a man's heart is through his stomach, and let's just say, it didn't take us too long of dating for him to want get married. Haha! He nicknamed this dish, Dancing Chicken, because every time I make it he does a dance with excitement over how much he loves it!
You'll love the creamy and comforting flavor of this chicken dinner. This meal is the ultimate crowd pleaser, and is perfect to serve to company or guests. But I love it because it's easy enough to make any night of the week. The creamy wine sauce pairs so well with the mushrooms and garlic, and the bacon is just a bonus punch of yumminess!! Plus that crispy bacon adds just the right texture with mushrooms and chicken.
Just a few important notes about this recipe. It is actually made in 3 different stages, starting with the bacon, but uses the same pan. I love to save on dishes whenever possible! Each stage is not that time consuming; in fact the entire meal is made in less than 30 minutes, but does require attention. Be sure to make your chicken breasts thin, or else they won't cook properly in the skillet. You also can always transfer the chicken to the oven to finish it off if necessary. Serve with potatoes or pasta for a complete meal. I prefer the potatoes, but my kiddos are pasta loving people and get super excited with a creamy pasta dish. Enjoy!
INGREDIENTS
4 thick slices of bacon
3-4 chicken breasts
1 tbsp olive oil or butter
8 oz sliced bella or white button mushrooms
3 cloves garlic, crushed
3 tbsp flour
1/2 cup dry white wine
3/4 cup half and half
Salt and pepper to taste
DIRECTIONS
Begin by heating a large skillet to medium heat. Cook your bacon, about 5 minutes per side depending on crispiness.
While bacon is cooking, prepare your chicken breasts. Pound the chicken thin by placing chicken in a ziplock bag or between two pieces of plastic wrap. You can use a mallet, rolling pin, or your fist. The chicken should be less than 1 inch thick and around the same size for even cooking. If chicken is too thick, it will take longer to cook. Salt and pepper your chicken.
Once bacon is cooked, remove to a plate and drain with paper towels. Reserve the bacon grease, and add the chicken to the pan. Cook for 5-7 minutes per side, depending on thickness of your chicken. It can still be a little pink when removed from the pan.
Remove the chicken, and now add mushrooms and garlic (you may need olive oil or butter if the pan is too dry). Saute mushrooms and garlic, until browned and fragrant. Sprinkle flour into the pan to coat the mushrooms.
Now add in white wine and bring the chicken back to the pan. Heat up to medium high heat so the mushrooms and chicken can soak up some of the wine. Cook for another 3 minutes, then add in half and half.
Continue to stir, and add in salt and pepper to taste. Sauce should be slightly thick. Now finally, break up the bacon into small pieces and add to the dish.
Serve with plenty of sauce over potatoes, rice, or pasta.
Servings: 4