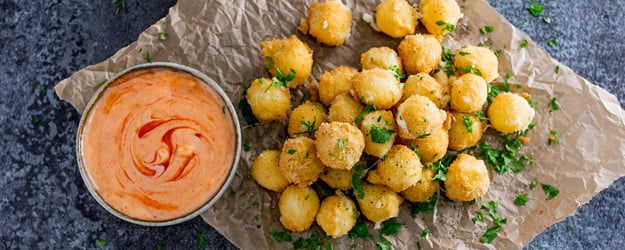 If you're looking for a finger-food to feed a crowd, you're in the right place.
These mozzarella bites go down an absolute storm, and I always wish I'd made more!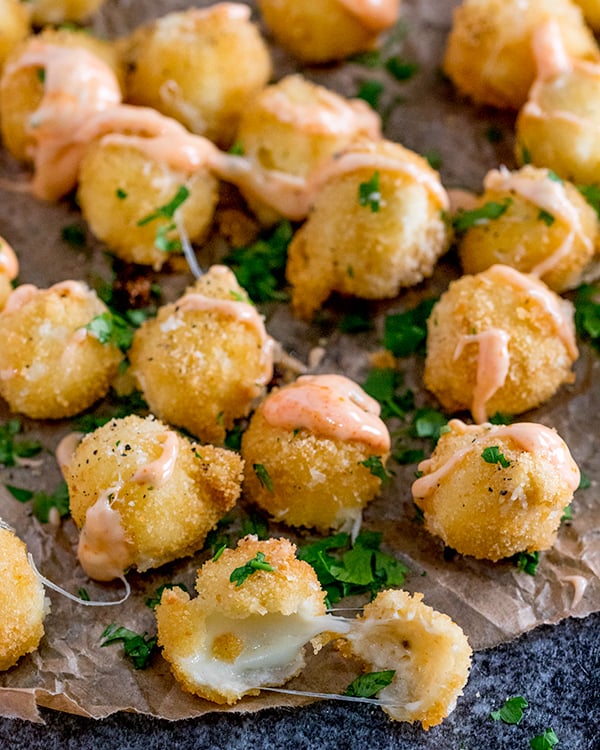 Really simple to make – especially if you buy the ready-shaped mozzarella pearls from the store, you can get them on the table in no time.
I like to serve them with ketchup for the kids. The grown-ups get a special treat with their own honey-sriracha-mayo dip (literally just those three ingredients!).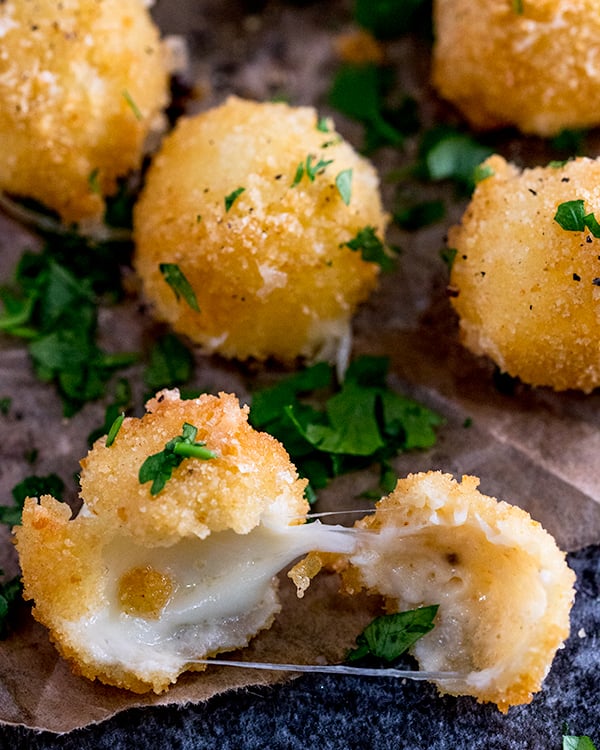 They also make a great addition to a salad – especially if served with a lovely bowl of tomato soup!
The bites are coated in seasoned flour, egg and breadcrumbs, then fried for just a minute or so. You want them to be lightly golden. If you cook them for too long, the mozzarella will melt too much and will ooze out.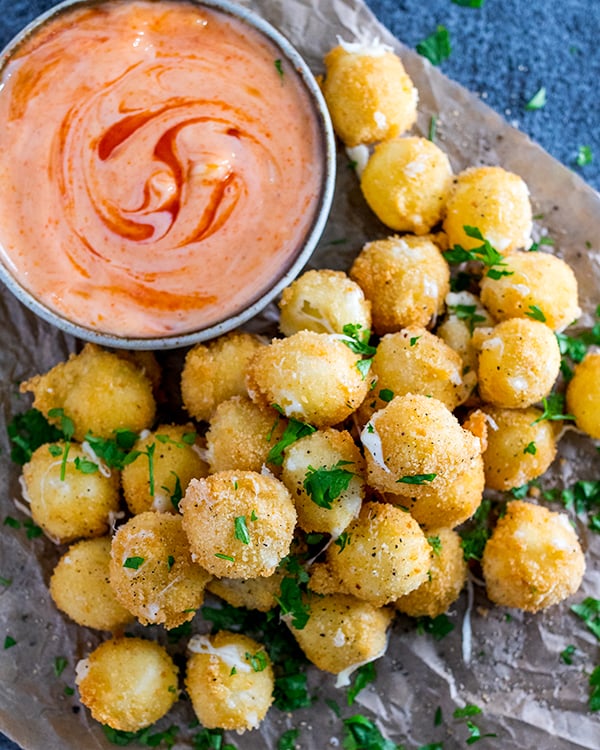 Once you see one or two of the bites have started to ooze a little, lift the mozzarella balls out of the fryer straight away.
If you want them to be more golden, you can leave them to cool for a few minutes, then put them back in the fryer for another 30 seconds or so (Mmmm twice-fried!!).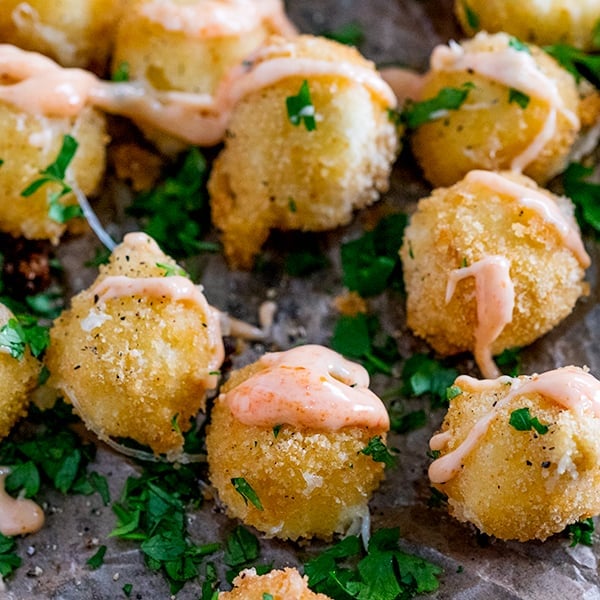 MOZZARELLA BITES INGREDIENTS
2 cups mozzarella pearls
3/4 cup all-purpose flour
1/2 tsp salt
1/4 tsp garlic salt
1/2 tsp paprika
2 eggs, lightly whisked
1 1/2 cups fine breadcrumbs
Vegetable or other non-flavored oil for deep frying
HONEY SRIRACHA MAYO DIP INGREDIENTS
DIRECTIONS
Heat the oil in a deep fat fryer, or in a large, heavy based pan (a least 2 inches of oil) to 170c/340f.
Drain and dry the mozzarella pearls using some kitchen towels.
Place the flour, salt, garlic salt, pepper and paprika in a bowl, mix together.
Place the egg in another bowl and the breadcrumbs in a third bowl.
Coat the mozzarella pearls in the seasoned flour, then dip in the egg mixture (be sure to cover completely in egg), then roll in the breadcrumbs. Place the breadcrumbed mozzarella pearls on a plate.
Carefully place the mozzarella bites in the fryer and fry for around 60-90 seconds – until they're lightly golden and the cheese is just starting to ooze out of one or two of them.
Whilst the mozzarella bites are cooking, make the honey sriracha mayo, by mixing the dip ingredients together and spooning into a small serving dish.
When the mozzarella bites are cooked, tip them into a bowl lined with kitchen towels to remove excess oil.
Transfer to a serving plate and serve with the honey sriracha mayo.
Servings: 4 servings