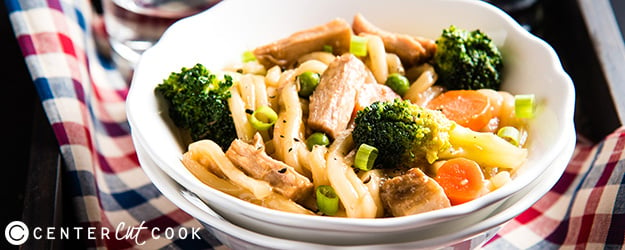 Stir fried noodles are a staple for my family and we cook them at least once per week. They're easy to prep, allow you use up any leftovers, and are super fast to cook.
Prepping and cooking chow mein is very easy once you get the jist of it. You can follow the steps below to help you speed up the workflow.
First of all, heat up the stove and boil a big pot of water. This way it will ready when you finish prepping.
For the prep, you only need to mix the sauce and chop up some veggies and meat. To make things even easier, you could use frozen chopped veggies and ground chicken or turkey, so you can skip the cutting part. Even better, if you have already cooked the Coca-Cola chicken recipe I shared earlier, you can scoop 1/3 cup leftover sauce to use in this recipe directly, without mixing the sauce yourself.
As for the cooking, start by heating up the oil if you're using an electric stove (it takes longer to heat up than a gas stove).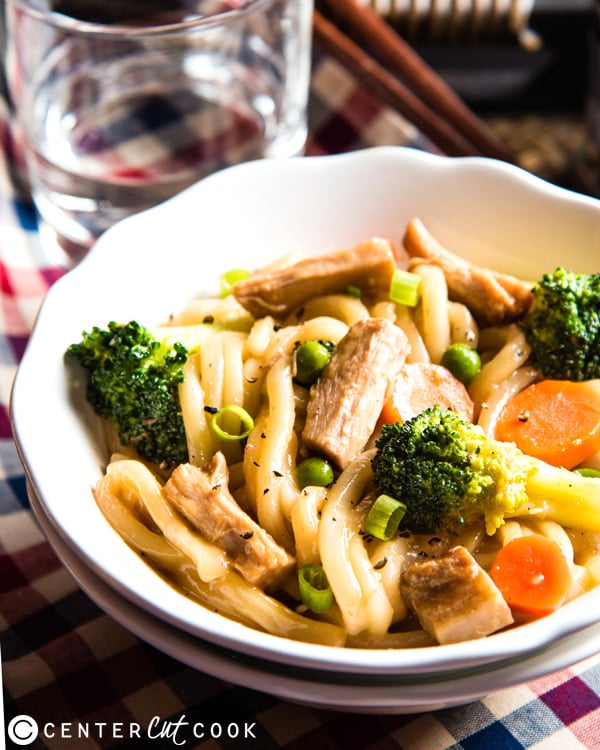 Dump the frozen noodles into warm water for a minute and they'll be ready to use. (I prefer to keep a few packs of these frozen noodles rather than dried ones, because they stay good forever and take less time to cook.) Transfer these noodles to a large strainer to drain. Keep the same pot of water boiling, so you can blanch the veggies for a minute, then dump them onto the noodles in the strainer to drain.
Now your skillet will be hot and ready to use. Cook the meat in the herb-infused oil. Add the sauce and cook a bit more, then add the noodles and veggies. Continue cooking them for a bit until the sauce is fully absorbed. Then the noodles are done!
I really like to use cooked meat in this recipe, because it helps you use up leftovers and it makes the dish taste even better. You can use stew or braised meat, boiled or grilled meat, or even sausage. I used smoked turkey to cook it once, and it turned out so good! If you don't have any cooked meat on hand, use some ground turkey or chicken. This way it will be much quicker to cook and will taste great, even without marinating. And of course, feel free to adjust the ratio of veggies to meat according to your preference. I used more veggies in this recipe to make it healthier.
That sounds easy enough, doesn't it? Happy cooking!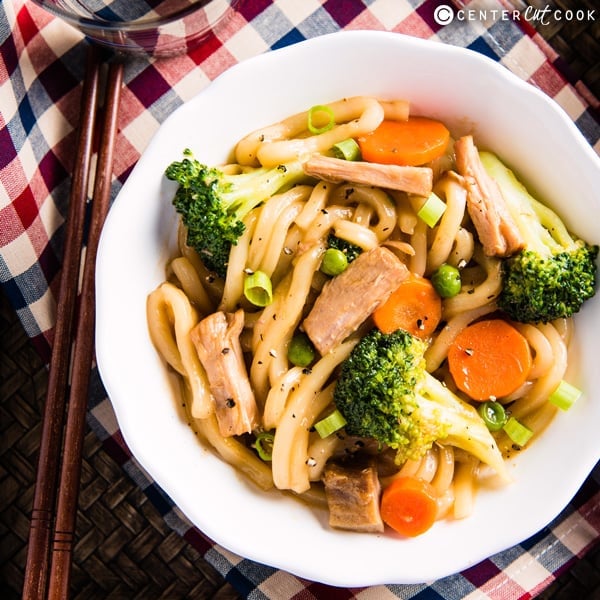 MAIN INGREDIENTS
16.2 ounces frozen udon noodles
3 cups mixed vegetables (e.g. broccoli, carrots, and peas)
1 tablespoon oil
1/4 cup chopped green onion (or onion)
1 cup chopped cooked meat, can be chicken or pork (or raw ground meat)
Black pepper
STIR-FRY SAUCE INGREDIENTS
1 tablespoon soy sauce
1 tablespoon oyster sauce (or hoisin sauce)
1 tablespoon dry sherry (or rice wine)
1 teaspoon sugar
1/4 teaspoon salt
1/4 cup chicken stock
DIRECTIONS
Mix stir-fry sauce in a small bowl. (If you previously cooked Coca-cola chicken and have some sauce from that, skip this step and use 1/2 cup of the leftover sauce.)
Bring a pot of water to a boil. Add frozen udon noodles. Cook until thawed, about 1 minute. Drain the noodles and set aside.
In the same pot, add broccoli, carrots and/or frozen peas. Boil until almost cooked through, 1 minute. Drain the veggies and set aside.
Heat oil in a large nonstick skillet over medium high heat until warm.
Add green onion (or onion). Stir a few times until fragrant.
(Option 1) Add raw ground meat. Stir and cook until cooked through, 2 to 3 minutes. Season with 1/4 teaspoon salt. Stir to mix well.
(Option 2) Add cooked meat.
Add stir-fry sauce (or leftover Coca-cola chicken sauce) and bring to a boil.
Add noodles and blanched vegetables. Mix and stir with tongs until the sauce is absorbed, 2 to 3 minutes.
Add black pepper to taste and serve warm.