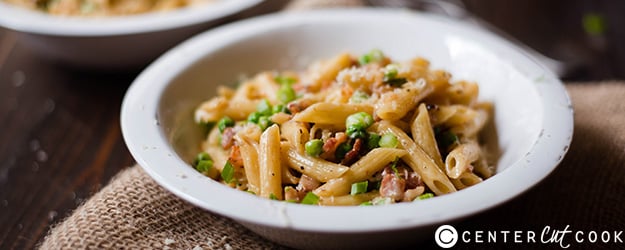 Pasta Carbonara has got to be one of the most delicious comfort foods. I mean, first off, it's a pasta which automatically gets it to a top ten. Then, it's full of savory goodness from the crumbled bacon and has the great texture from the al dente noodles and peas. To top it off, you get the creaminess of the egg and cream and, finally, the crisp bite of the fresh green onions.
It just doesn't get any better.
One of my favorite things about pasta carbonara is just how easy it is to make, too. It's like deceptively easy for how robust and dynamic the flavors are. From start to finish, this meal takes just 30 minutes which makes it a great weeknight dinner. The ingredients are also very common – you might even already have everything you need to make it!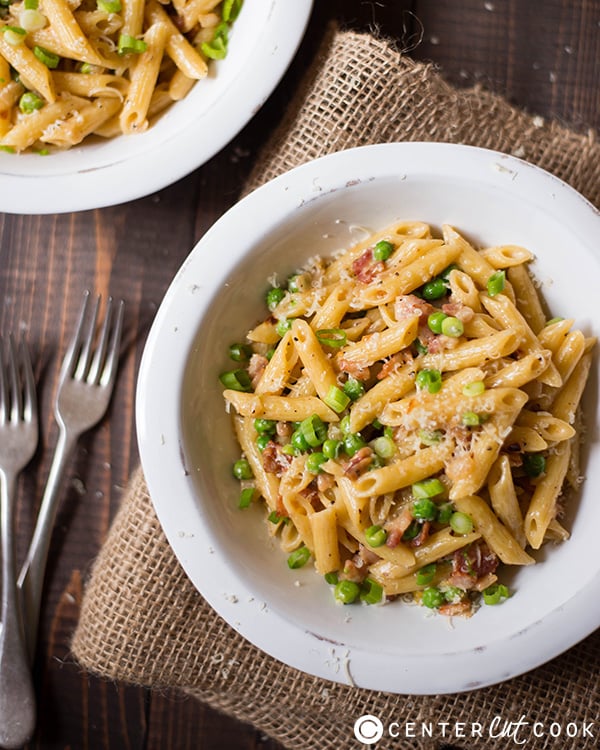 I like to use thick-sliced bacon because it holds up better when cooked. That way, when you bite into the crumbled bacon, you get some chew with the crumbliness (totally a word, right?) and it adds to the overall experience that is the pasta carbonara.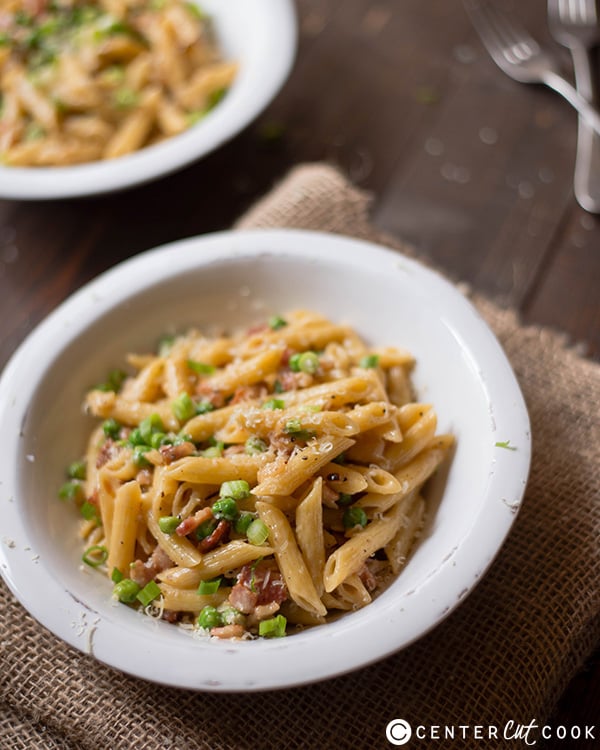 If you've never made pasta carbonara, I highly recommend it. Don't be afraid of adding the egg right at the end once the heat is turned off the skillet. The egg gets cooked all the way through from the residual heat within the pan so it won't be undercooked.
Try this recipe out tonight and you'll begin for a treat!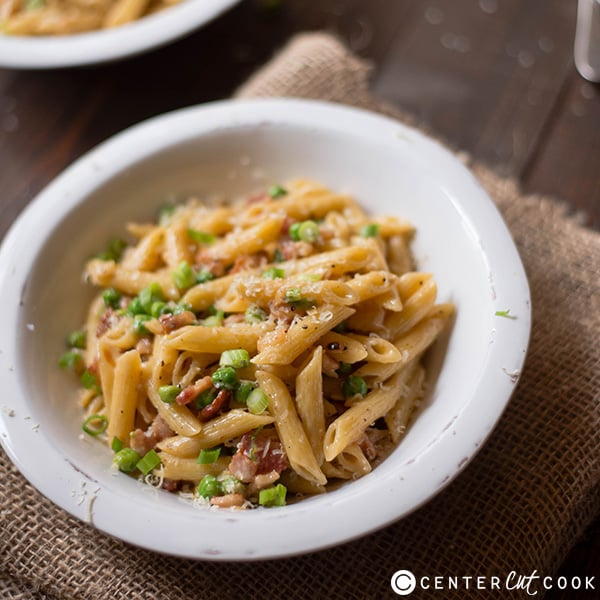 INGREDIENTS
1 lb. penne noodles
1 tbsp. kosher salt
6 thick slices bacon, diced
1/2 yellow onion, finely diced
1 clove garlic, minced
1/4 cup heavy cream
1 cup frozen peas
1/2 tsp. ground black pepper
1/4 tsp. ground nutmeg
1/4 tsp. crushed red pepper flakes
1 egg yolk, beaten
1 green onion, sliced, for garnish
Grated parmesan cheese, for garnish
DIRECTIONS
Fill a deep pot with water and 1 tbsp. salt and bring to a boil over high heat. Add the noodles and cook until al dente (almost all the way cooked), about 8-10 minutes.
While the water is heating to a boil for the noodles, heat a large fry pan over medium-high heat. Add the diced bacon and cook until almost fully cooked. Add the diced onion and cook until tender, about 5 minutes. Add the garlic and cook for one minute, until fragrant.
Add the cream and peas and stir to combine.
At this point, the noodles will likely be ready. Using a slotted spoon, transfer the cooked noodles into the bacon and onion mixture. Don't drain the noodles – you want some of the water to transfer with the noodles.
Turn off the heat on both pans. Add the egg yolk to the noodle mixture and stir quickly. Be careful not to let the egg sit on the bottom of the pan where it is the hottest as this might cause it to scramble. You want to coat the noodles as quickly and as evenly as possible with the egg as it cooks from the heat.
Garnish with sliced green onions and parmesan and serve.
Serves: 6