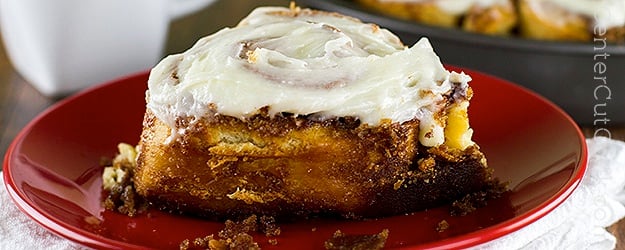 What are you to do on a Saturday morning when you have a taste for fresh cinnamon rolls (with cream cheese frosting), but you don't want to wait three hours for a traditional roll to rise and bake? I found myself in this predicament and began scouring the Internet. The goal? Find an easy cinnamon roll recipe that takes under an hour to make with ingredients that I already have on hand.
To my surprise, I found several recipes that fit my requirements, however, the one that stood out required buttermilk which I didn't have, and I definitely wasn't going to make a trip to the store. Before I tossed out the recipe, I did a quick Google search for "buttermilk substitutes" and found a super simple fix (and it worked)! Any time you need buttermilk and you don't have it, all you have to do is this:
In a measuring cup, add 1 tablespoon of lemon juice or vinegar
Add enough milk until you have 1 cup and stir with a spoon
Let it stand for five minutes, then use what you need
What this recipe IS: Delicious, and definitely satisfies the craving for a cinnamon roll
What this recipe ISN'T: This is definitely not the same as your traditional yeast cinnamon roll. While it is quite delicious and super quick to make, don't expect it to be the same, otherwise you'll be disappointed. There's a place for traditional cinnamon rolls, and there's definitely a place for this quick one too.
These cinnamon rolls would not be the same without a delicious cream cheese frosting which compliments them perfectly. Enjoy!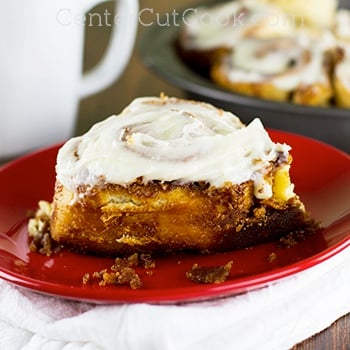 You will need a total of around 8 tablespoons of unsalted melted butter, divided for different portions of this recipe. Make it easy on yourself and melt it all at once before you start.
CINNAMON ROLL DOUGH INGREDIENTS
2 1/2 cups flour
2 tablespoons sugar
1 1/4 teaspoons baking powder
1/2 teaspoon baking soda
1/2 teaspoon table salt
1 1/4 cups buttermilk
2 tablespoons melted butter
1 teaspoon vanilla
CINNAMON SUGAR FILLING INGREDIENTS
CREAM CHEESE FROSTING INGREDIENTS
3 ounces cream cheese (room temp)
4 tablespoons butter
1 1/2 cups powdered sugar
1/8 teaspoon salt
DIRECTIONS
Pre-heat your oven to 425 degrees.
Melt 8 tablespoons of butter which you'll use throughout this entire recipe (1 minute in the microwave does the trick).
Brush a 9 inch cake pan with 1 tablespoon of butter to coat bottom and sides.
In a large bowl combine flour, sugar, baking powder, baking soda, and salt.
Combine buttermilk, melted butter, and vanilla in a small bowl.
Add liquids to the dry ingredients and mix well. You may need to add a little more flour until you get a consistency that's not too sticky. Knead the dough until it is smooth.
In a bowl combine all of the ingredients for the cinnamon sugar filling, then add 1 tablespoon of the melted butter and mix it in until it is crumbly.
Flour your work surface and roll the dough out into a 12 by 9 inch rectangle.
Brush the dough with a tablespoon or two of butter.
Sprinkle the cinnamon sugar mixture on top leaving a 1/2 inch border around the edge. Gently press the mixture into the dough.
Begin rolling the dough up starting with the longer side. Roll tightly so that the yummy cinnamon sugar mixture stays inside the roll while it bakes.
Once the dough has been rolled up tightly, cut into 8 equal pieces and place into your greased cake pan.
Brush the tops of the cinnamon rolls with the remaining butter
Bake for 25-28 minutes
While rolls bake, mix together the cream cheese frosting ingredients until smooth.
When the cinnamon rolls are done baking, let them cool for about 5 minutes. Remove from the pan, and slather with cream cheese frosting.
Recipe adapted from
Young Married Chic