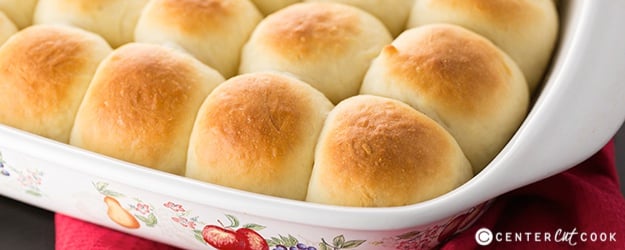 Dinner rolls are such a perfect side dish for so many recipes ranging from easy weeknight casseroles to the essential accompaniment to Thanksgiving Dinner. Today I thought I'd share my basic recipe for homemade dinner rolls made from scratch, with no bread machine required! They are fast and easy too, which is a HUGE bonus, in my book. Once you make this recipe for Dinner Rolls, you'll never search for another dinner roll recipe again!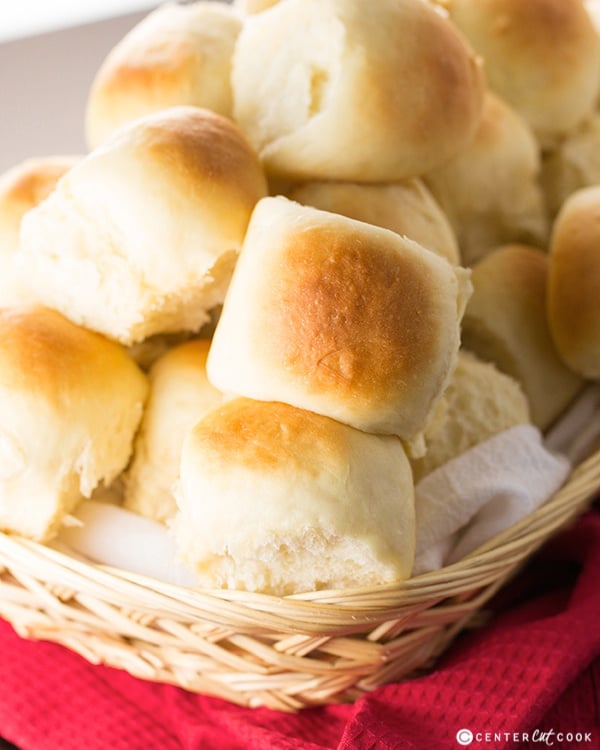 Why is it that a basket of fresh, warm dinner rolls is always so inviting? When I was a kid, dinner rolls were ALWAYS the best part about Thanksgiving dinner. I was never a turkey girl. Just give me the bread!
As I mentioned before, no bread machine is required for this recipe. You'll either want a mixer or a food processor to make the dough, but other than that, nothing fancy is required. These rolls freeze really well, which I love. I almost always have some of these on hand in the freezer which makes for a quick and easy side during the week.
You'll get about 24 rolls from one batch of dough which means there is plenty to serve a crowd! I like to bake them in a 9 x 13 inch casserole dish but you could also use two 8-9 inch pie plates. You'll either need two packets of active dry yeast, or about 1 and 1/2 tablespoons of active dry yeast if you buy your yeast in bulk. I always have a jar of yeast in my fridge because I go through it so quickly.
Be sure to let the rolls rise for the full 60-90 minutes for the best results, otherwise your dinner rolls won't be light and fluffy and irresistible like I promised!
Whether you're serving these alongside dinner during the week, or you are making them for a big holiday dinner like Thanksgiving, they are sure to be a hit and you are just going to love how fast and easy they are to make. Now go get out the butter to slather all over these fresh rolls and enjoy!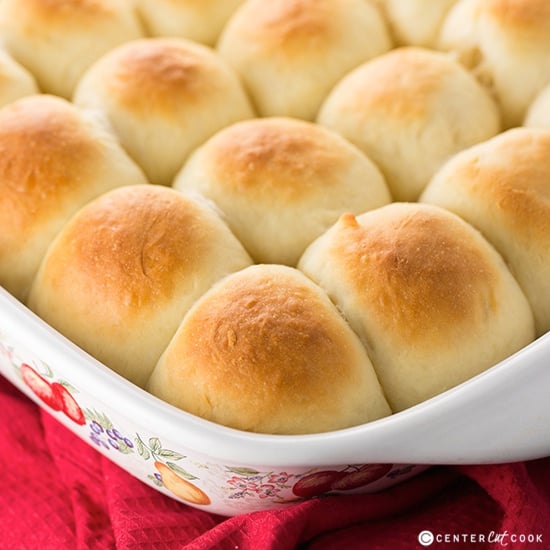 INGREDIENTS
DIRECTIONS
In a large bowl combine warm water with yeast and 1 teaspoon sugar. Set aside for 5-10 minutes.
Using your mixer with the dough hook attached, combine butter, sugar, eggs and salt.
Add in the yeast mixture and mix to combine.
Add flour, 1 cup at a time, mixing between each cup. When the dough starts to pull away from the sides of the bowl, you've added enough flour. You should need about 4 cups total, give or take a little.
Place the dough on a lightly floured clean working surface and knead for a minute or two.
Divide the dough into 24 each pieces, then roll each piece into a smooth round ball.
Prepare a 13 x 9 inch baking dish by lightly greasing it.
Place the dough balls into the pan, leaving equal space between each round ball.
Cover the rolls and let them rise for about 60-90 minutes, or until doubled.
Preheat your oven to 375F.
Bake for 15-18 minutes, or until the rolls are golden brown.
Recipe from
CenterCutCook