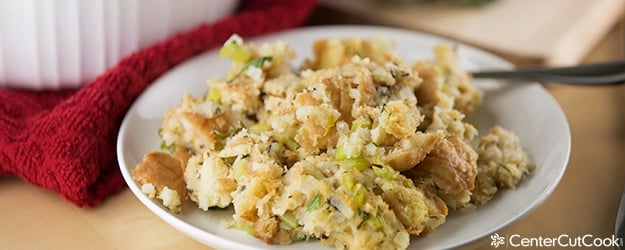 When it comes to Thanksgiving, it simply would not be complete without the stuffing (or dressing!) on the table. Whether it's stuffed inside of the turkey or baked in the oven, turkey stuffing is an essential part of what makes Thanksgiving so special.
Last year I shared my recipe for savory Cornbread Stuffing with Sausage and lots of fresh herbs with you, so this year I decided to go back to the basics and share this more classic version that is quick and easy to make.
I've heard from some of you that homemade stuffing, from scratch, is a little intimidating. I used to feel the same way, years ago before I had ever tried making homemade turkey stuffing, only to discover that Turkey Stuffing is one of the easiest things you could possibly make! Promise!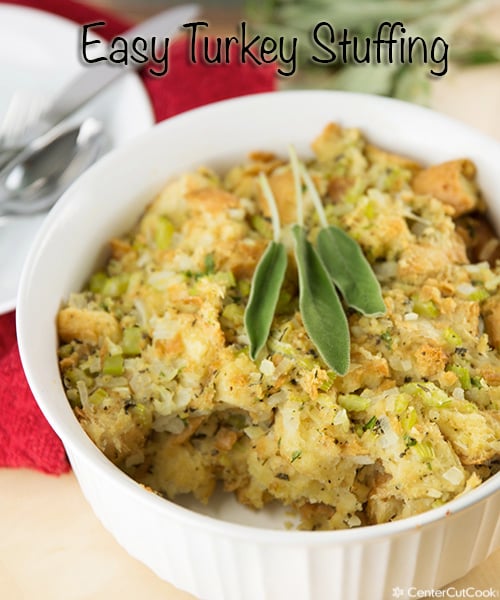 My Mom always used to make her stuffing from scratch. But I remember one year, for whatever reason, she decided that she was just going to buy boxed stuffing from the store to make. My grandma, who always made everything from scratch, was coming for Thanksgiving dinner that year. Mom made all of us kids promise that we wouldn't dare tell grandma that she had made stuffing from a box *gasp*. We were all gathered around the table eating Thanksgiving dinner when the subject of the stuffing came up. My little sister blurted out "Mom made 6 boxes of stuffing!" Busted!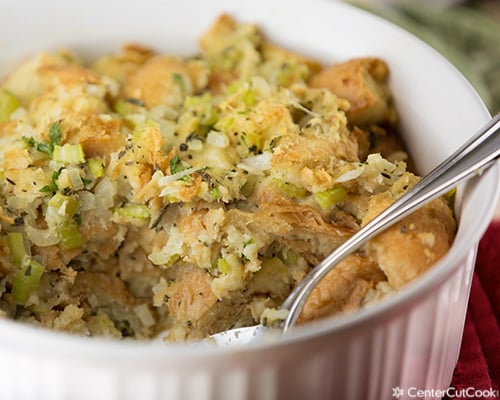 I mentioned this Turkey Stuffing recipe is easy, so let's talk about what goes into making it. You'll start by chopping up 1 large yellow onion, about 5 celery stalks, and lots of fresh herbs! I use sage, thyme, and just a little bit of rosemary. You can make homemade fresh bread from scratch to use for the stuffing, or you can buy a 1 pound loaf of bread from the grocery store. The key to good stuffing is to use at least day old bread!
The only other ingredients you'll need besides the bread are some celery, onions, fresh herbs (I use a combination of sage, thyme, and a little rosemary) and turkey or chicken broth. Into the oven the stuffing will go to bake for about 30 minutes, covered. After that I always take the foil off and let the stuffing cook a little bit longer so that the top can toast up!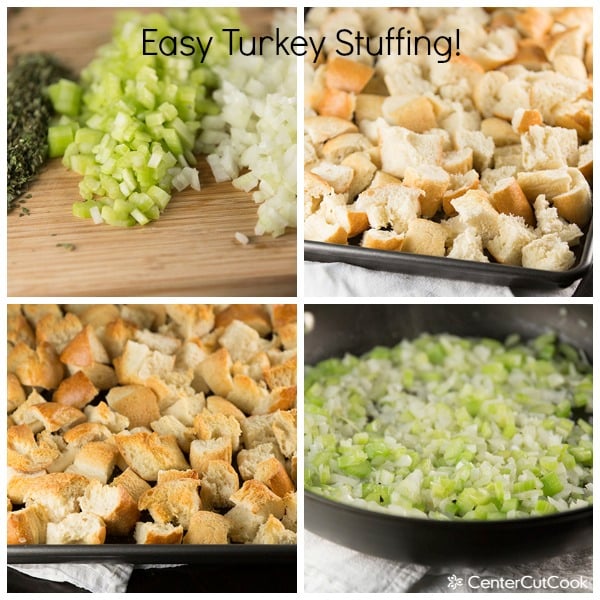 If you want to change this up to make it your own, you can add things like sausage, walnuts, cranberries, make it without celery and onions, change up the herbs, get creative… the variations are endless! All you need to know is that this easy, classic turkey stuffing made with bread can be made by anyone and will be enjoyed by everyone!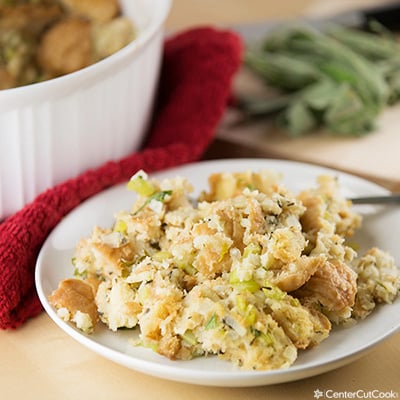 INGREDIENTS
1- 1 pound loaf of french bread (homemade or store bought), cut into cubes
5 tablespoons butter
1 large yellow onion, diced
5 stalked celery, diced
1 large egg, lightly beaten
3 cups low-sodium chicken or turkey broth
6 sage leaves, finely chopped
4 sprigs thyme, just the leaves, chopped
1 sprig rosemary, finely chopped
1 tablespoon fresh parsley, chopped
3/4 teaspoon salt
3/4 teaspoon black pepper
DIRECTIONS
At least one day in advance, cut the bread into cubes. Arrange on a baking sheet and allow to sit, uncovered to dry out. Stale, dried out bread works the best!
On the day you're going to make the stuffing, preheat the oven to 400 degrees. Place the tray of bread in the oven for 10-15 minutes, or until the bread starts to brown.
Meanwhile, melt 5 tablespoons butter in a large non-stick skillet. Sauté the onion and celery until soft and tender.
When the bread is toasted, transfer it to a large bowl. Add in the onion and celery mixture, all of the chopped up herbs, 3/4 teaspoon each of salt and black pepper, and 1 large egg, lightly beaten.
Add in 3 cups low-sodium chicken or turkey broth and stir to combine.
Spray a large 3 quart casserole dish with non-stick cooking spray. Transfer the stuffing mixture into the casserole dish. Cover with foil and bake for 30 minutes.
Remove the foil and bake for 10-20 minutes longer, or until the top of the stuffing starts to brown.
Serve immediately. Serves 8-10.
Recipe from
CenterCutCook