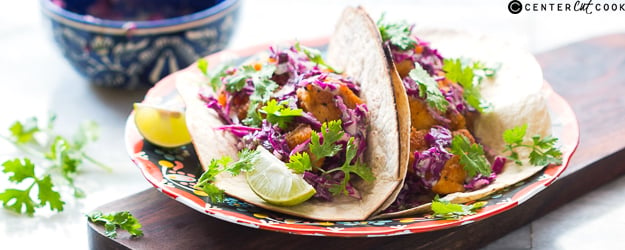 It's taaacooo time!
I'm showing you how to turn the simplest ingredients into a delicious, wholesome, full of flavours meal which everyone in the family is going to absolutely love! These fish tacos with a minty yogurt red cabbage slaw are everything that tacos should be – crunchy, loaded with textures and like a party in your mouth.
Fish tacos originally come from Baja California but I think everyone has their own version now.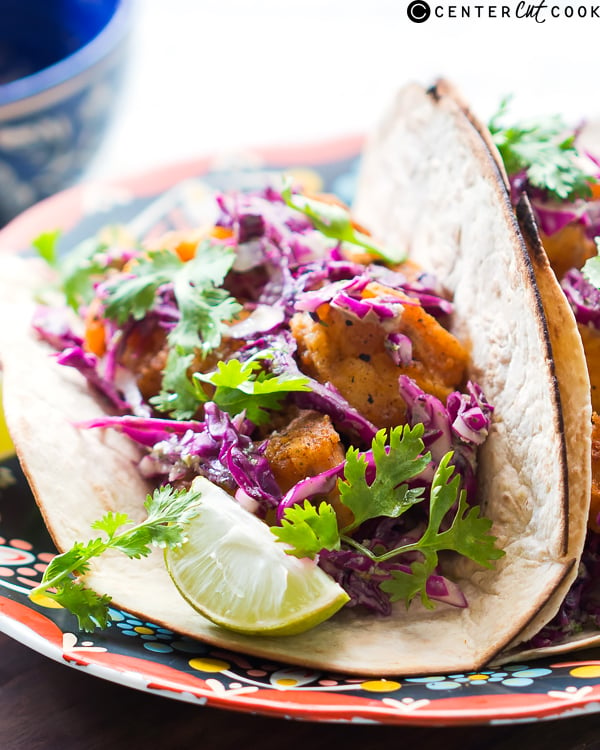 Lately I've seen all kinds including thai tacos too. But they really are so adaptable that you can easily make them your own.
These fish tacos are really simple to do, and can be on the table in under 30 minutes if you have all the ingredients on hand. We've tried these with flour and corn tacos, and really either works though I prefer the flour ones.
I'm all for easy weeknight dinners, especially when they are made from scratch but with minimal effort!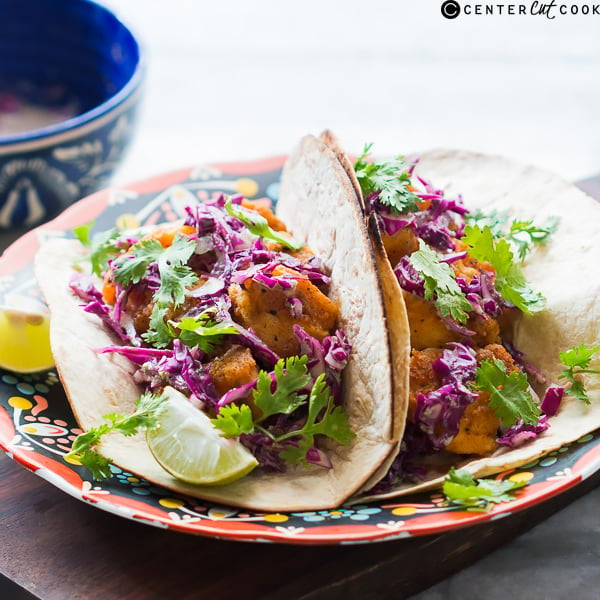 MAIN INGREDIENTS
2-3 tablespoons Oil
1 pound White Fish (I used Cod)
1/2 cup All Purpose Flour
1 teaspoon Cumin Powder
1 teaspoon Paprika Powder
Salt to taste
8 Tortillas (6 inch)
Fresh Cilantro for topping
RED CABBAGE SLAW INGREDIENTS
2 cups thinly sliced Red Cabbage
3/4 cup Greek Yogurt
1/2 cup packed Fresh Coriander
1/2 cup packed Fresh Mint
1 Jalapeno
2 Garlic Cloves
Salt to taste
DIRECTIONS
For the slaw, blend together yogurt, coriander, mint, jalapeno and garlic till smooth. Toss cabbage in 1/2 cup yogurt sauce and refrigerate till the rest gets ready. Reserve the rest of the sauce for later.
Cut the fish into 1 inch pieces.
Mix together flour, cumin, paprika, salt in a wide plate.
Heat oil in a pan. Dredge each piece of fish in the flour mixture and add to the hot pan. Cook for 6-8 minutes, while turning once till the fish is crispy on the outside and cooked inside.
To assemble, warm the tacos and divide fish and slaw between them. Drizzle with remaining sauce and top with fresh cilantro.
Servings: 4