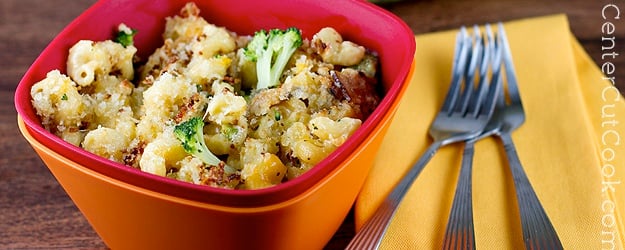 Would you ever wait three hours just to get into a restaurant? No you say? That's what I said too until I went to Kuma's Corner in Chicago. My hubby had been to the restaurant with some friends, and after his first visit, he would.not.stop.talking.about.it. Like every time I mentioned anything about a burger, he immediately started drooling (juuuust kidding, sort of) and talking about how amazing a Kuma's burger was. So last week we decided to go back, so I could try it out for myself.
We walked into the tiniest little restaurant I've ever been in (maybe 12 tables?)that was packed to the brim with hungry patrons, waiting to have the best burger of their lives. The place is like a heavy metal mecca (def. not my thing), but I wasn't there for the ambience, I was there for the burger. And as it turns out, the mac n cheese too. After they quoted us a 3 hour wait and I gave my hubby "the look" like "are you serious? We're really going to wait that long?" he assured me that it was worth it, and so the wait began.
As we were waiting, I started paying attention to what people were ordering and noticed a ton of Macaroni and Cheese coming out of the kitchen. Then we turned to the Yelp app on our phones and started scouring through the 2600+ reviews of Kuma's (because we had time, ya know). Tons of people mentioned how amazing the mac n' cheese was, so even though we originally came for the burgers, we just had to try the Mac N' Cheese too.
Thankfully the hostess was incredibly off with her estimate, and we only ended up waiting an hour. When you order the mac n' cheese, they let you pick two add-ins- things like red peppers, chicken, peas, mushrooms, scallions, or the two choices we went with, bacon and broccoli. The burger turned out to be the best burger I've ever had and the Mac N' Cheese ties with the Lobster Mac N' Cheese I had at a restaurant called Capital Grille as the best ever. We left, feeling sort of like we were in a Kuma's food coma, and I vowed to try and recreate the Kuma's Mac N' Cheese at home so I wouldn't have to wait 3 hours the next time I had a craving for it.
This four cheese version was my first attempt at recreating Kuma's Mac N' Cheese recipe , and I wouldn't say it turned out exactly the same, but it turned out to be pretty darn close. And man, was it delicious! It included the perfect blend of cheeses, and it was savory, creamy, and had a little crunch for good measure. I've tried SO many versions of homemade mac n cheese over the years, and never found one that I liked enough to make more than once until I made up this concoction. It is definitely a splurge on money ($35 in cheese alone!) and calories (REALLY good mac n' cheese is NOT going to be healthy), so I'll likely only make it once or twice a year, but when I do, I will enjoy every.last.bite.
Now go find that list of things you're going to splurge on, and add this Four Cheese Macaroni and Cheese to the list. Oh, and please add bacon and broccoli to it because it's simply amazing. And would I ever steer your wrong?!?
MACARONI INGREDIENTS
1 3/4 cup good mild cheddar cheese, shredded
1/4 cup good mild cheddar cheese, shredded
1 cup gruyere cheese, shredded
1/4 cup gruyere cheese, shredded
1 cup fontina cheese, shredded
1/4 cup fontina cheese, shredded
1 cup parmesan cheese, shredded
1/4 cup parmesan cheese, shredded
4 tablespoons butter
4 tablespoons flour
2 cups half and half
1/4 teaspoon black pepper plus additional to taste
1/2 teaspoon salt – plus additional to taste
1/2 teaspoon tabasco sauce
1 pound elbow macaroni or cavatappi, cooked al dente (according to package directions) and drained
CRUNCHY TOPPING INGREDIENTS
4 tablespoons butter, melted
1 cup panko bread crumbs
1/2 teaspoon dried parsley
1/4 cup parmesan cheese, shredded
ADD-IN INGREDIENTS
6 slices applewood smoked bacon, cooked and chopped
1/2 cup steamed broccoli florets
Other options: scallions, chicken, roasted red peppers, garlic, peas, mushrooms, etc.
DIRECTIONS
Pre-heat your oven to 350 degrees.
In a large skillet, melt butter. When the butter is melted, whisk in flour and allow it to cook for a few minutes on medium heat. At this point you will have a pasty consistency.
Begin *slowly* pouring in half and half, whisking vigorously to work out any lumps. Whisk whisk whisk.
When you've added all of the half and half, and you've whisked out any lumps or clumps, allow to cook for a few minutes.
Add in tabasco sauce, salt, and pepper, continue to stir.
Reduce the heat to low and begin slowly stirring in 1 3/4 cup cheddar, and 1 cup each of fontina, gruyere, and parmesan cheese. Stir until all of the cheeses are melted.
At this point, pour the cheese sauce over the hot pasta that has been cooked and drained.
Stir in any add-ins like bacon and broccoli (amazing) and adjust the seasonings to taste.
Pour the mac n' cheese in a greased 9 x 13 inch casserole dish.
Combine 1/4 cup each of cheddar, gruyere, parmesan, and fontina, and sprinkle on top.
In a small bowl mix all of the topping ingredients – panko bread crumbs, melted butter, dried parsley, and parmesan cheese. Sprinkle over the top of the macaroni and cheese.
Bake for 25-30 minutes, then turn on your broiler and broil for just a few minutes, or until the panko bread crumb topping is nice and crunchy. Watch carefully so that it doesn't burn!
Serve immediately. This is best eaten fresh from the oven. Enjoy!