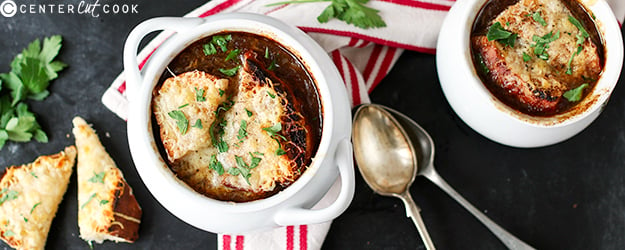 French onion soup is an absolute classic. Dating back as far as Roman times, it became popular again in the 1960s as French cuisine became more fashionable.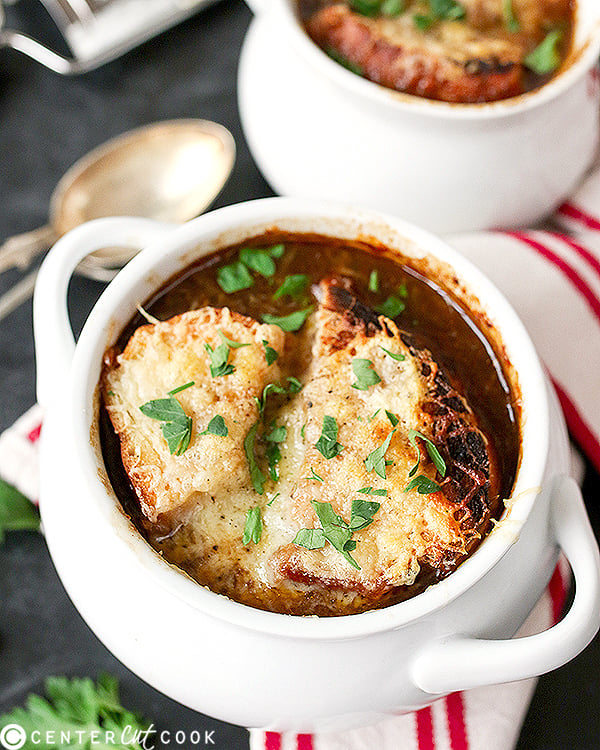 It's as sophisticated as soup comes, but also wholesomely delicious!
The key to a great French onion soup lies in three areas:
The beef stock – this needs to be a quality, flavourful beef stock. Ideally it should be made from the long simmering of beef bones, but a good-quality shop bought stock will do.
The onions – they need to be cooked slowly until well-browned and caramelized.
The toasted cheese topping – well it wouldn't be French onion soup without the toasted bread and a heap of melted gruyere on top. You can use slices of toasted bread or baguette, or you could even chop the toast into crouton-sized cubes to make it easier to eat!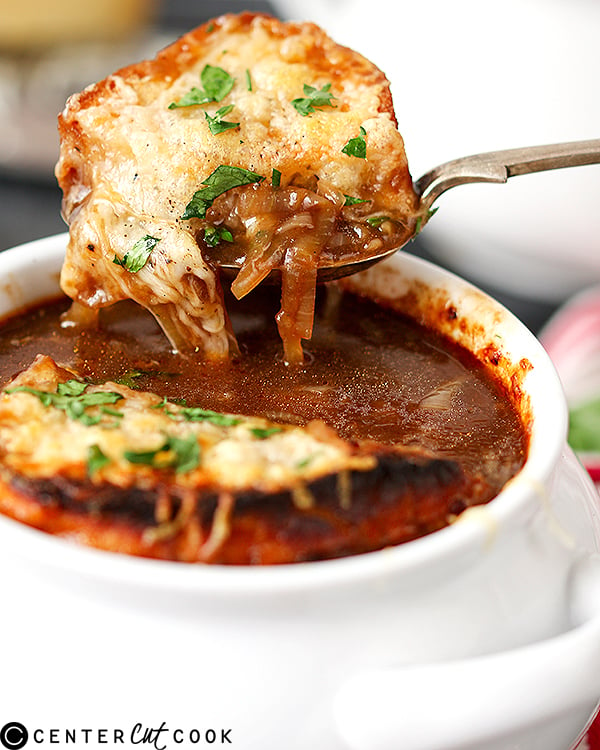 You can make the soup up to a couple of days ahead (without the toasted cheese). Prepare the soup, allow to cool, then cover and refrigerate.
Oh, and it's a good idea to use a napkin, those sliced onions almost guarantee splashes!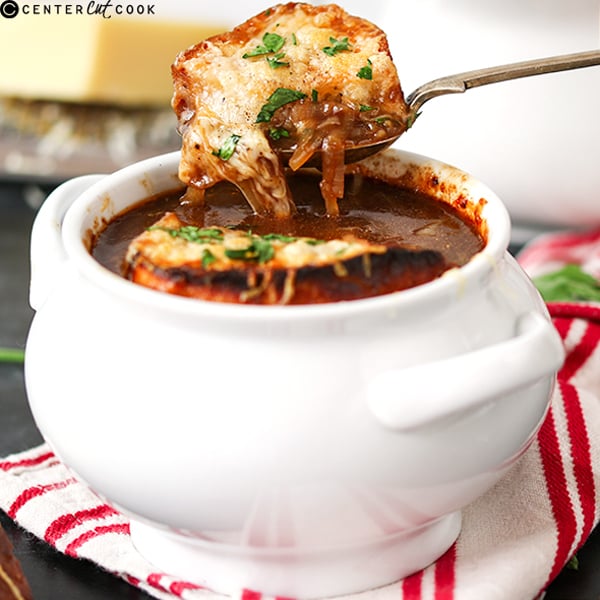 INGREDIENTS
2 tbsp butter
1 tbsp olive oil
1 + 3/4 pounds brown onions, peeled and thinly sliced
1 tsp sugar
3 garlic cloves, peeled and crushed
2 tbsp all-purpose flour
1 cup dry white wine
6 + 1/4 cups good quality hot beef stock
4-8 slices (depending on size) French bread (or your favorite artisan bread)
1 packed cup shredded Gruyère cheese
2 tbsp fresh parsley, chopped
DIRECTIONS
Melt the butter with the oil in a large pan. Add the onions and fry, stirring often on a very low heat for 30 minutes. Sprinkle with the sugar and continue to cook on a low heat for a further 20-30 minutes (stirring often) until dark and caramelised (be careful they don't burn towards the end). Add the garlic and cook for one more minute.
Stir in the flour, turn up to a medium heat and gradually pour in the wine whilst stirring with a whisk. Once combined, stir in the hot stock. Bring to a bubble, then gently simmer for 20-30 minutes.
Lightly toast the bread slices, then divide the soup between 4 heat-proof bowls. Place the toast on top of the soup* and sprinkle on the cheese. Place under a broiler to melt, then sprinkle on parsley before serving.
*If you don't want to place the bowls under the broiler, simply melt the cheese on the toast, and place on top of the soup.
Servings: 4