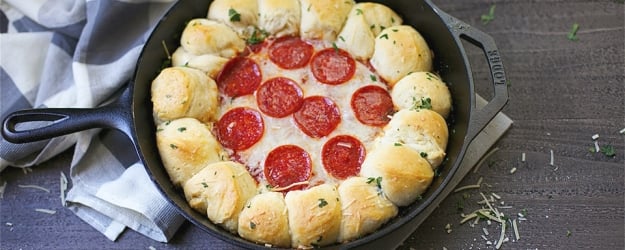 Holy Smokes, I just found my new favorite appetizer. I had no idea while buying these ingredients and planning out this recipe, just how much I would LOVE IT!!!! If you are a pizza lover (we can probably all raise our hands here), you'll go crazy over this dish just like I did! This was actually my lunch, and the photographs almost didn't make it as I started eating my way around the skillet.
The outside ring is a perfect blend of butter, garlic, parsley, sea salt, and parmesan cheese all covering buttermilk biscuits. The inside hot dip is a cheesy mixture of tomato sauce, italian spices, 3 different cheeses, and topped with pepperoni. Feel free to add in your favorite pizza toppings! You'll love the way the biscuits pull apart and make it easy to dip into the cheesy hot pizza mixture.
I used a cast iron skillet to make it super easy. You can also use a round pie dish, but might run out of room for extra biscuits! My skillet measures 12 inches, and I was able to use an entire package of buttermilk biscuits. A 12 inch pan is ideal, but adjust as necessary. Using something smaller like 9-10 inches may require more baking time because of a more dense inside dip. Everything bakes together at the same time, and comes out perfectly!
I think this is a fabulous dip for entertaining, for enjoying your favorite sporting event, or even as Friday pizza night for the family. Enjoy!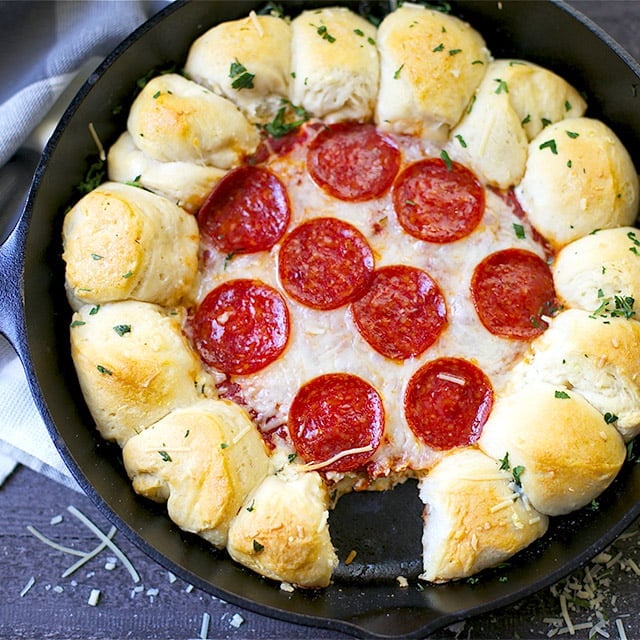 INGREDIENTS
1 7.5 oz package buttermilk biscuits
3 tbsp butter
3 cloves garlic, crushed
1/2 tsp sea salt
1 tbsp chopped fresh parsley
1 8 oz package cream cheese (softened)
3/4 cup Mozzarella cheese (divided)
1/2 cup parmesan cheese (+ more for garnish)
1 tsp dried basil
1 tsp dried oregano
1/2 tsp onion powder
1/2 tsp garlic powder
1 cup pizza sauce
Pepperoni slices (optional)
DIRECTIONS
Preheat your oven to 350 degrees.
Grease a cast iron skillet or round pie plate. Set aside.
To make the garlic bread, cut each biscuit in half and roll into a ball. Place the balls around the edge of your pan to form a ring. Melt your butter and add garlic and salt. Generously brush each dough ball with the butter mixture. Sprinkle with parsley.
Now make the pizza dip. In a bowl mix together cream cheese, parmesan cheese, 1/2 cup mozzarella cheese, basil, oregano, onion powder, and garlic powder. Continue to mix well until ingredients are combined. Spread in the middle of the pan. Top with pizza sauce, then remaining mozzarella cheese. Add pepperoni on top if using.
Sprinkle the entire dish with additional parmesan cheese (optional, but so good!)
Transfer pan to the oven and bake for 25 minutes or until biscuits are lightly golden and pizza dip is hot and bubbly.
Serve hot!
Servings: 8 servings