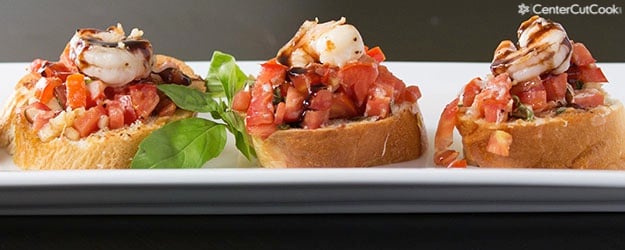 Do you have one appetizer that no matter where you are, if it's on the menu, you order it? For us it's bruschetta. No matter what restaurant we are at, if it's on the menu, nine times out of ten, we order it.
I don't know what it is about the combination of fresh tomatoes, basil and garlic that draws me in, but I am a complete sucker for that trio of flavors. Add in a little fresh melty mozzarella, grilled shrimp, and a drizzle of Mandarano's Balsamic Glaze and typical bruschetta goes from good to WOW… gimme some of that!
The folks over at Mandarano were kind enough to send me a bottle of their famous Balsamic Glaze and Sauce to try, and I have to say, I was impressed. It's rich, delicious, tangy and thick, just perfect for Grilled Shrimp Bruschetta. If you want to try Mandarano's Balsamic Glaze & Sauce, they are offering CenterCutCook readers 10% off! How cool is that? Look for the discount code below.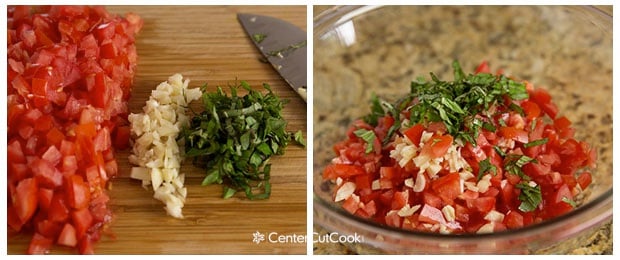 Ripe, juicy, delicious, garden-fresh tomatoes <—– That's the key to awesome bruschetta. If your tomatoes are over-ripened, or under-ripened, or just lacking in flavor, your bruschetta is NOT going to be good. Choose those tomatoes wisely. I like to finely chop my tomatoes for bruschetta. Don't ask me why, I just do.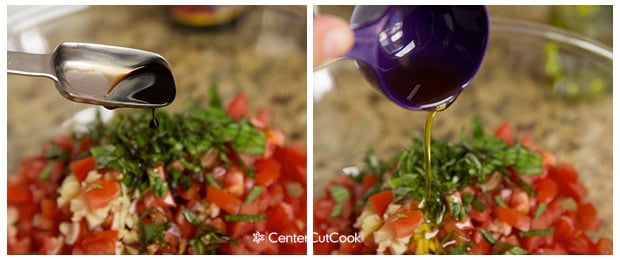 Along with the tomatoes, garlic, and lots of fresh basil, you'll need a little balsamic vinegar, olive oil, salt and pepper. Mmmmm yummy. When the tomato mixture is prepped and ready to go, cover it with some plastic wrap and pop it in the fridge for about 30 minutes so that the flavors can meld together. Tomatoes, basil, garlic, olive oil, and balsamic vinegar are so much better together when they've hung out in a bowl for a bit.
Now, I know that you don't traditionally put shrimp atop bruschetta but I thought it sounded like a fabulous idea. And it was. I tossed a few shrimp with a little salt and pepper and a drizzle of olive oil, and grilled them until they were cooked through. Shrimp cook FAST so keep an eye on these guys so that you don't overcook 'em.
Buy yourself a big ole loaf of French bread and cut it into 1/2 inch thick slices. If you want to get all fancy, and trust me, you do…. cut the bread on a diagonal.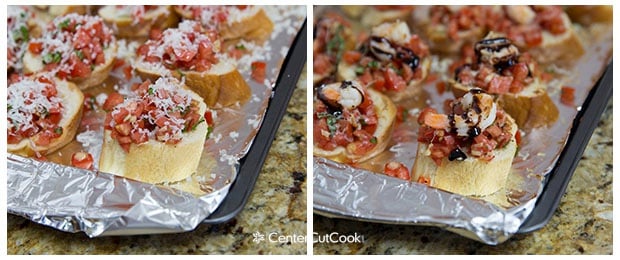 Now we're getting to the good stuff! After the tomato mixture has chilled in the fridge for a bit, I like to use my handy dandy microplane grater to finely shave some fresh mozzarella cheese. This is how it'll work. You'll arrange your bread slices on a baking sheet (I lined it with foil for easy clean-up), and scoop a big ole spoonful of the tomato mixture on each slice. Top with a little fresh mozzarella, and a single shrimp, then broil for just a few minutes until the cheese is all melty.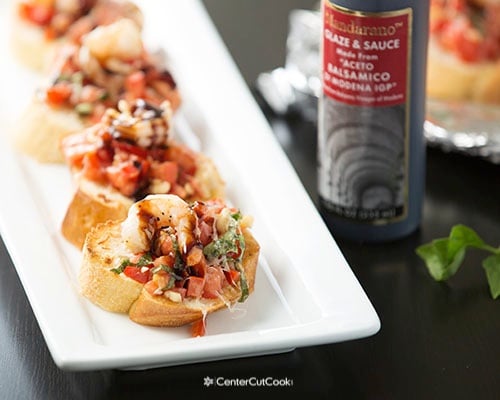 Now for the best part! Right after the Bruschetta comes out of the oven, drizzle a little Mandarano's Balsamic Glaze over the top of each! To DIE for…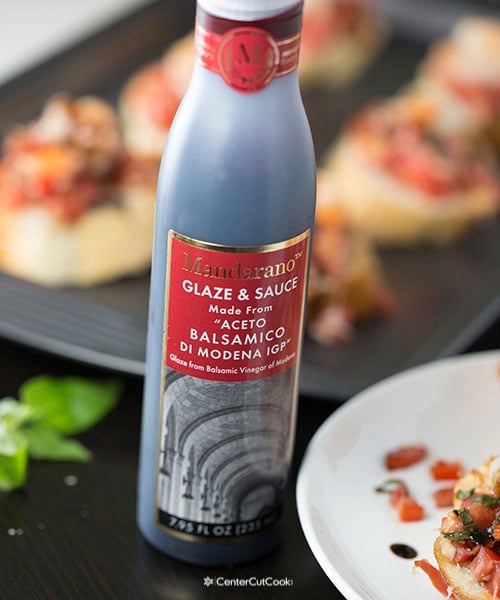 This is the Mandarano Glaze & Sauce I was talking about earlier. It's thick, flavorful and delicious! You can drizzle it on just about anything. Sometimes I'll drizzle it over steamed veggies, or even a baked potato. I've also drizzled it over strawberries and it's delish. If you'd like to get a 10% discount, just go to their website and at checkout, enter the code CCC. Their Balsamic Glaze & Sauce is good on just about anything!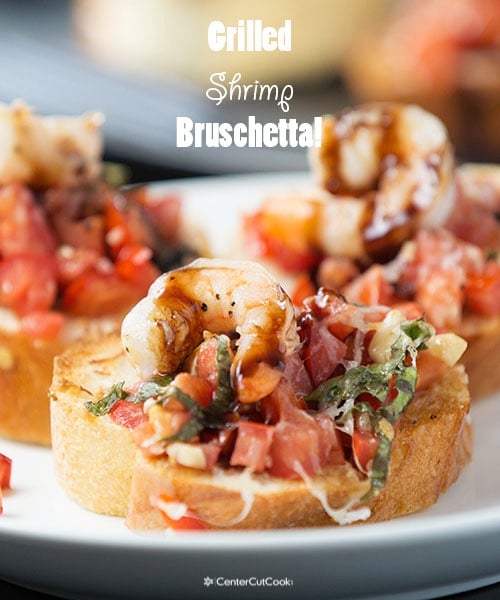 I was able to get about 15 servings from this recipe. Plan for 1 shrimp per piece of bread, unless you'll like more, of course! You can serve this as an appetizer, snack, and we've even been known to eat these for a whole meal! Enjoy!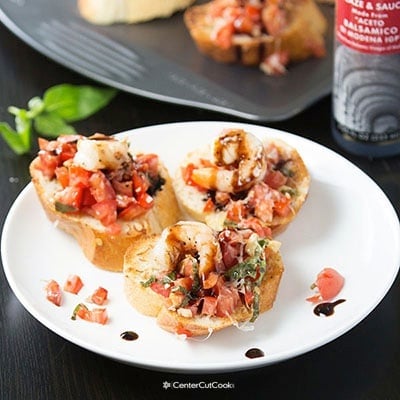 INGREDIENTS
6 roma tomatoes, chopped
4 cloves garlic, minced
1/4 cup fresh basil, chopped
1/4 cup extra virgin olive oil
1 tablespoon balsamic vinegar
1/4 teaspoon salt
1/4 teaspoon black pepper
1 cup finely shredded mozzarella cheese (I use a microplane grater)
1 large French baguette cut into 1/2 inch thick slices (you need about 15 slices)
15 shrimp (1 per piece of bread- I buy the 31-40 count shrimp – this just means that there are 31-40 pieces per pound) tossed with a little salt, pepper, and olive oil
Mandarano's Balsamic Glaze & Sauce – buy here and use the code CCC for a 10% discount at checkout!
DIRECTIONS
In a large bowl, toss together chopped tomatoes, garlic, basil, olive oil, balsamic vinegar, 1/4 teaspoon salt and 1/4 teaspoon black pepper. Cover with plastic wrap and chill in the fridge for about 30 minutes.
Slices 1 large french baguette into 1/2 inch thick slices on a diagonal. You will need about 15 slices of bread.
Heat a grill pan to medium-high heat. Toss 15 shrimp (1 per piece of bread) with a little olive oil, salt and pepper. Grill the shrimp for just a few minutes per side, until they are cooked through. Shrimp cook quick so keep an eye on them.
Arrange baguette slices on a rimmed baking sheet.
Preheat broiler to high.
Spoon a large spoonful of tomato mixture on top of each slice of bread. Sprinkle mozzarella cheese over each. Top with shrimp and broil for 1-3 minutes, or until the cheese is melted and the bread is toasted.
Drizzle each with Mandarano's Balsamic Glaze & Sauce.
Recipe from
CenterCutCook