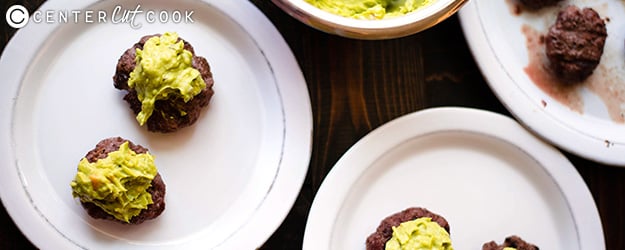 We love hamburgers in our house. We order them at restaurants, make them at home, dream about them, have long discussions on the best burgers, and basically obsess over them and their greatness. But, for some reason, we always seem to forget about sliders.
Maybe it's their tiny size that makes them skip our mind. Or the fact that they're more cutsie than a big, juicy burger. The fact is, though, that sliders are absolutely delicious and should totally not be overlooked. They make a great appetizer or quick dinner.
One of my favorite ways to enjoy sliders is without the bun and with a giant dollop of freshly made guacamole. This recipe came about when my husband and I were at a party and were trying to follow a low-carb diet. Sadly, sliders were being served…on buns…and so we were avoiding them.
Then, all of a sudden, we saw someone walking around with a few sliders without the bun and with a bunch of the guacamole piled on them. Our minds were blown. What an idea! It seemed so simple, once we saw it, and we knew we had to try them.
And they were fabulous. So, if you're looking for a low-carb or gluten-free way to enjoy a burger and in slider form, go for these bun-less guacamole sliders. If you'd rather enjoy them as regular burgers, just divide the dough into 4 equal portions, as opposed to 8.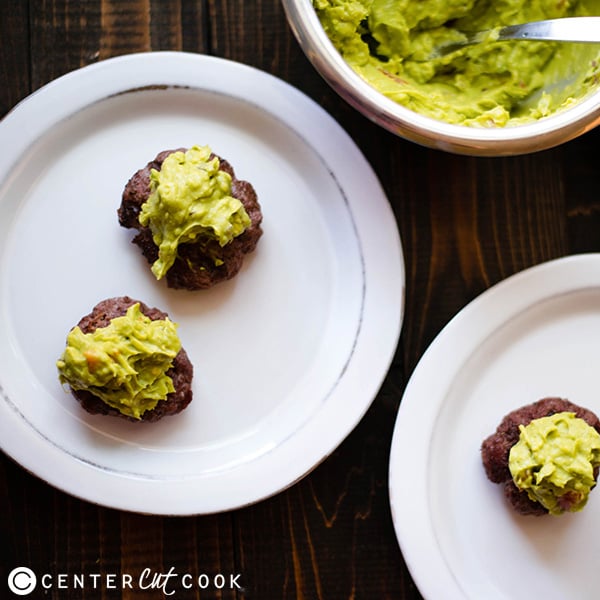 INGREDIENTS
3 avocado(s), ripe
1/2 tsp. kosher salt
1 tsp. kosher salt
1 tbsp. lime juice (about 1/2 lime)
1/4 red onion, finely diced
2 tbsp. fresh cilantro, chopped
1 1/2 medium vine-ripened tomatoes, diced
1/2 tsp. garlic, minced (about 1 clove)
1/8 tsp. cayenne pepper
1/8 tsp. ground cumin
1 tbsp. olive oil
1 lb. ground chuck (beef)
1 tsp. ground black pepper
DIRECTIONS
In a medium bowl, gently mash the avocados to desired consistency using the back of a fork.
Add the lime juice, red onion, cilantro, tomatoes, garlic, 1/2 tsp. kosher salt, cayenne pepper, and cumin and lightly stir to combine. Season with any additional salt or lime juice to taste.
Refrigerate, covered with saran wrap, while you prepare the burgers.
Heat oil in a griddle or fry pan over high heat.
Divide the ground chuck into 8 equal portions.
Using two sheets of wax paper (or one large sheet, folded in half), gently press each into a round patty — the thinner, the better. Once they start cooking, they will plump up.
Once all patties are formed, lightly season with kosher salt and ground black pepper. Once skillet is hot, add the patties. Let cook for 3-5 minutes.
Flip the patties and cook another 3-5 minutes, uncovered.
Then, flip the patties once more but also turn the heat to medium-low. Cover and cook patties until internal temperature reaches 160 degrees, about 3-5 minutes.
Once patties are at 160 degrees, quickly remove the patties from the pan and let sit 3-5 minutes before serving.
Top each slider with the guacamole and serve.
Servings: 4