Who is up for healthy veggie tacos on meatless Monday? Or any other night of the week? Because if I have these veggie tacos around, I can turn vegetarian in a jiffy.
These veggie tacos are loaded with veggies – zucchini, mushrooms, bell peppers, tomatoes and baby corn. And cheese – loooots of cheese! This actually started as a fridge cleaning exercise to use up veggies close to their expiry date, wilting and looking slightly sad. I chopped them all up, added some taco seasoning, jalapenos and stuffed them in tortillas. Topped with sour cream, some cheese and fresh cilantro and dinner was ready in 30!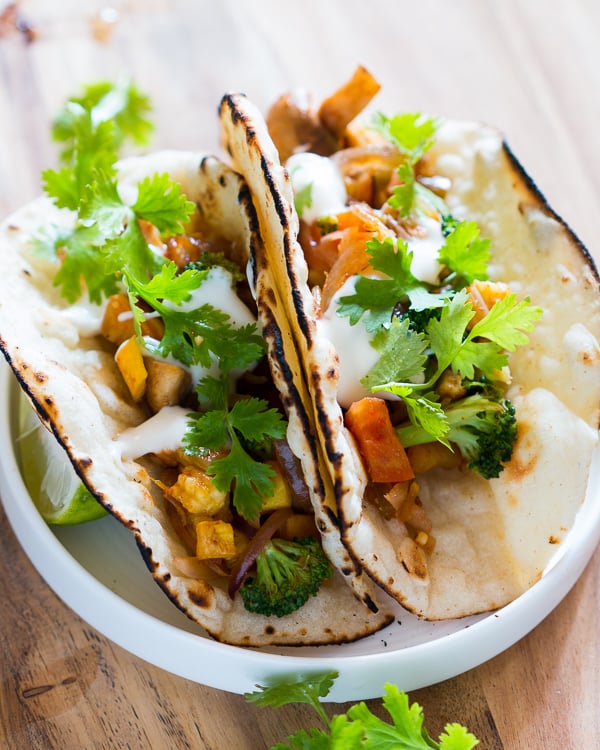 We really live for taco nights because it gives us a chance to have more fun during dinner – make our own tacos, try out new combinations and the like. And these veggie tacos have been a game changer in the house. Even my husband who is a hard core meat eater loves these!
Next time you go to the market, buy all sorts of veggies in different colours and whip up these veggie tacos!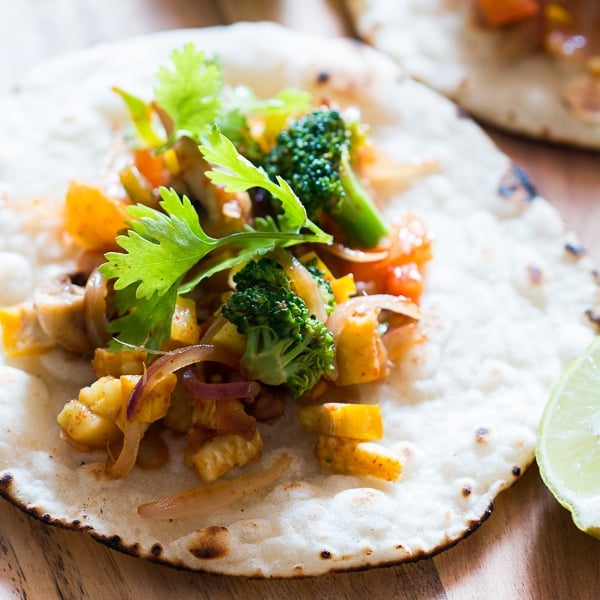 INGREDIENTS
1 tablespoon Olive Oil
3 Garlic Cloves, minced
1 Onion, sliced
1/2 Jalapeno, diced
1 cup diced Zucchini
1/2 cup Mushrooms, quartered
1/2 cup diced Baby Corn
1/2 cup diced Bell Peppers
1 Tomato, diced
2 teaspoons Taco Seasoning
3/4 cup shredded Cheddar Cheese
5 Corn Tortillas
Sour Cream and fresh Cilantro for topping
Salt to taste
DIRECTIONS
Heat oil in a pan and add minced garlic and onions. Saute for a couple of minutes and add jalapeno, zucchini, mushrooms, baby corn and bell peppers. Cook for 5-10 minutes till the veggies are cooked, but slightly crunchy.
Add tomatoes, taco seasoning and salt and saute for another 2-3 minutes. Set aside while you warm tortillas.
To assemble the tacos, warm the tortilla wraps, divide the filling between them, top with cheese, sour cream and cilantro. Serve immediately.
Servings: 2