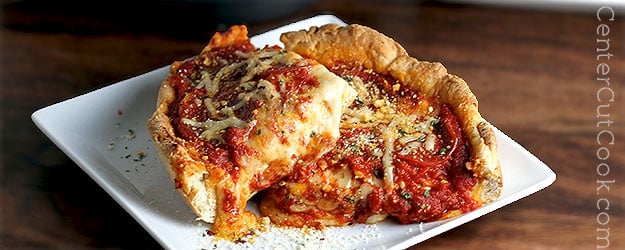 Growing up in the Chicago Suburbs, I've had more than my fair share of great Chicago style deep dish pizza. I'm talking Lou Malnati's and Giordano's along with a slew of other lesser-known joints, but still phenomenal pizza none-the-less! Despite the fact that I'm surrounded by oozy gooey cheesy deep dish, I was still determined to find a great make-at-home version. I found one, but I happened to stumble across it during the most inconvenient time possible!
Back in December last year, I had upper and lower jaw surgery and to put it lightly, it was miserable. The doc used a series of hooks and rubber bands in my mouth to stabilize my jaw after surgery, which ensured there was no chance I could open my mouth. Everyday necessities like brushing my teeth, eating, and talking became struggles! The only way to get any nourishment was with a syringe and thinned out liquids. Smoothies and bottles of Ensure were now breakfast, lunch, and dinner.
Given the fact that I was on a strict liquid diet, it probably would've been a smart idea to avoid all of my favorite cooking shows and food blogs. But I didn't. I'd sit on the couch with my hugely swollen face, and a syringe full of ensure, and drool over just about everything I saw on TV. And then I'd go read some of my favorite food blogs, and drool some more. Watching all these shows wasn't for naught though, I found and saved a bunch of recipes that I'd revisit once I could cook again!
Today's recipe for Deep Dish Pizza is one of the recipes I excessively drooled over when I was watching an episode of America's Test Kitchen with a broken jaw. There are several components to a classic Chicago Style Pizza, and ATK nailed them all! A Chicago Style Pizzas must have the following components:
A buttery, flaky crust
Lots o' cheese
Sweet tangy sauce
It has to be in that order too! Crust, then cheese, topped with sauce! Today I'm going to guide you through the process of making a classic Chicago Style Deep Dish Pizza at home. It is a bit time consuming, but worth every minute, ESPECIALLY if you live anywhere but Chicago and don't have access to these beautiful pies!
(Complete, detailed instructions can be found towards the bottom of the page).
Start by mixing the dough. I used my food processor, but you could also use a stand mixer with the dough hook attached.
Once the dough has been made and has doubled in size, roll the dough into a 15 x 12 inch rectangle, and spread butter over it. This is what will give you that buttery, flaky crust!

Starting with the short end, roll up the dough like a log, then flatten it and stretch it to an 18 by 4 inch rectangle.

Cut the 18 x 4 inch rectangle into two.

Take one piece at a time and fold the dough into thirds. Pinch the ends together and work with the dough until you have a ball. Place the dough in the fridge for about 50 minutes so that the butter can firm up.

Roll each ball of dough into a 13 inch circle. Grease 2 9-inch round cake pans with a little olive oil, then place the dough in the pan and use your fingers to press the dough into the bottom and sides. Add lots of mozzarella cheese, some sauce, and any of your favorite toppings. Top with a bit of parmesan cheese.

Bake the pizzas until the crust is golden brown, and the cheese has melted. Allow it to cool for a bit, then enjoy!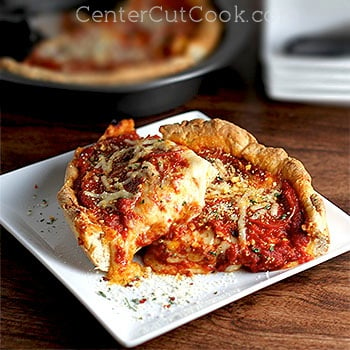 DOUGH INGREDIENTS
3 1/2 cups flour
1/2 cup yellow cornmeal
1 1/2 teaspoons salt
2 1/2 teaspoons sugar
2 1/4 teaspoons rapid-rise yeast
1 1/4 cups water
3 tablespoons butter, melted
4 tablespoons butter, softened
1 teaspoon olive oil
SAUCE INGREDIENTS
2 tablespoons unsalted butter
1/2 of a small onion, finely diced
1/4 teaspoon dried oregano
1/2 teaspoon salt
2 garlic cloves, minced
1- 28 ounce can fire roasted crushed tomatoes
1/2 teaspoon sugar
2 tablespoons chopped fresh parsley
1 tablespoon oil
OTHER INGREDIENTS
4 cups fresh grated mozzarella cheese
1/4 cup fresh grated parmesan cheese
DOUGH DIRECTIONS
In your food processor with the dough blade attached, or in a stand mixer with the dough hook attached, combine flour, cornmeal, salt, sugar, and yeast.
Add in melted butter and water and mix for several minutes until the dough is smooth. Knead dough by hand if you are not able to obtain a smooth consistency after 4-5 minutes.
When the dough is smooth, line a bowl with olive oil, then place the dough in the bowl. Loosely cover the bowl and allow the dough to rise for about an hour.
Lightly flour your work surface or use a non-stick mat and turn the dough onto it. Use a rolling pin to roll the dough into a 15 by 12 inch rectangle.
Spread 4 tablespoons of butter over the rectangle of dough.
Starting at the short end, roll the dough into a log.
Flatten the log of dough into an 18 by 4 inch rectangle using the rolling pin and your hands.
Cut the 18 x 4 inch rectangle of dough into 2- 9 inch pieces.
Fold each piece of dough into thirds, then pinch the seems together to form a ball of dough. Place both balls of dough in the refrigerator for about 40 minutes so that the butter can firm up.
While the dough is in the fridge, make the sauce (directions below), and grate the cheese.
After the dough has rested in the fridge for 40 minutes, roll each piece into a 13 inch circle.
Pre-heat the oven to 425 degrees.
SAUCE DIRECTIONS
In a large saucepan melt butter. Then add in onion and cook the onion until it is translucent.
Stir in garlic, and cook for a minute or two.
Add in salt, oregano, sugar, and crushed tomatoes.
Bring the sauce to a boil, then reduce the heat and simmer for 20-30 minutes. When the sauce has reduced and there is only about 2 1/2 cups remaining, stir in basil and olive oil. Remove from heat.
ASSEMBLY DIRECTIONS
Lightly grease two 9-inch cake pans with a bit of olive oil. You are making two 9-inch pizzas.
Arrange each 13-inch circle of dough in a cake pan, using your fingers to push the dough up along the sides.
Top the dough with 2 cups of mozzarella cheese, then add 1 1/4 cups sauce, per pie.
Add any toppings you'd like, then top with 1/4 cup fresh grated parmesan cheese.
Bake the pizzas on the middle-rack for 20-30 minutes, or until the crust is golden brown. Allow the pizzas to cool for about 5-10 minutes, then slice and enjoy! This recipe makes 2 9-inch pizzas that will serve 4-6 people.
Recipe adapted from
America's Test Kitchen, Season 11