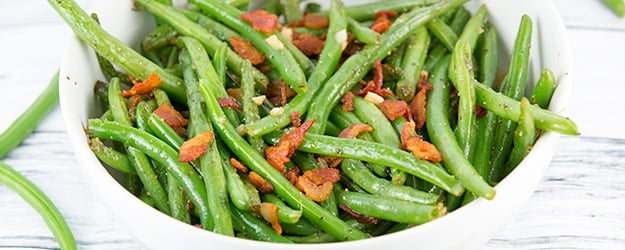 Fresh Green Beans, when cooked right, are exceptionally flavorful and delicious and the perfect side dish for just about any meal.
Green Beans are also wonderfully versatile and there are so many ways that you can prepare them.
My favorite way to prepare fresh green beans is to use a blanching/shocking method. Blanching simply means boiling the vegetables briefly and then shocking them in an ice water bath to stop the cooking process. The result is tender-crisp vegetables (green beans in this situation) that retain beautiful color.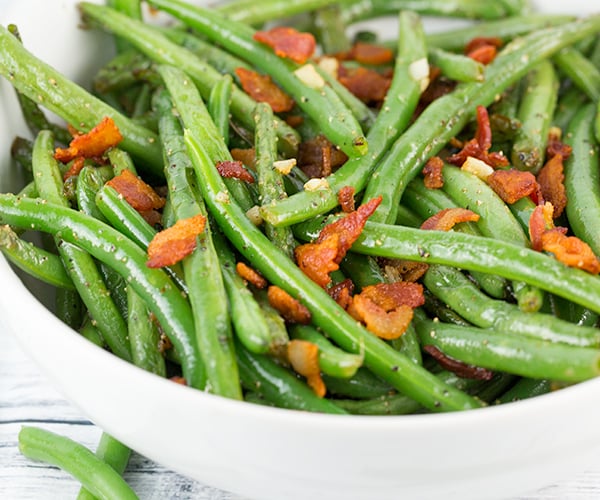 I like to make my green beans with bacon but you can also leave the bacon out. My mom always made green beans with bacon, which I now realize is a very Midwestern thing to do. Sometimes I'll cook mushrooms to add to the beans. Or I'll add freshly grated parmesan cheese.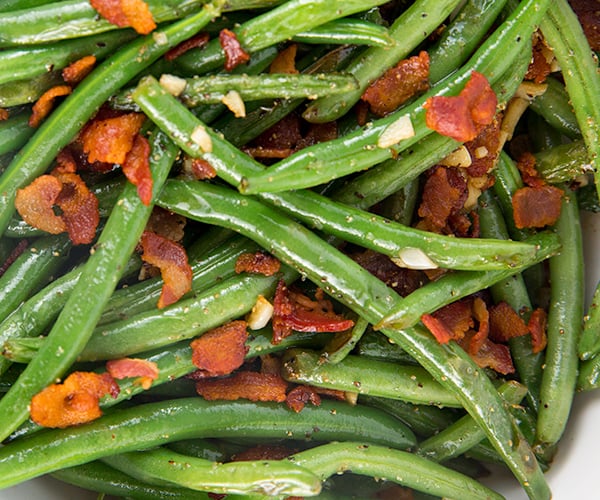 Feel free to mix it up however you'd like. Green Beans are also delicious with fresh minced garlic or slivered almonds.
Once you have the basic method down of blanching/shocking then sautéing the green beans, you can change it up however you'd like.
Green Beans are the perfect side dish and they don't have to be tasteless and mushy! This recipe for Green Beans with Bacon is bright and beautiful and delicious!
Green Beans with Bacon would be a delicious side choice with our recipe for Parmesan Crusted Steak or Alice Springs Chicken (an Outback Steakhouse copycat).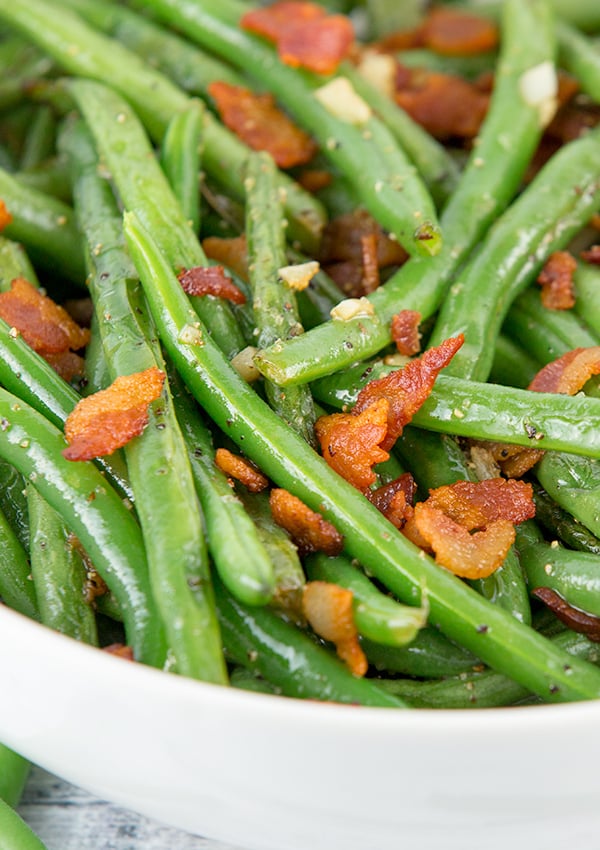 Lastly, if you are following a low-carb or ketogenic diet, this is a great option! It's one of my favorite keto recipes to make.
Enjoy!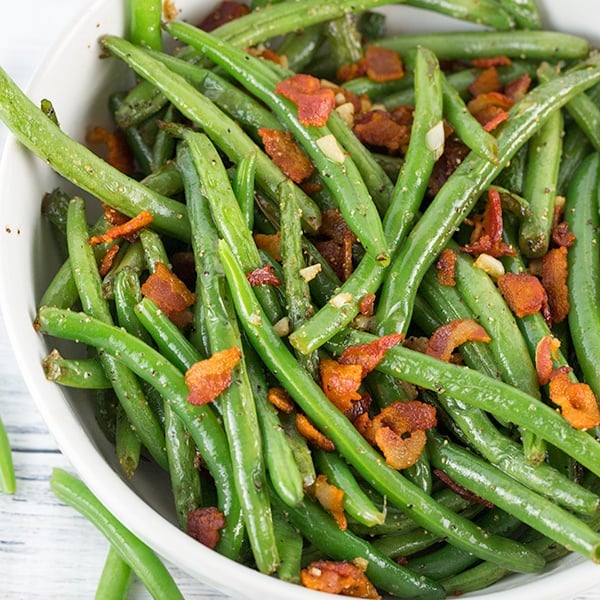 INGREDIENTS
1 pounds green beans, ends trimmed
6 slices bacon, chopped
2 cloves garlic, minced
Salt and black pepper to taste
DIRECTIONS
Rinse and trim the beans.
Fill a large saucepan with water and bring to a boil. Salt if desired.
Add the trimmed green beans to the pot of boiling water and cook for about 4 minutes, or until green beans are bright green.
Prepare a large bowl with ice and fill it with water.
Drain the green beans and immediately place them in the ice water bath to stop the cooking.
When the beans have cooled completely, drain them and set aside.
Heat a large skillet over medium high heat. Add the chopped bacon and cook until bacon is crisp.
Remove the bacon from the skillet to a paper towel lined plate.
Leave about 2 tablespoons bacon drippings in the pan, and remove any excess.
If you are not adding bacon, heat a large skillet over medium high heat with 2 tablespoons extra virgin olive oil.
Add the green beans to the skillet and saute' for about 5-7 minutes, or until the green beans are tender. Increase the time as desired until beans are cooked to your liking.
Stir in minced garlic and cook for another minute more.
Return bacon to the pan. Season the green beans to taste with salt and black pepper. I used about 1/4 teaspoon salt and 1/4 teaspoon coarse ground black pepper.