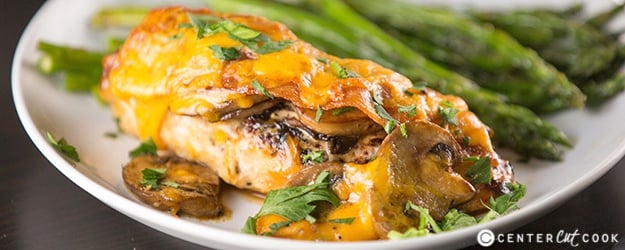 Learn how to make a mouth-watering copycat version of Outback Steakhouse's Alice Springs Chicken with mushrooms, crispy bacon, and melty Monterey Jack Cheese glazed with honey mustard sauce.
One of the most popular menu items at Outback Steakhouse (despite the fact that it's a STEAKhouse) is their Alice Springs Chicken. It's popular for good reason. Who can resist grilled chicken with sautéed mushrooms, crispy bacon, and lots of melty Monterey Jack cheese with that honey mustard sauce? If I go to Outback, it's always for the Alice Springs Chicken which is why I decided I'd share my copycat version of the recipe with you.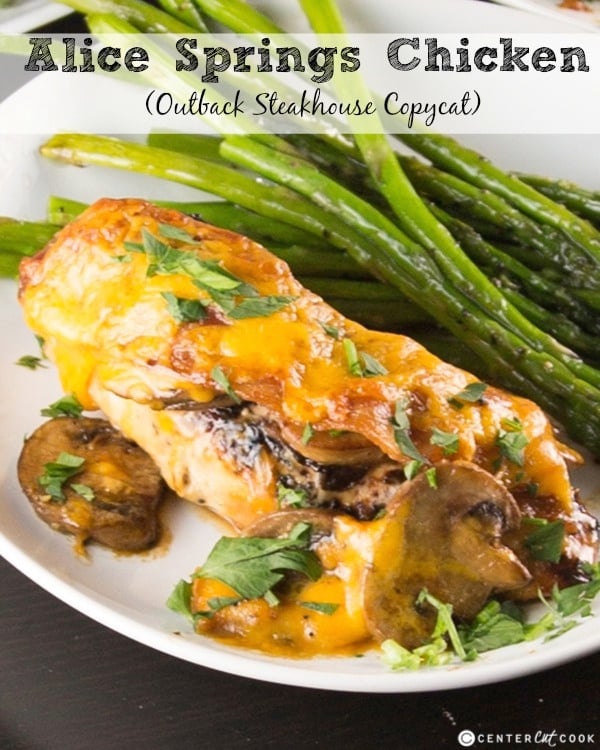 Alice Springs Chicken Ingredient Notes:
One of the key elements to this Alice Springs Chicken is the honey mustard marinade/sauce. You'll start by making that, then allowing the chicken to hang out in the mixture for a couple of hours so that it can absorb all of the honey mustard goodness.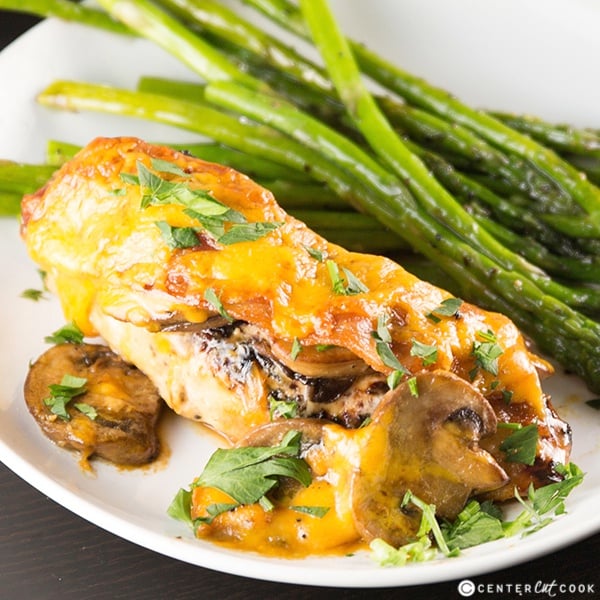 One of my favorite ingredients in this recipe is the mushrooms! I am always a sucker for tender sautéed mushrooms! I bought an 8 ounce package of button mushrooms, cleaned them, then sliced them up and sautéed 'em in a little butter. The best way to clean mushrooms is with a damp towel (I usually use a damp paper) instead of running them under water. I do it this way, simply because they clean-up better if you wipe the dirt off versus running them under water.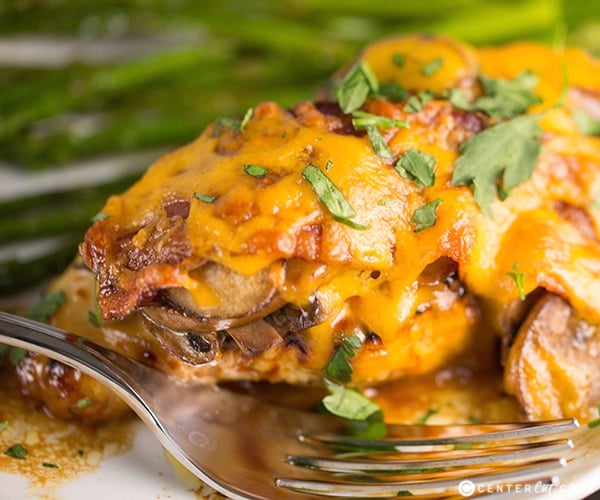 You'll also need some crispy bacon to top each piece of chicken with. My favorite hassle-proof way to cook bacon is to bake it in the oven. Here are my instructions on How to Bake Bacon. I chose to go with one piece of bacon per piece of chicken to keep it a little lighter, but if you want to go all out, plan for two pieces of bacon per piece of chicken.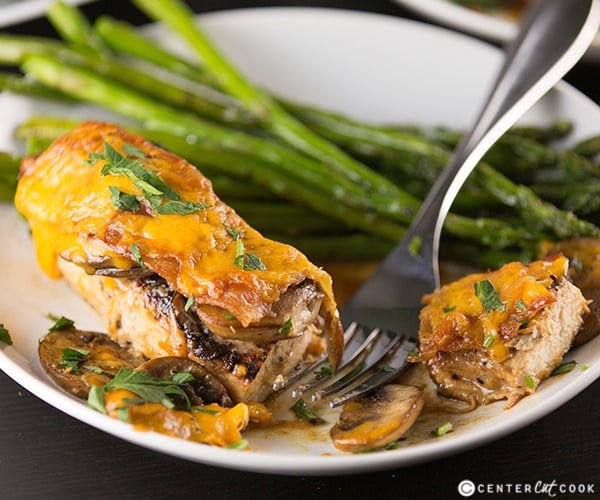 Oh, and don't forget… half of the honey mustard sauce will be used as the marinade while you'll reserve the other half for serving. Don't forget to serve the leftover honey mustard sauce on the side for dipping, I think it's one of my favorite things about this recipe!
HONEY MUSTARD INGREDIENTS
CHICKEN INGREDIENTS
4 boneless skinless chicken breast halves seasoned with salt and black pepper
8 ounces sliced mushrooms
1 tablespoon butter
4 slices bacon, cooked
6 ounces shredded Monterey Jack cheese
6 ounces shredded Cheddar cheese
Chopped fresh parsley for garnish
DIRECTIONS
In a small bowl, combine 1/2 cup dijon mustard with 1/2 cup honey, 3 tablespoons mayo, and a squeeze of fresh lemon juice. Pour half the sauce into a small bowl, cover and reserve for later.
Place the chicken in a large ziplock bag. Pour the remaining marinade in the bag and toss the chicken to coat. Chill in the refrigerator for at least two hours.
Preheat your oven to 400 degrees.
In a small skillet, melt 1 tablespoon butter. Add the mushrooms and cook for 7-10 minutes, or until the mushrooms are tender and just starting to turn golden brown.
Heat a skillet or grill pan to medium high heat. Remove the chicken from the marinade and season each piece with salt and black pepper. Place the chicken in the pre-heated pan. Cook for about 4 minutes, then when the chicken is golden brown, flip the chicken and cook for an additional 4 minutes. The goal here is to just sear the chicken and get a nice golden brown color on the outside.
Transfer the chicken to an oven safe casserole dish. Spoon some of the mushrooms on top of each piece of chicken. Break a piece of cooked bacon in half and arrange the bacon over the chicken. Divide the Monterey Jack Cheese and the Cheddar cheese evenly and sprinkle over each piece of chicken.
Place the chicken in the oven and bake for about 10 minutes (possibly longer if your chicken is really thick), or until the internal temperature of the chicken reaches 165 and the cheese has melted.
Serve with remaining honey mustard sauce on the side.
Sprinkle with chopped fresh parsley for garnish.
Enjoy!