Parmesan Crusted Steak is the perfect dinner idea for Mother's Day or any special occasion. Made with American Kobe Beef, this is one recipe you'll come back to over and over again.
Mother's Day is quickly approaching and for the first time in my life, Mother's Day isn't just about celebrating and honoring my Mom, it's about celebrating my new role as a mother too. Being a Mom has been one of the most rewarding yet challenging roles of my life. Especially as a Mom to a chronically ill child in need of both a kidney and a liver transplant. This new role has given me a new appreciation for my Mom and all that she did for my family growing up. 

Two years ago my Mom became my guardian angel, watching down on us from above, so Mother's Day celebrations aren't quite the same as they used to be, but that doesn't mean I have forgotten all of the ways we would show my Mom how much she was loved. Usually it involved breakfast in bed, handmade cards and gifts, hanging baskets of flowers, and something scrumptious for dinner. It's ironic because the way we used to celebrate my Mom is exactly how I'd love to be celebrated.
If you're a Mom, you deserve the best and for dinner, there's nothing better than an American Kobe Steak and Kurobuta Ham dinner from Snake River Farms. If you haven't ordered yet from Snake River Farms, that needs to change and Mother's Day is the perfect time to make your first purchase because they have incredible Mother's Day gift bundles. The products that they offer aren't considered cheap, but that's because it's some of the very best beef and pork that you can buy. In fact, it's the same meat served at top-notch restaurants like Wolfgang Puck's CUT and Thomas Keller's The French Laundry, just to name a few.

These gift bundles are ideal to give as a gift to your Mom, to order ahead and make for her, OR if you are a Mom, go ahead and request a Mother's Day bundle from your children. You will NOT be disappointed. I was able to sample their "Super Mom" bundle which included a jar of Espresso Brava Sea Salt, 2 American Kobe Filets and 1 Kurobuta 1/2 boneless ham. This is some of the very best meat I have ever had in my life. Your Mom deserves it, YOU deserve it. It's the best of the best. Usually this package sells for $146 but for Mother's Day, they are offering it for a special price of $99. And did I mention free shipping? Details below.
The steaks and ham come in a styrofoam container with dry ice so that everything stays perfectly cold during shipment, and each steak is individually wrapped. I was blown away by the quality of the meat. Both Ryan and I looked at each other after our first bite and declared them the best that we've had.
If you're cooking dinner for Mom this year, or you'll be requesting a special meal for yourself, may I offer some meal suggestions? The recipe below for Parmesan Crusted Steak is amazing! The Snake River Farms Kobe Filets are so tender and delicious, and with the Parmesan Crust? Out of this world. There's also the Kurobuta Boneless Ham that is unlike any other ham that you've had. It's not salty or slimy. It's simply tender and delicious. Pair either of those premium meats with my recipe for Twice Baked Potatoes , sauted mushrooms roasted asparagus and you've got yourself a meal fit for a special Mom.
SPECIAL OFFER! Send your mom or yourself one of these Mother's Day gifts and get free shipping (just for CenterCutCook readers) by using the code LOVEMOM. You will NOT be disappointed!
This is a sponsored conversation written by me on behalf of Snake River Farms/Double R Ranch. The opinions and text are all mine.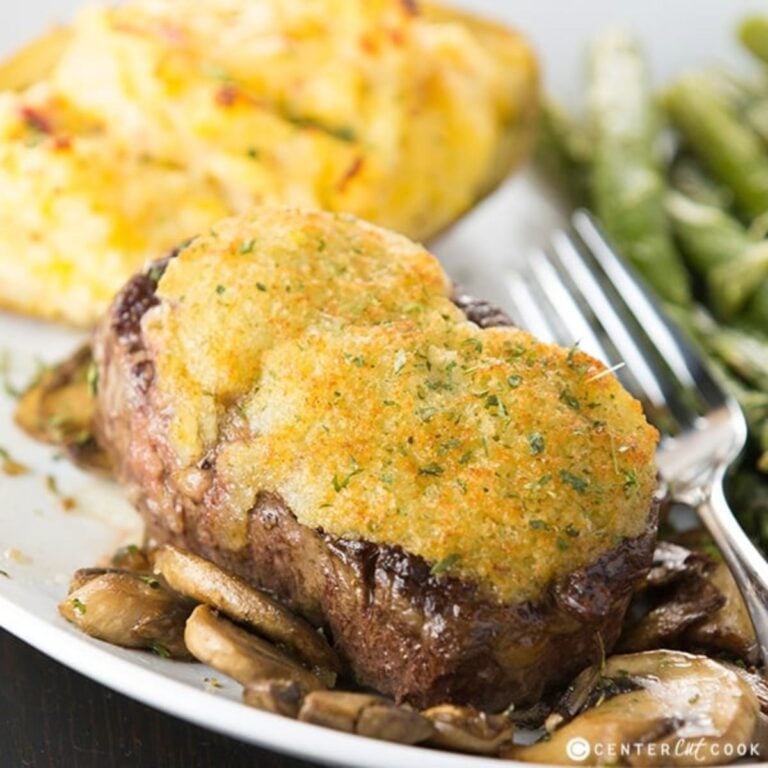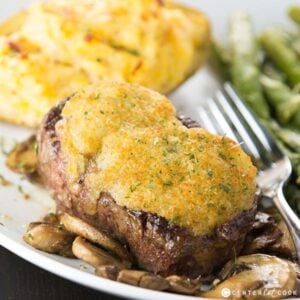 Parmesan Crusted Steak
Parmesan Crusted Steak is the perfect dinner idea for Mother's Day or any special occasion. Made with American Kobe Beef, this is one recipe you'll come back to over and over again.
Ingredients
Parmesan Crust Ingredients
1

cup

finely grated parmesan cheese

1/2

cup

butter

softenend

1/2

cup

panko bread crumbs
Steak Ingredients
2

Snake River Farms Kobe Tenderloin Filets

1

jar

Espresso Brava Sea Salt

black pepper
Instructions
One hour before preparing the steaks, make the Parmesan Crust. In your food processor (you can also use a hand mixer, a large wooden spoon, or a spatula) combine finely grated parmesan cheese, softened butter, and panko bread crumbs until well combined.  Scoop the mixture onto a sheet of wax or parchment paper. Roll into a log and twist the ends shut. Place in the freezer for about 45 minutes, until the butter is slightly firm.

Season the steaks: Sprinkle each steak with Espresso Brava Sea Salt and black pepper.

Heat a large grill pan or cast iron skillet to medium-high heat. Place the steaks in the pan and sear the steaks for about two minutes per side. When the steaks are seared, transfer them to the oven and continue cooking for 8-10 minutes, or until the steak is *almost* cooked to your desired temperature. Use a meat thermometer to ensure each steak is cooked to perfection.

Remove the Parmesan Crust mixture from the freezer and cut off slices for each steak. Note: You will not use all of the parmesan crust. Just slice off as much as you wish to use and save the remaining for another day.

Top each steak with the parmesan crust. Turn the broiler on to medium-high and broil until the crust is golden brown. Enjoy!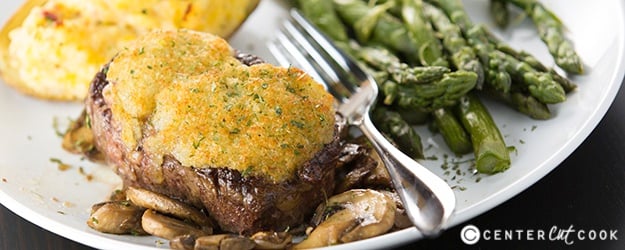 Recipe from
CenterCutCook