Steel cut oats with a maple banana bread flavor make a warm and comforting breakfast for a cold morning! Let your Instant Pot do the work on those busy weekday mornings!
Steel cut oats are my favorite type of breakfast to serve to my kids. They both don't love eggs, and so I love to give them a healthy breakfast that keeps them full for a longer period of time. Steel cut oats are perfect! They are high in fiber, high in protein, and other important nutrients like iron and B vitamins. I remember growing up as a kid how much I loved oatmeal during the winter time. Something about a hot breakfast with comforting spices really makes me happy. The best part about this variation of oatmeal is that it's a complete meal with the addition of bananas and nuts. My kids leave for school happy and ready for the day.
CENTERCUTCOOK SPONSORS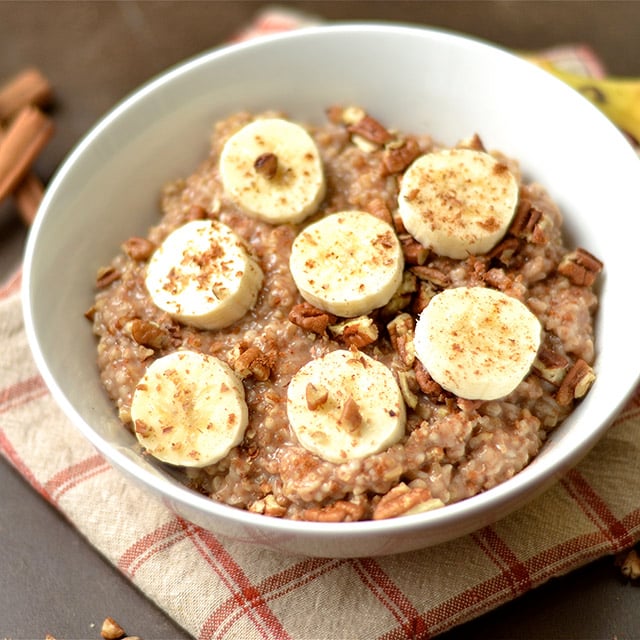 I recently started playing around with using my Instant Pot for oatmeal. Although the cooking time is about the same, I don't have to keep an eye on the stove at all. This is so helpful when I'm running around in the morning trying to get kids dressed, lunches made, dog walked, etc. I don't have time to stand at the stove and stir, or even keep an eye on something cooking. With the Instant Pot, you mix together just a few ingredients, set it, and forget about it. And by forgetting about it, I honestly usually do until the timer goes off! Another time saving trick is to prep it the night before, so it's already to go and only takes a push of a button.
This Maple Banana Bread Oatmeal has the delicious taste of banana bread and is only sweetened with maple syrup. I love making my own oatmeal creations because they taste so much better, but also it's a simple and easy way to save money instead of buying pre-made packages! It's important to note that this recipe uses steel cut oats, which is not the same as old fashioned or rolled oats. In fact, those would probably turn to mush in the Instant Pot. Although I generally love to make my oatmeal with milk, pressure cooking with anything dairy does not go over so well. So use water, then add milk to make it creamy in the end. This recipe also makes plenty to last a few days for breakfast: another bonus in my house!
CENTERCUTCOOK SPONSORS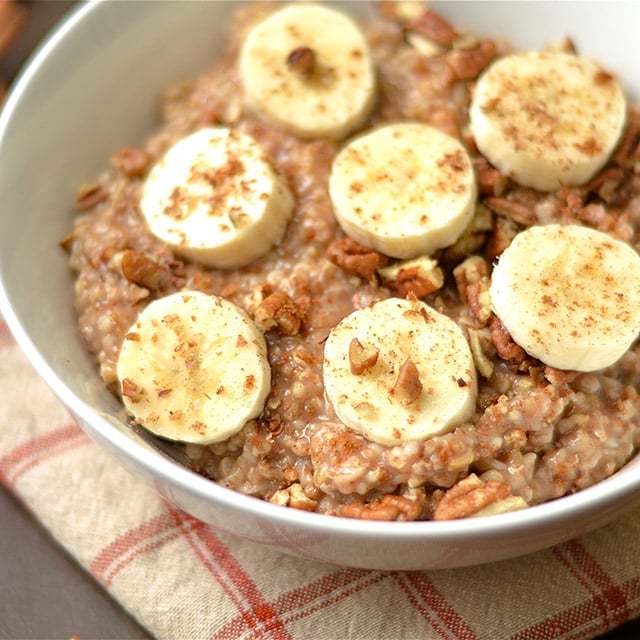 INGREDIENTS
1 cup steel cut oats
2.5 cups water
1/4 cup maple syrup
2 tsp cinnamon (+ more to taste)
1/2 tsp nutmeg
1/2 tsp salt
1 banana, sliced
1/2 cup pecans or walnuts, chopped
1/4-1/2 cup milk (optional)
CENTERCUTCOOK SPONSORS
DIRECTIONS
Place steel cut oats, water, maple syrup, cinnamon, nutmeg and salt into your Instant Pot.
Secure the lid, select manual and cook on high pressure for 7 minutes.
Use a natural release, for at least 10 minutes. This will help the oatmeal to thicken up. Then remove the lid and give the oats a nice stir.
Add in bananas, pecans, and milk (if using).
Serve with additional optional cinnamon.
CENTERCUTCOOK SPONSORS
Servings: 4-6