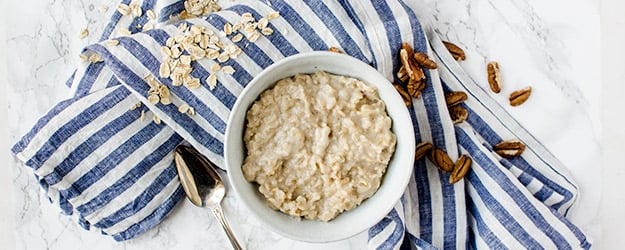 Oatmeal is a staple in my house because it's healthy, delicious and easy to make. We have it most mornings. Overnight oats in the summer, and slow cooker steel cut oats in winter. Between those seasons, there is nothing like a nice bowl of oatmeal cooked on the stove top. It is a great basic meal that you can dress up in any way that you want.
Oatmeal is one of those staples that every kitchen should have. I love that it keeps you full and gives you energy all morning long.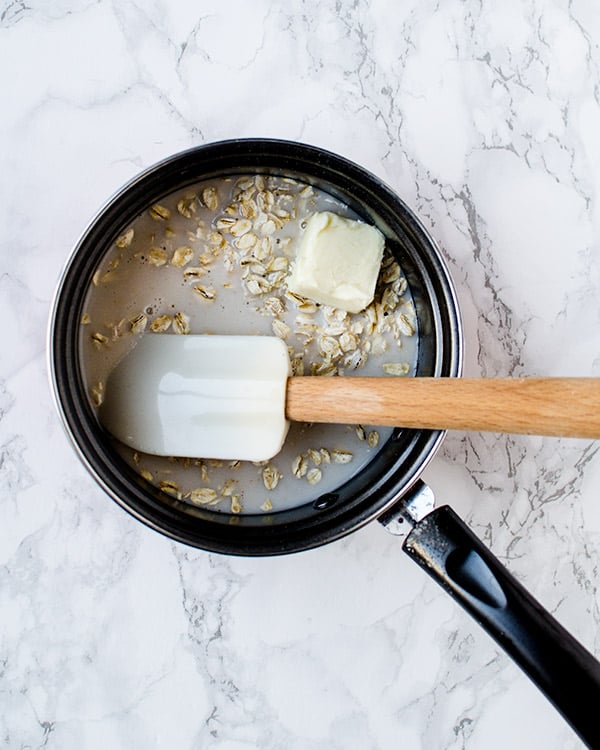 What kind of oats should I use to make oatmeal?
Learning how to make oatmeal is an important kitchen basic that I cannot recommend enough. Luckily, it is also one of the easiest meals to learn as well. All it takes if a bit of patience and some creativity. There are many types of oats you can use: steel cut, rolled, and old fashioned are the most common. In this recipe we are making oatmeal with old-fashioned oats.
I use old fashioned oats because they are less processed than rolled oats, but cook more quickly than steel cut oats which are the least processed and take up to 30 minutes to make. Instead, old fashioned oats take about 5 minutes to make and have a bit more texture to them after being cooked while still being just as creamy as the boxed instant oats you grew up with.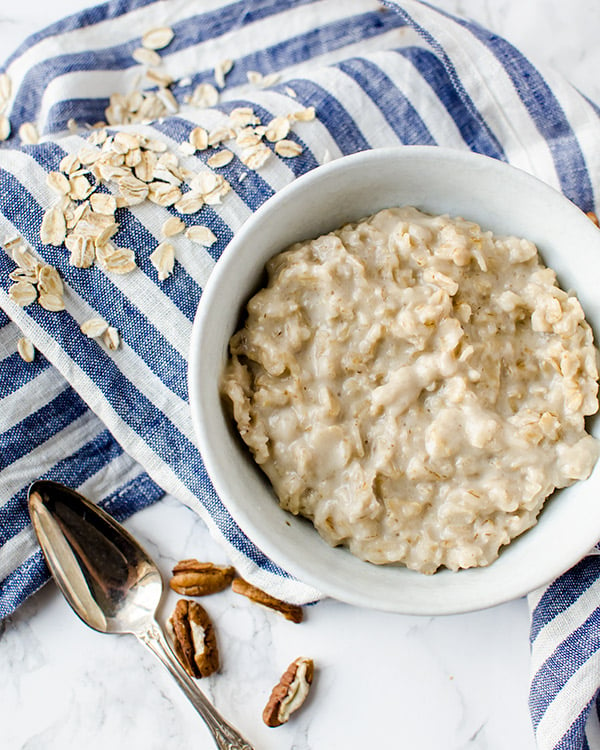 How To Make Oatmeal
I opt to make oatmeal with milk instead of water in my basic recipe because of the added flavor and creaminess. If you are wondering how to make thick oatmeal, use milk and slightly decrease the amount that you use. Butter and salt aren't required but enhance the flavor of the oats. These ingredients also work well in both sweet and savory oatmeal.
When making your oatmeal, you can get as creative as you want! I prefer to include mix-ins at two stages of making my oatmeal.
First, in the saucepan just before the oats are ready, I will include things like peanut butter or cheese – ingredients that work best when melted and thoroughly incorporated int he oats.
Then I add more mix-ins like dried or fresh berries or bacon after I put my oatmeal in my bowl. But you can really go crazy and experiment with what works best for you!
How do I microwave oatmeal?
While this is THE BEST oatmeal recipe made on the stovetop, I do have a guide for how to make oatmeal in the microwave here.
Oatmeal is such a versatile recipe. Once you know how to cook oatmeal, you can get as creative as you'd like with all of your toppings and add-ins. Enjoy!
For another great oatmeal recipe, try my Instant Pot Maple Banana Bread Oatmeal. It's delicious!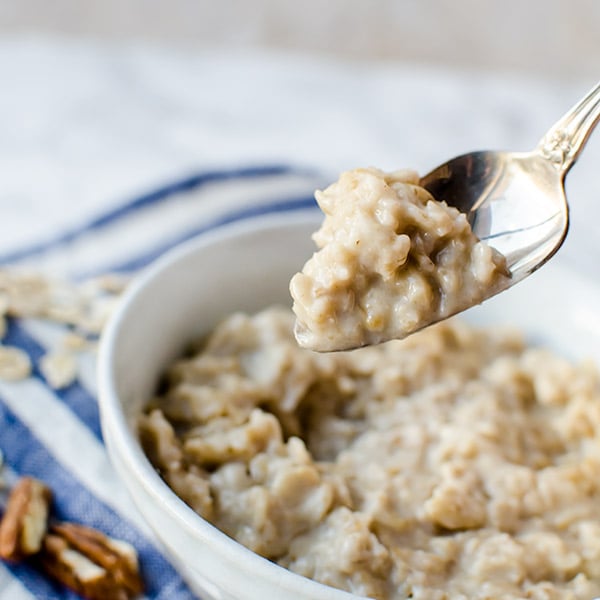 INGREDIENTS
1/2 cup old fashioned oats
1 cup milk
1/4 teaspoon salt
1 tablespoon unsalted butter
Mix-ins, as desired
DIRECTIONS
Mix together the oats, milk, salt, and butter into a small saucepan and cook on medium heat.
Stir the mixture until it begins to bubble and the oats soften. This should take about 5 minutes and the mixture should look thick and creamy. Add more milk or water if you prefer a thinner oatmeal.
Add in any mix-ins that you desire. Sugar, cocoa powder, peanut butter, and mashed peanut butter make great sweet mix-ins to add now. Alternatively, you can consider, cheese and herbs for savory oatmeal.
Pour the cooked oats into a bowl. Add in any other mix-ins as desired such as nuts, dried berries, or bacon.
Servings: 1