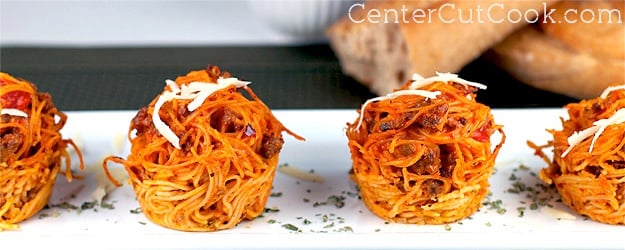 A couple of weeks ago I was killing time at Target (where I spend all too much time) and had wandered the store almost completely when I decided to go checkout the magazine section. One of the magazines I browsed through was Cook's Country where I found a great idea to make "Italian Love Nests." Their version involved a cream based sauce with prosciutto, which sounded delicious, but I thought I'd take a different route with these cheesy pasta cups.
In short, angel hair pasta is combined with your favorite sauce and any meats you'd like. A couple of eggs, seasonings, and parmesan cheese are added to the mix. Using tongs, you twirl the pasta into a muffin tin to create what you see pictured…. cute Italian Love Nests.
I'm sure most kids would get a kick out of eating their spaghetti in cup form. Not only will kids enjoy these, but they are also great for entertaining. With this recipe it is so easy to swap out the sauces and meats to use whatever suits your taste. This round I used Italian Sausage and a combo of marinara and simple creamy alfredo sauce since I had both of those on hand, but I am sure I'll try other combos in the future.
Get creative and use whatever sounds good to you, this is just a method. Enjoy!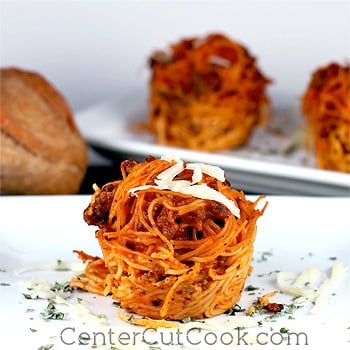 INGREDIENTS
8 ounces angel hair pasta, cooked according to directions. I used Barilla's Pasta Plus (this is a little more than half of a traditional sized box)
8 ounces of any meat of your choice – I used mild Italian Sausage
1 cup parmesan cheese + additional for garnish
2 eggs
2 cups sauce of your choice. I did 1 cup marinara and 1 cup alfredo
1 teaspoon dried oregano
1 teaspoon dried basil
1/2 teaspoon salt
1/2 teaspoon black pepper
1 teaspoon hot sauce (optional) like Tobasco Sauce
1 teaspoon crushed red pepper flake (optional)
DIRECTIONS
Pre-heat your oven to 350 degrees and lightly grease 12 muffin cups.
In a large skillet on medium high heat, cook and crumble Italian Sausage then drain excess fat.
Add in 2 cups of sauce and heat for a few minutes, then remove meat/sauce mixture from the heat.
In a separate bowl, combine eggs, parmesan cheese, salt, pepper, oregano, basil, Tobasco Sauce, crushed red pepper flake and pasta. Stir to combine.
Pour egg and pasta mixture over meat and sauce mixture. Use tongs to incorporate.
Using tongs, place enough noodles in a muffin cup to fill it. Twirl/twist the pasta as you are placing it in the cup to form nests. Just eyeball it. Mine didn't all come out perfectly, but they still looked good.
Place the muffin tin in the oven and bake for 20-25 minutes or until the sides and tops are starting to brown.
Allow the Italian Love Nests to rest for 5 minutes, then use a knife to run around the edges of each muffin cup. I used a spoon to help get each cheesy pasta cup out of the tin and onto a plate.
Garnish with parmesan cheese and serve immediately.This recipe makes 12 cheesy pasta cups.
Recipe adapted from
Cook's Country Magazine Oct./Nov. 2011