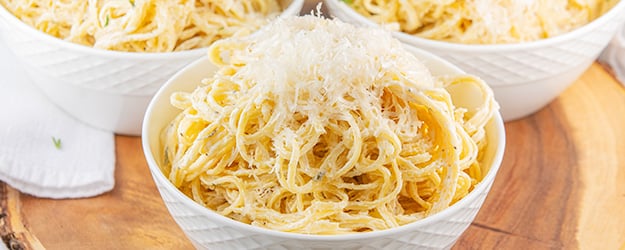 My dearest Alfredo lovers of the world…
I am happy to introduce you to this rich, creamy, EASY Alfredo sauce made with cream cheese and half and half. While I love this recipe for Creamy Alfredo Sauce made with heavy whipping cream, sometimes you don't have heavy cream on hand but you do have half and half (for those 2-3 cups of coffee each morning, obvi.) and if you're like me, you always have a block of Philadelphia cream cheese in the fridge as well.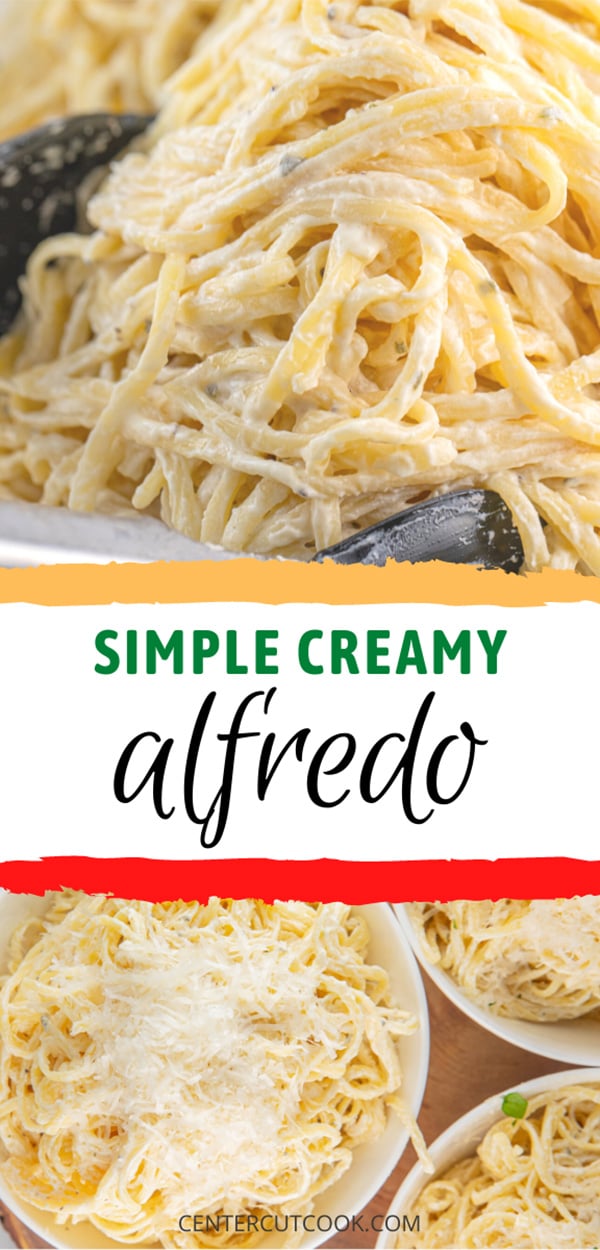 I am aware that I already mentioned this was an easy recipe, but I'd like to emphasize it one more time. This is SUCH an easy, fuss-free recipe for Alfredo sauce. It's the kind of recipe you might send off with your baby (because they'll always be your baby) when they leave home for the first time and you're realizing you probably should've taught them how to cook a few things.
Once you've had homemade Alfredo sauce, it truly feels wrong in every way to buy a jar from the grocery store because nothing compares. It's kinda the same way I feel about Ranch dressing. Once I made THE RECIPE for Homemade Ranch Dressing, it feels disappointing when I have to use the bottled kind (although, to be clear, of course I have a back-up bottle of ranch in the fridge because ranch goes with everything and sometimes homemade just doesn't happen.
I digress. Let's talk about the ingredients you'll need….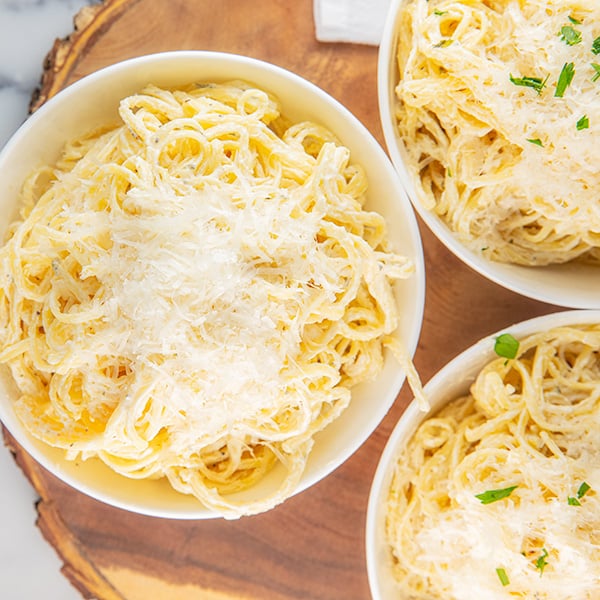 Ingredients for Easy Alfredo Sauce
The essential ingredients for this recipe include:
Butter (salted, or unsalted… whatever you have but make sure it's real butter), an 8 ounce block of cream cheese, half and half, and freshly grated parmesan cheese. I use about 1/3 cup of freshly grated parmesan but feel free to increase the amount of cheese that you use. This microplane grater is my favorite for finely grating parmesan as well as zesting citrus.
Let's quickly talk about the cream cheese- I tend to prefer Philadelphia Cream Cheese (this is not sponsored) because I always have the most consistent, creamy result. Use whatever brand you'd like, but make sure to not use the reduced fat or fat-free varieties.
I'd also like to mention that it's important to use softened cream cheese. If you are using cream cheese straight from the fridge, your sauce can become lumpy. To soften the cream cheese, take it out of the fridge about 30 minutes before you need it, or you can remove the foil wrapper and microwave it for about 30 seconds.
Those are the essentials. Now let's talk about some of the non-essential ingredients that if you have, great, if not, no big deal.
To this recipe, you might also like to add minced garlic (the fresh kind if you have it), or garlic powder if you don't have fresh. You could also add in a little black pepper (it's a personal preference), along with some dried parsley.
That's it. All you need is 4 essential ingredients along with some seasonings and you've got yourself simple and easy Alfredo sauce made with cream cheese and half and half.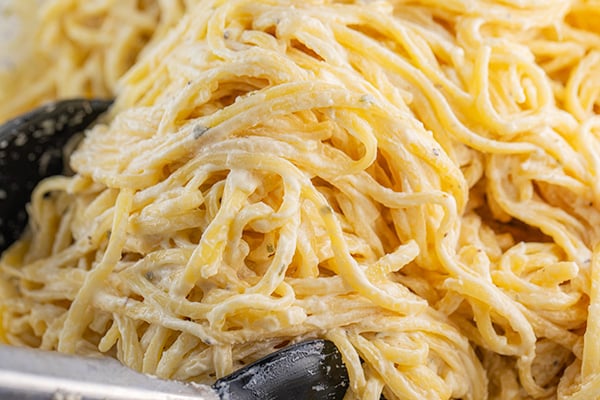 What to serve with Alfredo Sauce
While it'll be tempting to eat this Alfredo sauce by the spoonful right from the pot, it's best served over your favorite pasta whether it be linguini, fettuccini, penne, or even zucchini noodles for a low-carb option. Garnish it with additional parmesan cheese and fresh chopped parsley.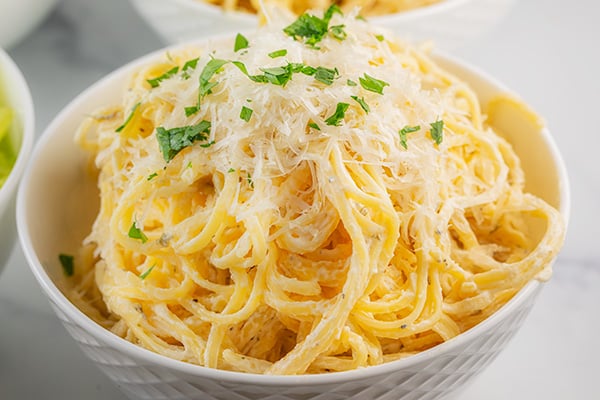 I love to use this sauce when I'm making my Spicy Chicken Rigatoni – it's a Bucca Di Beppo copycat that is SO good.
Another fun option is to make this Easy Oven-Baked Blackened Chicken to go with it. It is juicy and delicious and pairs perfectly with this Alfredo sauce.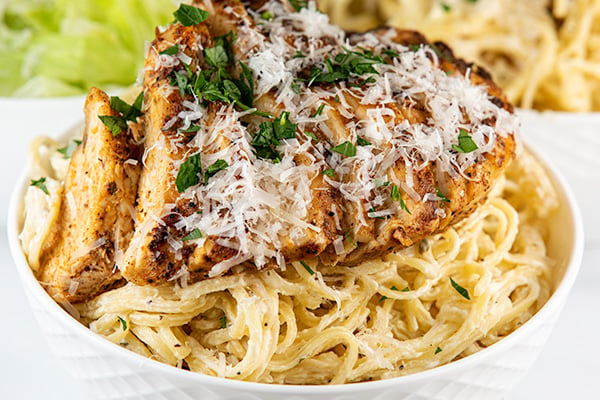 It'd also be great with these Cheesy Chicken Alfredo Stuffed Shells. Truly, the options are endless.
Oh, and let's not forget about this delicious homemade Caesar dressing I made for you. It's like the restaurant style that'll impress everyone. You could always pair this Alfredo with a yummy Caesar salad!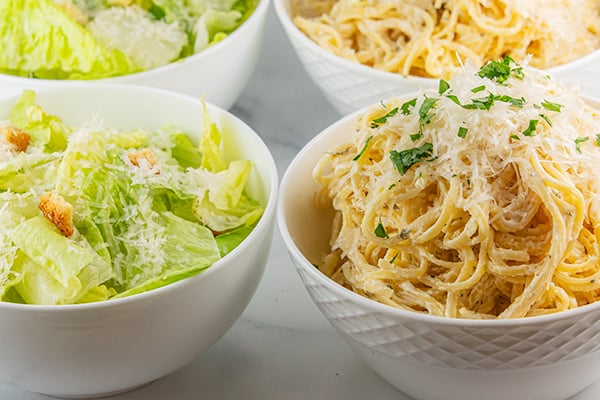 I hope you enjoy this recipe for Simple Creamy Alfredo Sauce – made with half and half and cream cheese. If you try this recipe, and I hope you do, please come back here to let me know what you think. It makes my heart super happy when readers take a photo and tag me on social media, or come back here to leave a comment. :)
Thank you so much for being here and as always, ENJOY!
(Note: This recipe was originally published in 2012 and is a beloved, fan favorite. It was updated with new pictures and recipe details in 2021).
I am a participant in the Amazon Services LLC Associates Program, an affiliate advertising program designed to provide a means for me to earn fees by linking to Amazon.com and affiliated sites. As an Amazon Associate I earn from qualifying purchases at no cost to you.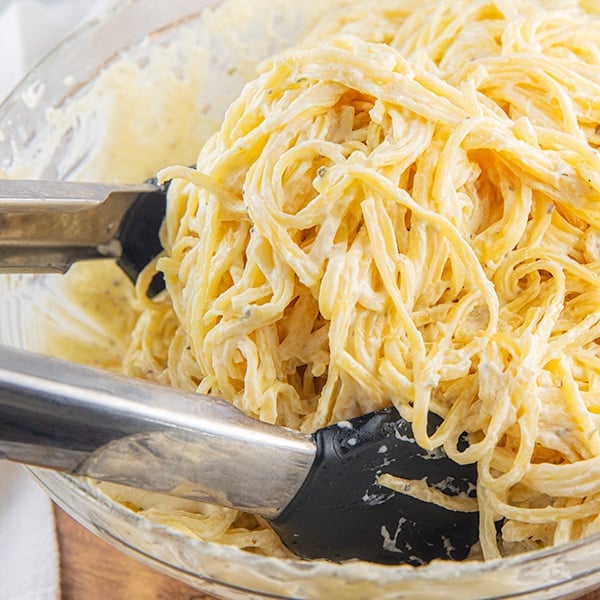 INGREDIENTS
1/2 cup butter
1- 8oz package cream cheese softened and cut into cubes (it will melt quicker)
1 cup half and half
1/3 cup parmesan cheese, grated (use fresh, it melts better)
3 cloves of minced garlic or 1/2 teaspoon garlic powder
1/2 teaspoon black pepper
1/2 teaspoon dried parsley
DIRECTIONS
In a sauce pan melt butter over medium heat.
Add in softened cream cheese cubes and stir until cream cheese has melted.
Slowly poor in 1 cup half and half and whisk vigorously for a few minutes.
Add in parmesan cheese and stir until it is incorporated.
Then stir in garlic, black pepper and dried parsley.
Let the sauce simmer on low for a few minutes to thicken up.
Combine with your favorite pasta and serve.