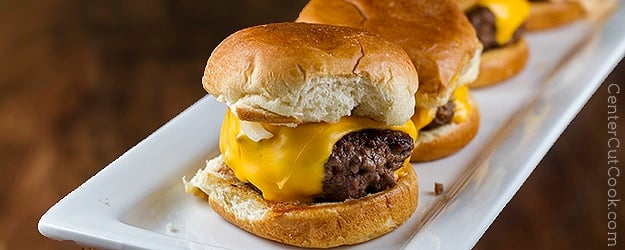 These juicy mini slider-like burgers (with special sauce) may or may not have shamefully been our breakfast this morning. We typically don't eat pub-fare for breakfast, I promise, but we did this morning, all for the purpose of providing you with another appetizer option for your New Years Eve party!
Now, some of you may be recalling the recipe for Grilled Sliders I shared with you over the summer, and you're probably wondering why I'm sharing another similar recipe. The main difference is that the first recipe I cooked on the grill. This time around, I decided to cook these guys in a frying pan, but the sauce is also different!
With the grilled sliders, I went with a mayo/dijon mustard combo with cheddar cheese. This time around I went with a more "Americanized" version with American cheese, and some homemade 1000 island dressing which is really just mayo, ketchup, and sweet pickle relish. Mini burgers are quick to make, only taking about 6 minutes to cook. From start to finish, I was literally done in about 20 minutes. Not bad for an appetizer that's sure to be a crowd pleaser!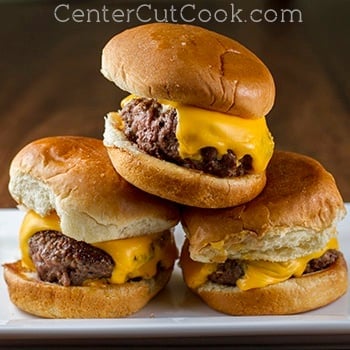 INGREDIENTS
2 pounds ground chuck
2 tablespoons butter
12 slider buns
Salt and pepper
1/2 cup mayo
2 tablespoons ketchup
4 teaspoons sweet pickle relish
12 slices American Cheese
DIRECTIONS
In a small bowl, combine mayo, ketchup, and sweet pickle relish. Set aside.
Divide two pounds of ground chuck into 12 equal pieces. Form into mini burgers.
Liberally salt and pepper both sides of each burger.
Melt one tablespoon butter over medium heat in a large frying pan. Toast the buns. Set aside.
Melt an additional tablespoon butter in the pan and turn the heat up to high. When the pan is hot, add burgers. You may need to cook them in two batches if your pan isn't large enough. Allow the burgers to cook for three minutes per side. When the burgers are almost done, add a slice of American cheese.
When the burgers are cooked to your preferred doneness, remove them from the pan and place on a bun. Top with special sauce, and raw onion if desired. Serve immediately.
Recipe from
CenterCutCook