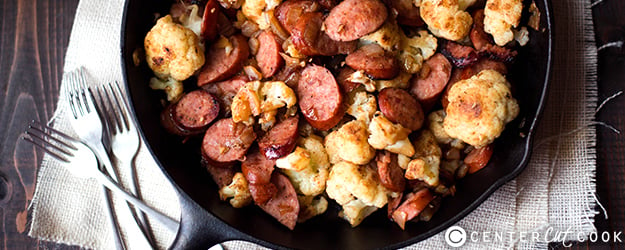 In our house, we are always on the lookout for easy dinners that are fresh, quick, and delicious. And this recipe is a sure winner in all three categories. We made it the other night and immediately were so happy to have a new meal to add into our dinner rotation.
There may have been some high fives. Just kidding. That would be weird.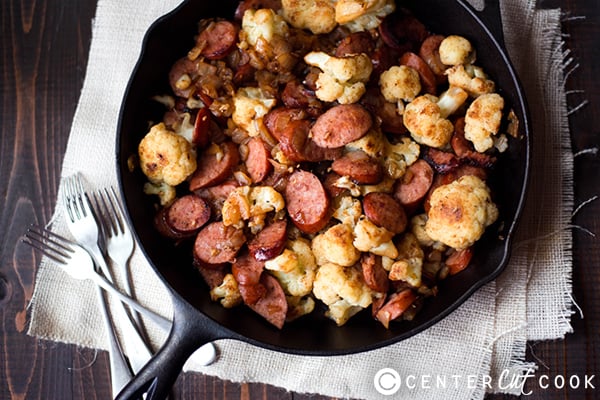 The combination of the savory kielbasa with the mellow, fresh cauliflower is so addicting and full of texture and flavor. It's so very delicious.
To make the dish a bit healthier, I use turkey kielbasa, but regular kielbasa would work just as well with this recipe. To get the best flavor on the kielbasa, slice the medallions slightly on a bias (diagonally) to increase the surface area to get golden brown. For me, that's really the best part about kielbasa – when you get that well-browned, golden, and crisp exterior on the kielbasa.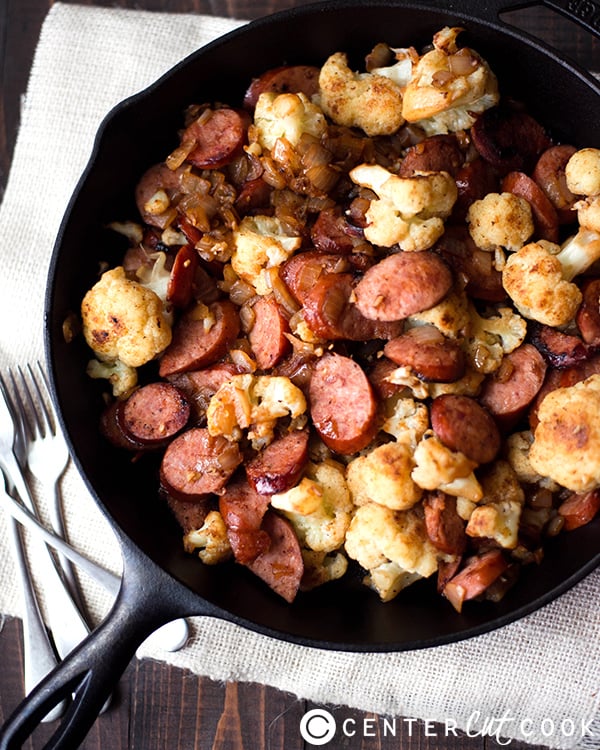 This is also a great kid-friendly meal since the kids will be so excited to get the cauliflower and sausage together and in such a flavorful way. The way the cauliflower gets golden-brown, but also soaks up all the tasty kielbasa juices will be irresistible. Though, if your kids are anything like mine, they will still pick off all the onions, but eat everything else. Silly kiddos.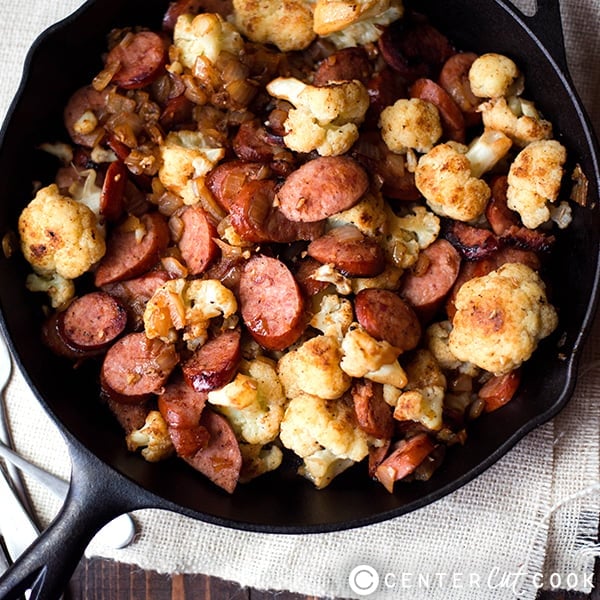 INGREDIENTS
1 tbsp. olive oil
2 lbs. turkey kielbasa, sliced into medallions
1 head of cauliflower, broken into florets
1 yellow onion, diced
1/4 tsp. ground black pepper
2 cloves garlic, minced
DIRECTIONS
Heat olive oil in large skillet over medium-high heat.
Add kielbasa and cook until well-browned, about 6 minutes. Remove from skillet and set aside on a plate. Reserve pan drippings.
In pan drippings, add the cauliflower florets, cover and cook for 5 minutes.
Add onion, stir, and cook 5 minutes. Keep covered.
Add the garlic, keep uncovered, and cook 1 additional minute.
Return the kielbasa to the pan and heat through.
Servings: 4