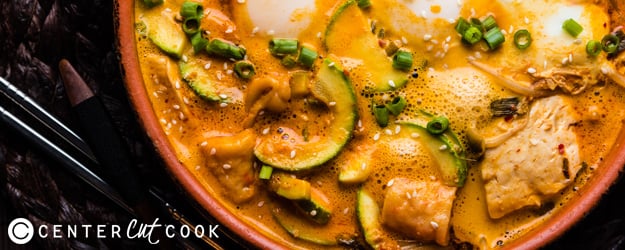 I crave a big bowl of hot tofu stew when the weather starts to get cold. It is so boldly flavored and appetizing that I can finish a big pot of it in one sitting. If you've tried this dish at a restaurant and wondered how they can create such a flavorful broth, the answer is – use doenjang and gochujang. These two fermented pastes are the most important ingredients in authentic Korean cooking.
Doenjang is a fermented soybean paste with a salty and savory taste. It is similar to Japanese miso, but has an edge to it. Gochujang is also called fermented hot pepper paste. It has a pungent spicy flavor with a hint of sweetness and the aroma of rice. It's one of my favorite sauces, one I always keep in the fridge. No matter whether you're cooking a kimchi pancake or kimchi fried rice, adding a teaspoon of gochujang will really make your dish stand out.
Get doenjang and gochujang and you're already halfway to creating a delicious bowl of stew.
The recipe below provides a general guideline and you can use it flexibly. For example, I prefer to use tons of fresh herbs – ginger, garlic, and green onion – when I have them in the kitchen. You can use any one or two of them. I love kimchi and I always add a ton of it to my stew. If you don't like its taste, skip it. I used two cups of mixed seafood to add more flavor to the chicken stock. You can use any protein, such as chicken, beef, or pork, as an alternative. At the end of the cooking, add the veggies of your choice. In addition to zucchini and bean sprouts, I find that napa cabbage, spinach, and mushrooms are delicious in the stew, too.
I hope you enjoy it!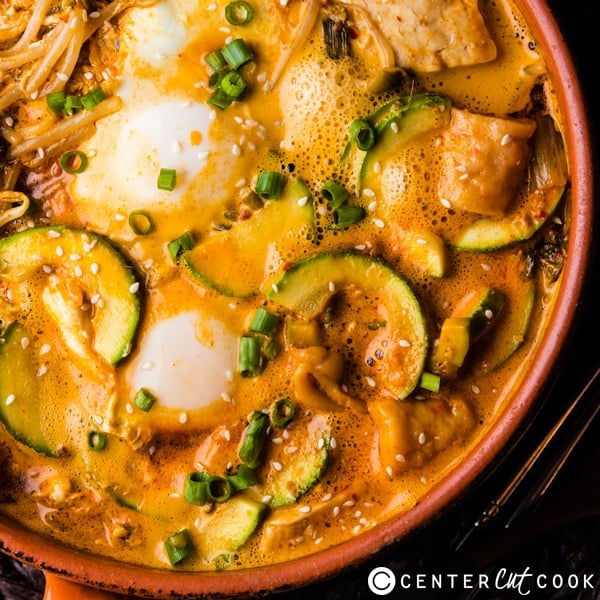 INGREDIENTS
2 tablespoons butter
1 teaspoon grated ginger
4 cloves garlic, sliced
2 green onion (or onion), chopped
2 tablespoons doenjang (Korean soybean paste)
1 tablespoon gochujang (Korean hot pepper paste)
(Optional) 1 cup kimchi
2 cups mixed seafood (or meat of your choice, sliced)
2 cups chicken stock
2 teaspoons sugar
1 block soft tofu, chopped
1 small zucchini, seeded and chopped
2 cups bean sprouts
2 eggs
DIRECTIONS
Heat butter in a dutch medium-sized dutch oven over medium heat until melted.
Add ginger, garlic and green onion. Stir for 1 minute.
Add doenjang and gochujang. Stir until the paste is mixed well with the herbs and starts to become fragrant, 1 to 2 minutes.
Add kimchi. Stir for another 2 minutes.
Add mixed seafood (or meat of your choice). Stir until cooked through (or browned if using meat).
Add chicken stock, sugar, and tofu. Cover and bring to a boil. Turn to low heat. Continue simmering, covered, for 10 minutes.
Add zucchini and bean sprouts. Cover and simmer for 2 minutes.
Add egg. Cover and cook until the egg is cooked to your preferred doneness.
Serve hot with with steamed rice.