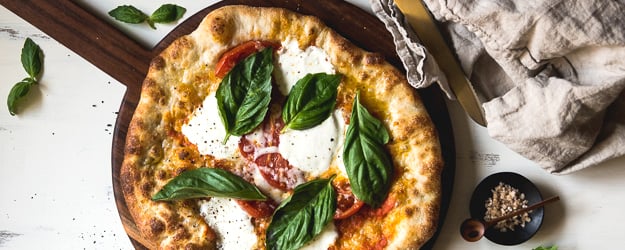 When it comes to pizza, you can't get any more classic than the iconic margherita. Proudly displaying the colors of the Italian flag, this pizza combines the unadulterated creaminess of fresh mozzarella, the bursting umami of ripe tomato slices, and the bright fragrance of basil leaves, all on top of a thin and crispy crust. Combining these pure, simple flavors, the end result is even more satisfying than the sum of the parts.
This recipe is easy and straightforward and will work with the full range of ingredients. Whether you make your mozzarella and pizza dough from scratch or prefer to buy them pre-made (I went with pre-mixed raw pizza dough and brined "fresh" mozzarella), you will be in for a treat. Using nicer and/or handmade ingredients will just make the pizza that much tastier. The keys to making a great margherita pizza are to get the crust as thin as possible and the oven as hot as possible – this way the pizza cooks quickly, the crust rises a bit on the sides and crisps all over, the cheese is just melted, and the tomato slices gently roasted. Enjoy!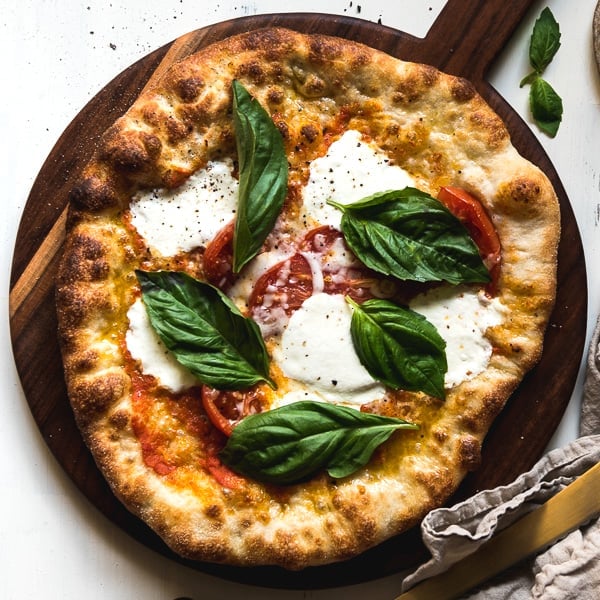 SAUCE INGREDIENTS
1 (14.5 oz) can tomatoes (whole peeled or diced), drained
1 tablespoon olive oil or to taste
Salt and black pepper to taste
PIZZA INGREDIENTS
1 (12-inch) round of pizza dough, stretched
3 tablespoons tomato sauce
(Optional) 1/2 tomato, sliced
Extra-virgin olive oil
2 3/4 ounces fresh (brined) mozzarella
6 to 8 basil leaves, roughly torn
DIRECTIONS
Combine drained canned tomatoes, olive oil, and a pinch of salt and black pepper. Blend until the ingredients are pureed. Taste the sauce. Add more olive oil, salt, or black pepper, if needed. Blend again to mix well. Store leftover sauce in fridge for a week or in freezer for up to 3 months.
Place a pizza stone or baking sheet on middle rack of oven.Turn to highest temperature setting. Preheat for an hour.
Dust a pizza peel with flour and place the stretched pizza dough on top. Spread the pizza sauce evenly in the center of the dough with the back of a spoon, up to 1/2 inch from the edge. Top with tomato slices, if using.
Drizzle a little olive oil over the pie. Break the cheese into large pieces and place the pieces gently on the sauce. Top with half the torn basil leaves.
Slide the pizza onto the heated stone. Bake until the crust is golden brown and the cheese is bubbling, 4 to 8 minutes. Transfer to a board to cool for 5 minutes, to let cheese set.
Decorate with the rest of basil leaves and serve immediately.
Recipe adapted from
NY Times