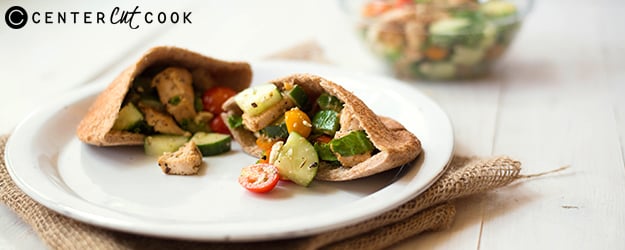 Sometimes, you just need quick dinners that are easy, delicious, and take no time at all to prepare.
You need a little win in your corner (or…pocket, ha!) every now and again. It's important that you know, if you make sure to have the ingredients on hand, you'll be set for dinner one night out of the week that will be practically effortless.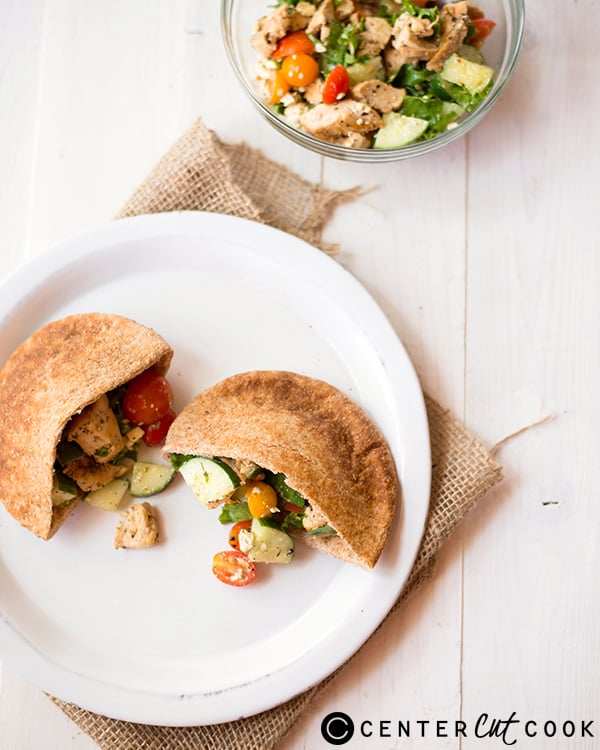 That's what these Mediterranean Chicken Pitas are for us. They're so easy to make and even easier to devour. The Mediterranean filling is full of flavor and texture, including the creamy feta, crunchy cucumber and red onion, tart fresh tomatoes, and the savory chicken. I can't even. So good!
We really enjoy using whole wheat pita bread for this meal because the sweet, whole wheat flavor really plays well off the more vibrant Mediterranean flavors from the pita filling. Plus, you get all that extra fiber and less refined grains which is always a plus.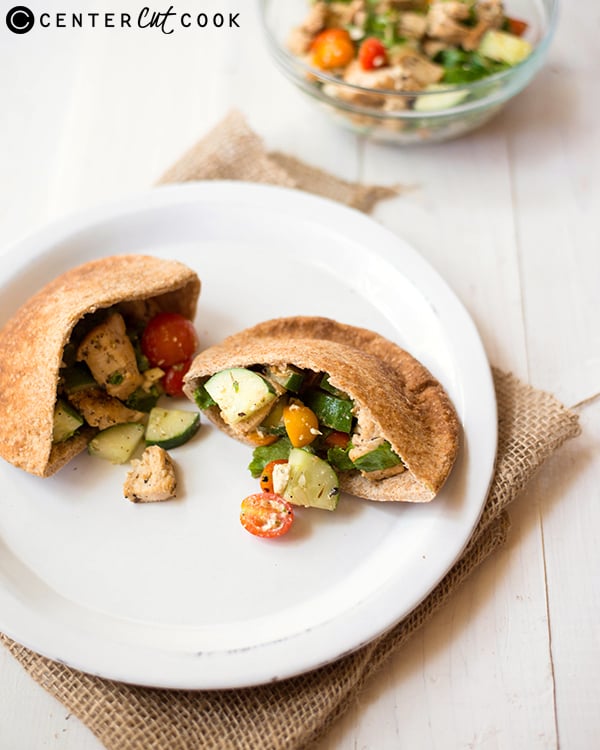 If you happen to have some black or kalamata olives on hand, those would add another flavor dimension to the pitas. I love these pita sandwiches, but the pita filling just by itself is super tasty, if you're wanting to enjoy the pita pockets "pocket-less" (i.e. gluten-free).
Just twenty minutes and you have yourself a delicious, healthy, flavorful, and easy dinner your whole family will love!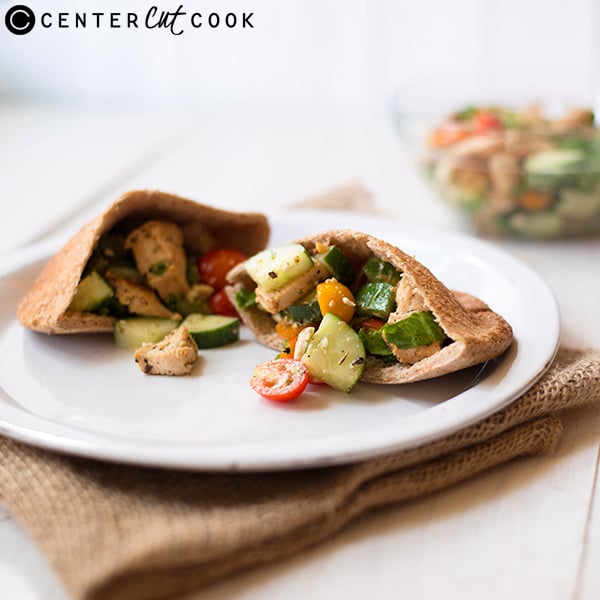 INGREDIENTS
2 chicken breasts, boneless and skinless
1/2 tbsp. olive oil
1/2 tsp. kosher salt, to coat chicken
1/4 tsp. ground black pepper, to coat chicken
1/4 tsp. dried oregano
1/4 tsp. dried oregano
1/2 cup cherry tomatoes, sliced in half (can also used fresh, diced tomatoes)
1/2 cucumber, sliced lengthwise and then into quarters
1/4 red onion, diced into small pieces
2 leaves romaine lettuce, torn into bite-size pieces
1/4 cup crumbled feta
1 tbsp. balsamic vinegar
4 whole whole wheat pita pockets, broken into individual pockets
DIRECTIONS
Season the chicken with the salt, pepper, and oregano.
Heat the olive oil over medium-high heat. Once hot, add the chicken and cook until cooked through and golden brown on both sides.
Remove the cooked chicken and chop into bite-size pieces.
Combine the tomatoes, cucumber, red onion, lettuce, feta, balsamic vinegar, and remaining oregano in a medium mixing bowl.
Add the chicken and toss the mixture until mixed well. Stuff the filling into the pita pockets and serve.
Servings: 4