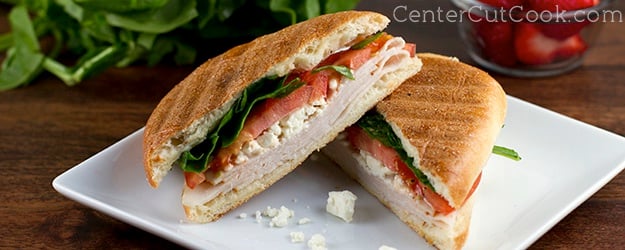 There's something about panini's that I just love. I can't pinpoint whether it's the crusty warm bread, the endless combinations of ingredients that you can use, or the fact that panini's make a super quick supper! Either way, I love a good panini.
Some people are under the impression that you have to have a panini press to make a panini. WRONG! I don't own one, largely due to the fact that I can't stand cluttered counters, and I have limited cabinet space, so gadgety type kitchen appliances can't be found in my home. All I use is a grill pan, and then I usually cover a heavy can with tinfoil (whatever I can find in my pantry, this time around I used a mega jar of apple sauce) and place it on top of the sandwiches while they are cooking to get the "pressed" look. Sometimes I don't even bother trying to "press" the sandwich, and just put it on the grill pan to heat it.
Aside from actually grilling the sandwich, the other important aspect of making a panini is the bread. Usually I use ciabatta bread, or this torta bread that I found at Costco because both of them make excellent paninis. You want a nice hearty bread that will stand up well to the heat. Typically, I serve Panini's with some fresh fruit and call it a day. Simple, easy, delicious.
Let's talk about this particular panini, shall we? I came up with the idea for a Mediterranean Turkey Panini after eating a Greek salad which is one of my fav. salads ever! Aside from the dressing, the ingredients I love most when it comes to greek salads are the feta cheese and fresh tomatoes, so I knew I wanted to incorporate both of those ingredients in this sandwich. This panini includes ingredients like turkey, spinach, crumbled feta, fresh tomato slices, and a homemade garlic aioli (a fancy name for garlic mayo). The combination of ingredients is SO flavorful, and according to my hubby, "this tastes just like something you'd get at Panera" which I took as a compliment!
I love this panini SO much that I've already eaten it for three different meals this week. Yes three!
Notes: I am not including a specific amount for each ingredient, because I just eyeballed it. I used a couple of slices of deli turkey, a couple slices of tomato, etc. You get the drift, just use however much of each ingredient looks right to you.
Enjoy! :)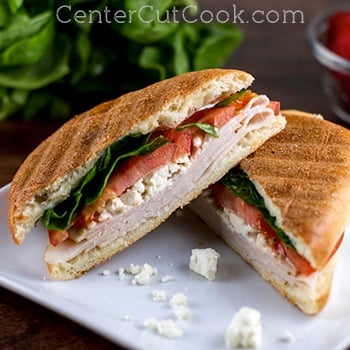 SANDWICH INGREDIENTS
Crusty bread (e.g., Ciabatta)
Fresh tomato slices
A handful of fresh spinach leaves
Crumbled feta
Sliced deli turkey
Dash of salt and pepper
GARLIC AOLI INGREDIENTS
2 cloves garlic
1/2 cup mayo
1/8 teaspoon salt
1/4 tablespoon lemon juice
DIRECTIONS
Create the garlic aioli by mincing the garlic. When the garlic is finely minced, sprinkle salt over it. Use the flat part of a large knife to smash the garlic around and form it into a paste. Stir garlic paste into mayo, then stir in lemon juice. Keep refrigerated until you're ready to use.
Heat a grill pan to medium heat.
Assemble the sandwiches by layering turkey, spinach leaves, fresh slices of tomato that have been lightly salt and peppered, and feta on the bread.
Grill the sandwich on a grill pan or in a panini press until the outside is crisp, and the sandwich is heated through.
Spread the homemade garlic aioli (about 1/2 tablespoon) that you made in step 1 on the top slice of bread.
Cut in half on a diagonal and serve immediately.