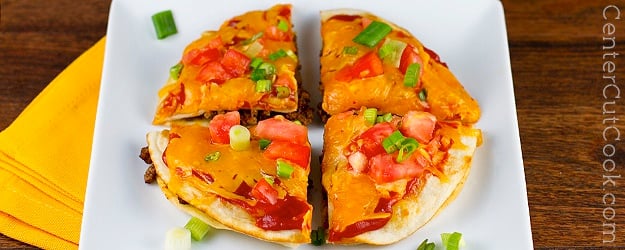 In a previous life, I had to have been from Mexico because the love I have for Mexican food is just not normal for a girl who grew up amongst corn fields and cows in Northern Illinois. Something hispanic related is on our table at least once per week, and that is no exaggeration. Of course not all of the "Mexican" food we eat is authentic, but hey, who's keeping track?
Speaking of foods that are not authentic, let's talk about these cute little Mexican Pizzas. I didn't do any research, but I'm pretty positive they only became "famous" thanks to good ole' Taco Bell, which happens to serve some of the most unauthentic Mexican Food out there.
Due to my general dislike of fast food restaurants and my goal to avoid them as much as possible, if they sell something that actually sounds good, I usually try making it at home. Not only is it healthier, but more importantly, I know all of the ingredients that are going into my body which I definitely couldn't claim if I were consuming ground beef from taco bell. The stories about that stuff scares me! No bueno.
These Mexican Pizzas are pretty simple to make and perfect for a quick weeknight meal. If you know how to make tacos, you will have absolutely no issues making this recipe! My hubby has named this one of his favorite meals of all time which means I should probably make it more than once every four years!?! Enjoy!
Notes: If you look closely at the picture, you'll see that there are no refried beans on my Mexican Pizzas. Refried Beans happen to be on my list of foods that I CAN NOT stand, therefore, I omitted them. Add them if you'd like. :) Also, it's a good idea to shred your own cheese both for freshness, and for melting purposes. Pre-shredded cheese does not melt as well (something to do with the chemical they add to keep it from clumping). This recipe serves 4-6, depending on how much beef you want per pizza. They are best eaten fresh, immediately after they are cooked.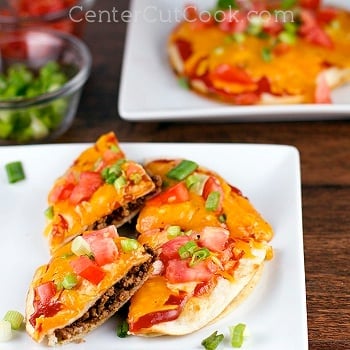 INGREDIENTS
1 pound ground beef
1 packet taco seasoning (French's is my fav.)
2 green onions, diced
1 tomato, diced
8-12 fajita size tortillas
1 can refried beans
8 ounces shredded sharp cheddar or monterrey jack cheese
Taco sauce or Enchilada sauce (1-2 tablespoons per mexican pizza
DIRECTIONS
Pre-heat your oven to 400 degrees or your broiler to high.
In a large skillet, prepare 1 pound of ground beef like you would for tacos by browning it, then draining any excess fat, and adding the taco seasoning/water according to package directions.
While the meat is cooking, wash and chop the green onions and tomato, and shred the cheese.
In a small skillet (I used an 8-inch omelet pan), heat a small amount of oil (about 1/2-1 tablespoon) over medium high heat. When the oil is heated, begin frying 1 tortilla at a time for a few seconds per side. You want each tortilla nice and crisp. Continue frying the tortillas until all are browned. You may need to add a little more oil as you go. Place the tortillas on a paper towel to absorb any excess oil.
To assemble the pizzas, lay one fried tortilla down on a work surface. Spread a thin layer of refried beans, then top with as much ground beef as you'd like. Place another fried tortilla on top.
Spread 1-2 tablespoons (more or less depending on your preference) of taco sauce or enchilada sauce over the top tortilla. Sprinkle with shredded cheddar cheese.
Continue assembling all of the Mexican Pizzas until all of the beef is gone. You should get about 4-6 Mexican Pizzas from this recipe.
Place each pizza on a non-stick baking sheet and bake in the oven for about 5 minutes, or until the cheese is melted. Alternatively, you could broil them for about 2 minutes, but keep a close eye on them so that they don't burn.
Top each pizza with chopped tomato and green onion and serve immediately.