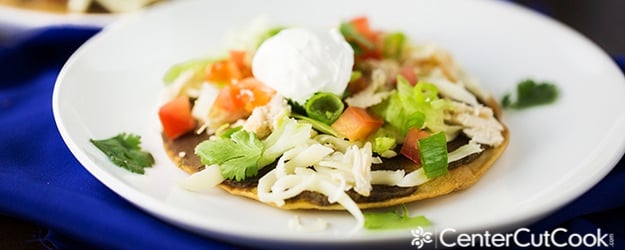 Tostadas are crispy fried tortillas with layer upon layer of a variety of ingredients ranging from black bean spread to cheese and veggies. If you haven't tried making them at home, this recipe is a must-try! They come together in minutes, and with the variety of toppings that you can add, even the pickiest of eaters will be able to find a combination of ingredients that they like.
Let's start with the toppings. I had shredded lettuce, chopped tomatoes, chopped green onions, monterrey jack cheese, and some shredded rotisserie chicken. If you're looking for a creative way to use rotisserie chicken, this is a great option!
The most important ingredient (in my book) for these tasty little Mexican Tostadas? Black Bean Spread. I posted the recipe for this simple little dip/spread yesterday. It adds so much flavor to this recipe that I HIGHLY recommend that you try it this way, even if you're not a fan of black beans!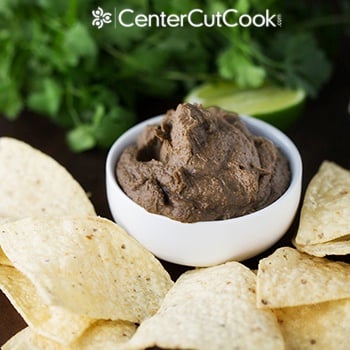 You'll begin by heating a small amount of canola oil in a large, deep skillet. You just need enough to cover the bottom of the pan. When the oil is nice and hot, toss in a corn tortilla and fry it for about 30 seconds on one side, then when it's golden brown, flip it and allow the other side to cook. Remove it from the pan and place it on a paper towel lined plate to drain any excess oil. Repeat the process with as many tortillas as you'd like. When you're ready to assemble the tostadas, spread a thin layer of black bean spread on the bottom.
Top with any of your favorite toppings! I started with some monterrey jack cheese, then added some rotisserie chicken, lettuce, tomato, green onion, and a dollop of sour cream.
The result? A tasty Mexican Tostada that's crispy, crunchy, and just oozing with flavor. Other fun toppings might be sliced avocado, and salsa. Get creative and add any toppings that you'd like! You could even add a layer of seasoned ground beef in place of the chicken, or omit the meat all together for a vegetarian variation.
These tostadas are best served fresh so that you are able to fully enjoy the crispiness of the fried tortillas. They don't heat up nearly as well as leftovers, so plan to eat 'em up right away. MMMmmmmm, so delicious!
*Note: I did not list specific amounts for each of the ingredients because everybody has their own personal preference as to the amount of toppings they want. Plan for 2 tostadas per person.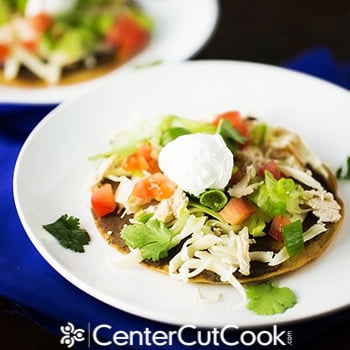 INGREDIENTS
Black Bean Spread (Recipe here)
Small corn tortillas
Oil for frying (just enough to cover the bottom of the pan)
Cooked shredded rotisserie chicken
Monterrey jack cheese
Lettuce, tomato, green onions, sour cream, salsa, avocado
DIRECTIONS
Pour enough canola in a large skillet to cover the bottom of the pan, and heat it over high heat.
When the oil is hot, add one corn tortilla at a time. Cook for about 30 seconds per side, or until the tortilla is golden brown. Place the cooked tortillas on a paper towel lined plate so that any excess oil can drain off.
Spread a thin layer of black bean spread on each tostada. Top with shredded cheese, shredded cooked chicken, and toppings of choice.
Recipe from
CenterCutCook