The simplicity of chili mac is one of the reasons it's a classic recipe that is found on dinner tables everywhere. There's just something about cheesy noodles that makes you feel good.
While traditional chili mac is delicious and comforting, I decided to put a slightly spicy twist on the recipe that you're going to love. And thankfully, the spice level was still completely acceptable for my three year old. Mom win! Even better? This entire recipe is made in one-pot which means clean-up is a breeze.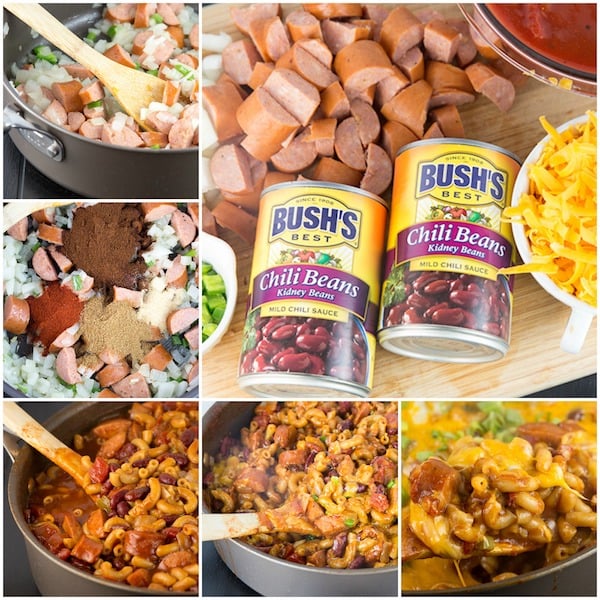 The ingredients in this One Pot Spicy Chili Mac are so simple, but ingredients that you'll feel great about feeding your family. To add a hearty element to this recipe, I incorporated BUSH'S® Kidney Beans in a Mild Chili Sauce which adds tremendous flavor. To kick up the heat level even more, try using BUSH'S® Kidney Beans in a Spicy Sauce. I also used spicy andouille sausage in place of traditional ground beef for an extra kick, but feel free to use any protein that you'd like. Ground beef or turkey would be great, as would kielbasa.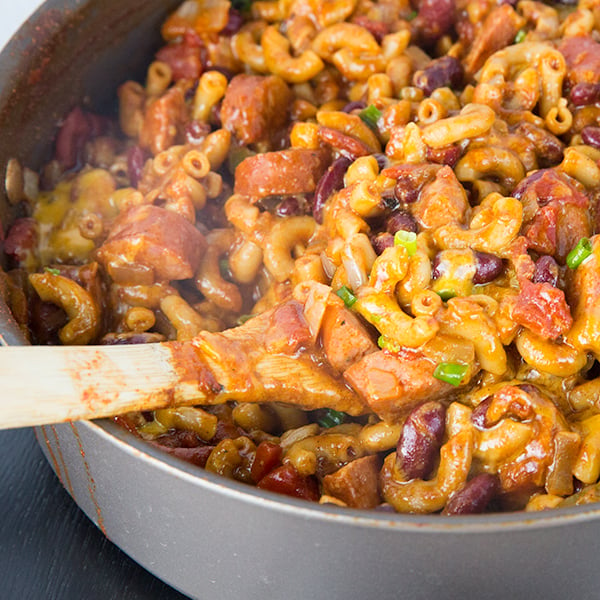 Seasonings like chili powder, smokey paprika and cumin come together to flavor this One Pot Spicy Chili Mac just perfectly. All of the ingredients in this recipe are pantry staples which makes this an easy go-to dinner recipe that you'll be able to make for your family, even on hectic weekday nights. This is the type of recipe that just screams fall because of how comforting and delicious it is.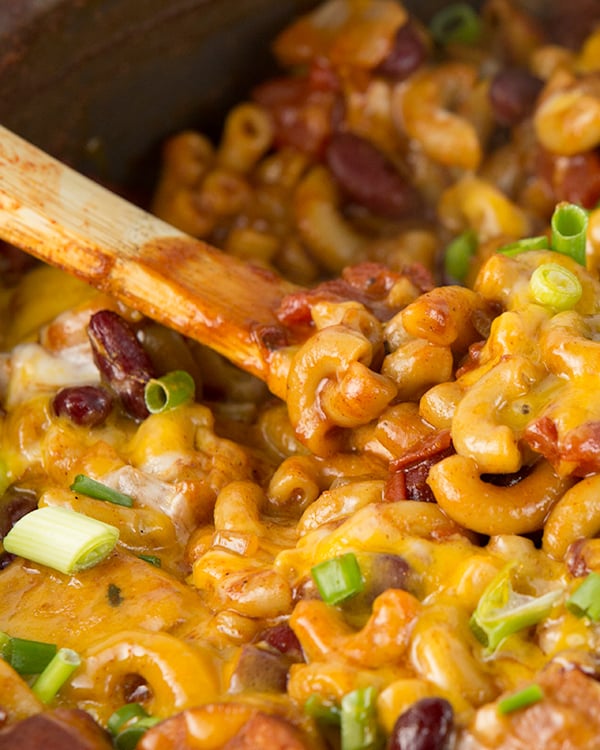 Serve this for your family, at a potluck, or even at a casual laid-back fall dinner party and your guests will be impressed. My family likes to top this chili mac with extra cheese, sour cream and onion. Feel free to add any toppings you'd enjoy.
This is a sponsored conversation written by me on behalf of Bush's Beans. The opinions and text are all mine.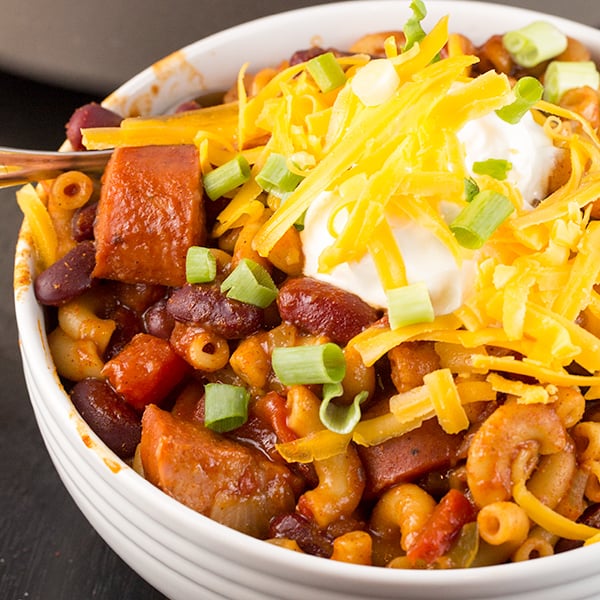 INGREDIENTS
2 tablespoons olive oil
1 – 13 ounce package andouille rope sausage, cut into half-moons
1 medium onion, chopped
1 jalapeño pepper, seeds removed, chopped
4 cups beef broth
1 – 14.5 ounce cans diced fire roasted tomatoes (regular diced tomatoes are fine as well)
1 – 14 ounce can crushed tomatoes
4 tablespoons chili powder
2 teaspoons smokey paprika
2 teaspoons ground cumin
2 tablespoons hot sauce
1 pound uncooked macaroni
Salt and pepper to taste
1 cup sharp cheddar cheese
Chopped green onion for garnish
DIRECTIONS
In a large, deep stock pot, heat 2 tablespoons olive oil over medium high heat.
Add in sausage, onion, and jalapeño pepper and saute until the sausage is lightly browned and peppers and onions are soft. About 5 minutes.
Stir in beef broth, BUSH'S® Kidney Beans in a Mild Chili Sauce, diced tomatoes, crushed tomatoes, and seasonings. Stir in uncooked pasta.
Bring the mixture to a boil (it will take about 10 minutes to bring it to a boil), cover, reduce heat and simmer for 12-15 minutes or until the pasta is cooked and the sauce has thickened. Sauce will continue to thicken after resting for 5-10 minutes.
Top with cheese, cover, and allow the cheese to melt for a few minutes. Garnish with chopped green onion if desired and serve.
Servings: 6-8