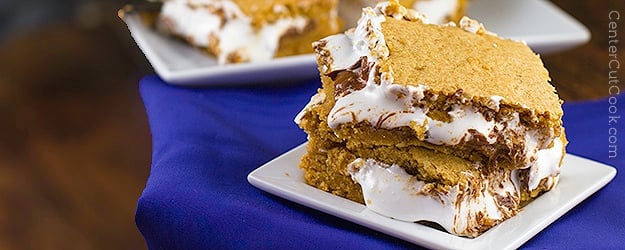 I feel like over the last year or so, s'mores have exploded into popularity and have become so much more than just a fireside camp treat. Have you seen all the creativity? There's s'mores cupcakes, and s'mores brownies, s'mores ice cream, and of course the Peanut Butter S'mores cookies I made last year around this time. What's not to love? marshmallows, chocolate, peanut butter, did I mention chocolate? and peanut butter?
Can I give you some advice though? Please avoid the S'mores Pop-Tarts. Whoever thought that was a good idea, I don't know? I guess in theory it sounds like a good idea, except when you take in consideration that the majority of people who consume Pop-Tarts, do so for breakfast. Breakfast!! To make matters worse, the box advertises that it's a good source of 8 vitamins and minerals, as though that justifies eating chocolate and marshmallows for BREAKFAST!!!
But now comes the part where I should probably let you know that I shamefully ate these Peanut Butter S'mores Cookie Bars for breakfast not one, but two days in a row. Who am I? Please tell me you do that sometimes too? Any time there's a dessert hanging out in the kitchen, it usually gets consumed for breakfast at least once before it's gone. Shame.
I was first introduced to a variation of these cookie bars by my friend Lisa, except they didn't have peanut butter. Because I'm a peanut butter fanatic, and I just love how fabulously peanut butter goes with the whole S'mores flavor combo, I decided to add it in. It's everything you love about S'mores, but in cookie form AND with peanut butter. You'll seriously be asking for s'more (sorry, I just couldn't help myself!). :)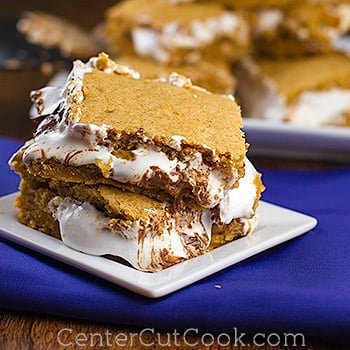 INGREDIENTS
1/2 cup butter, softened
1/3 cup light brown sugar
1/2 cup sugar
1 egg
1 teaspoon vanilla
1 1/3 cups flour
3/4 cup graham cracker crumbs
1 teaspoon baking powder
1/4 teaspoon salt
4 regular sized, or 2 king sized Hershey's milk chocolate candy bars
1/3 cup peanut butter
7 ounces marshmallow creme (In a jar found by the marshmallows
DIRECTIONS
Pre-heat your oven to 350 degrees.
Line an 8 inch square baking pan with foil. Arrange the foil so that it drapes over the sides, almost creating handles to lift the bars out of the pan once they're done. Spray the foil lined baking pan with cooking spray.
In a bowl, combine flour, graham cracker crumbs, baking powder, and salt.
With your mixer, combine butter, brown sugar, and sugar for 3 minutes or until light and fluffy. Add in egg and vanilla.
Add dry ingredients to the wet and mix until combined.
Divide the dough in half. Press half the dough in the bottom of the pan.
Spread 1/3 cup peanut butter over the dough, then arrange chocolate pieces in a single layer over the peanut butter.
Carefully spread marshmallow creme over the chocolate. It is sticky, so I found the best method was to place dollops of cream all over the pan, then spread it out into an even layer.
Form the remaining dough into a ball, then use a rolling pin to shape it into an 8 inch square (you do this because it's impossible to shape and work with the dough if you place it directly on top of the marshmallow creme). Place the shaped dough on top of the marshmallow creme.
Bake for 33-35 minutes, or until the top starts to lightly brown.
Allow the bars to cool almost completely, then lift the bars out of the pan using the foil that you lined the pan with. Cut into pieces and serve (best served a bit warm, so warm in the microwave if needed).
Recipe adapted from
Lovin' from the Oven